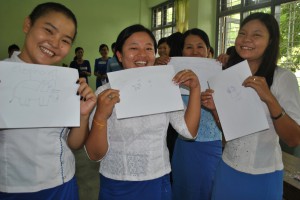 Selection for an externship will require that applicants have:
A strong academic record
An interest and/or showing of work in the area of access to justice, social justice and community service
Cultural awareness and sensitivity
A willingness to commit to a minimum of 8 weeks and to be connected and support the work of BABSEACLE during and after completion of the clinic.
Externs are expected to be:
Well organized and pro-active
Self-motivated and able to work within a group and individually
Able to adapt to a varying workload in a multicultural environment
Responsible and willing to take ownership of their work product
Strong team builders
Able to work and live in a close, communal environment (usually sharing rooms they sleep in)
Participate in BABSEACLE community service/volunteer activities
Able to travel overland when participating in set externship activities
Externs are expected to have competencies of:
Adaptability and flexibility
Team work
Self-initiative and enthusiasm
Meticulousness concerning accuracy and quality
Good computer and communication skills
Selection Process: BABSEACLE selection and allocation of participants is the joint responsibility of the BABSEACLE Directors and the BABSEACLE team members.  Applicants will be required to participate in an internet telephone interview.
Requirements Upon Completion of the BABSEACLE Legal Studies International Externship Clinic: As ambassadors for the BABSEACLE Legal Studies International Externship Clinic in Asia, successful participants are required to complete a number of assignments, in addition to the specific varied projects that they are working on. Such assignments will focus on the reflective nature of the overall externship experience.
This will involve:
Keeping a weekly individual reflective journal and time log.
Complete pre arrival and post placement evaluations
Read pre arrival reading materials and complete pre arrival assessment
Writing an overview at the completion of the externship, reflecting on the experience and evaluating it.
Committing to prepare and deliver a reflective presentation on your placement experience with BABSEACLE at your respective law school or a similar institution.
Continuing through the externship to the clinic end date.
For more information, please read the following pages;