Pavina Thephithuck (Pa)
Legal Trainer/Gender Based Violence Programme Coordinator
BABSEACLE
Base in Champasak Province,
Started working July 2013
From Xaythany District, Vientiane Capital, Laos
[email protected]
She's a former volunteer at  Faculty of Law and Political Science Clinical Legal Education, Laos (FLPCLE) and had delivered community teaching in secondary schools around Vientiane Capital and throughout Laos from 2009 to 2013. She began her career as a Legal Fellow, and became a Legal Trainer with BABSEACLE after she graduates, with commitment to improve legal profession and developing access to justice in Lao PDR. She assists the FLPCLE in developing human resources through CLE community teaching and In-House Consultation Clinic. In 2016, she moved to Champasak, to help support Champasak University with the CLE program on  "Bringing Justice Closer to Woman Suffering from Gender Based Violence (GBV) project as well as support the nationwide development of CLE throughout Laos.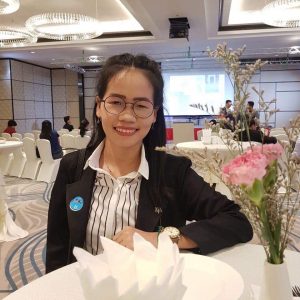 Thip Nouansyvong
Senior Legal Support Officer
Started working in September 2009
From Vientiane, Laos
[email protected] from the National University of Laos, Faculty of Law and Political ScienceThip Nouansyvong received her Bachelor of Laws (LL.B) from Faculty of Law and Political Science, National University of Laos. She is a member of the Lao Bar Association and has been with BABSEACLE since 2009 as Legal Fellow to strengthening and develops the clinical legal education program in Laos where she involving in community teaching and in-house live client consultation clinic. Therefore, she is one of co-founder of 1st Southeast Asia Pro Bono Conference in Vientiane, Laos and become a International Organizing Committee for SEA Pro Bono Conference until now. Presently, she is Senior Legal Support Officer to support Women Access to Justice in Laos.