You know, it is very gratifying to feed a hungry child, but what if you could pay a similar amount for the legal representation of a family provider, in many cases a single mother with several children to feed, who was unfairly incarcerated because she could not afford to defend herself? What if someone were to say to you that, for every $1 USD you invest in a not-for-profit that would help develop systems and persons that provide this and other beneficial outcomes, you will also produce $14 USD of equitable impact would you do it? What if they further explained that this $1 USD that produces $14 USD of equitable impact will help ensure access to justice for other worthy clients would, as well as strengthening the legal education of law students, throughout the region, who will one day go on to become judges and elected officials, would you do it?
Well, in 2014, FTI Consulting, a global business advisory firm that provides multidisciplinary solutions to the complex challenges and opportunities faced by businesses and not-for-profit organizations, conducted an evaluative study, based upon registered empirical data, regarding the Vietnam Clinical Legal Education Program of BABSEACLE (Bridges Across Borders Southeast Asia Community legal Education Initiative). FTI Consulting, who did this as one of their pro bono initiatives, is a client of Herbert Smith Freehills, one of the world's largest and respected international law firms, and long time pro bono partner of BABSEACLE.
This study reviewed phase three (3), of a multi-phrase project, for which BABSEACLE provided technical support to Vietnamese university to develop CLE programmes. The support began in July, 2007, and continues to do so. The FTI survey period was June 2012-October 2013, and covered the support provided by BABSEACLE, through a partnership with UNDP, to its university partners, which included:
Strengthening and supporting the network of Vietnamese CLE programmes;
Placing law lecturers, from universities in Vietnam, at universities overseas;
Placing international Clinicians In-Residence and Legal Fellows, with Vietnamese CLE programmes;
Contributing to the development of a CLE curriculum;
Working, with Vietnamese universities, to introduce accredited CLE courses; and
Conducting and facilitating trainer workshops and community teachings.
FTI Consulting reviewed a number of programme costs, including:
cash expenditures- e.g., travel, trainer accommodations, and BABSEACLE salaries;
pro bono supported labour- e.g., in-kind work provided to BABSEACLE, by law firms, university professors and others; and
other non-monetary items- e.g., in-kind travel costs, office and training equipment.
FIT spent months reviewing a considerable collection of data, with a number of direct benefits and immediate and tangible impacts, and indirect benefits, with a number of longer term and less observable impacts, including project and partner reports, certified accountings, and interviews of project beneficiaries by BABSEA CLE team members.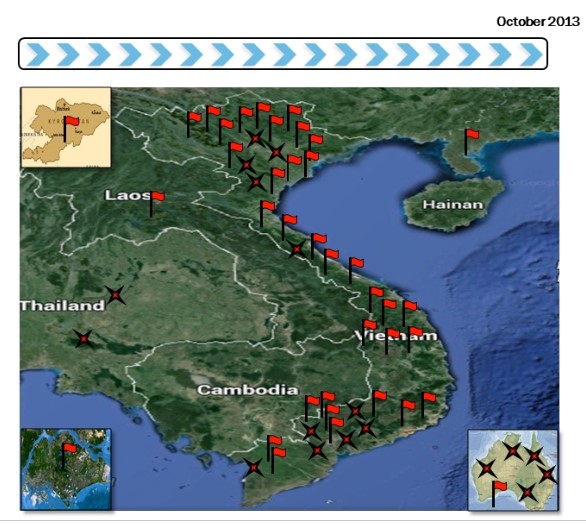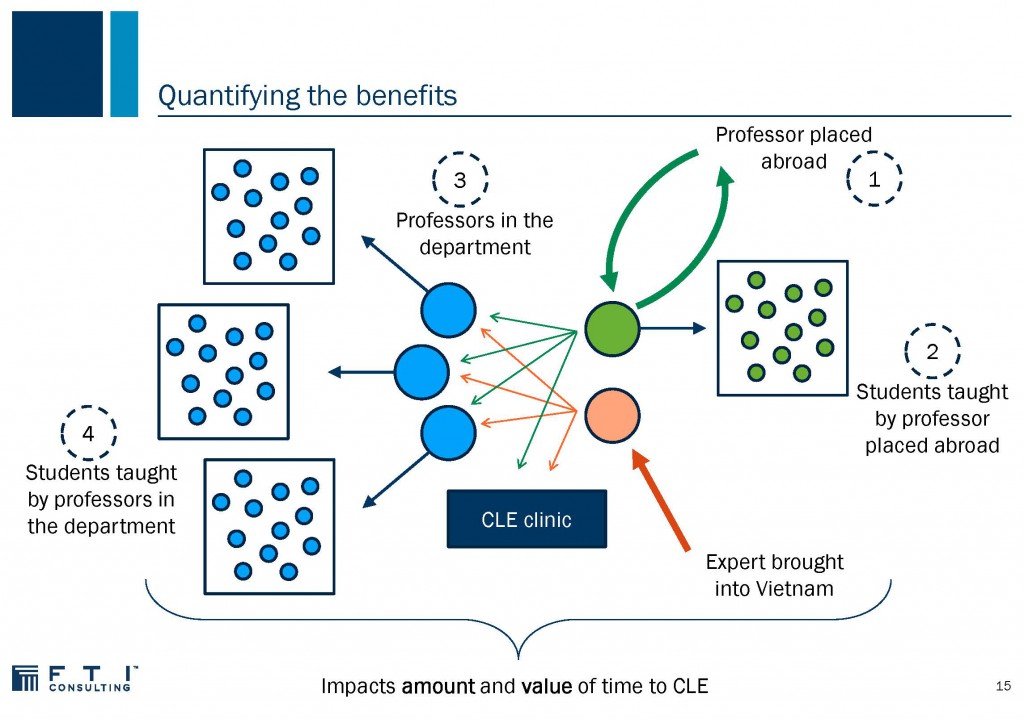 Following this exhaustive review and analysis, FTI projected that, in the next ten years, BABSEACLE will create benefits to legal education and access to justice that are worth fourteen (14) times the cash expenditure spent during 16 month period of time evaluated, and six (6) times the overall expenditures- i.e., cash, pro bono assistance and other non-monetary assistance.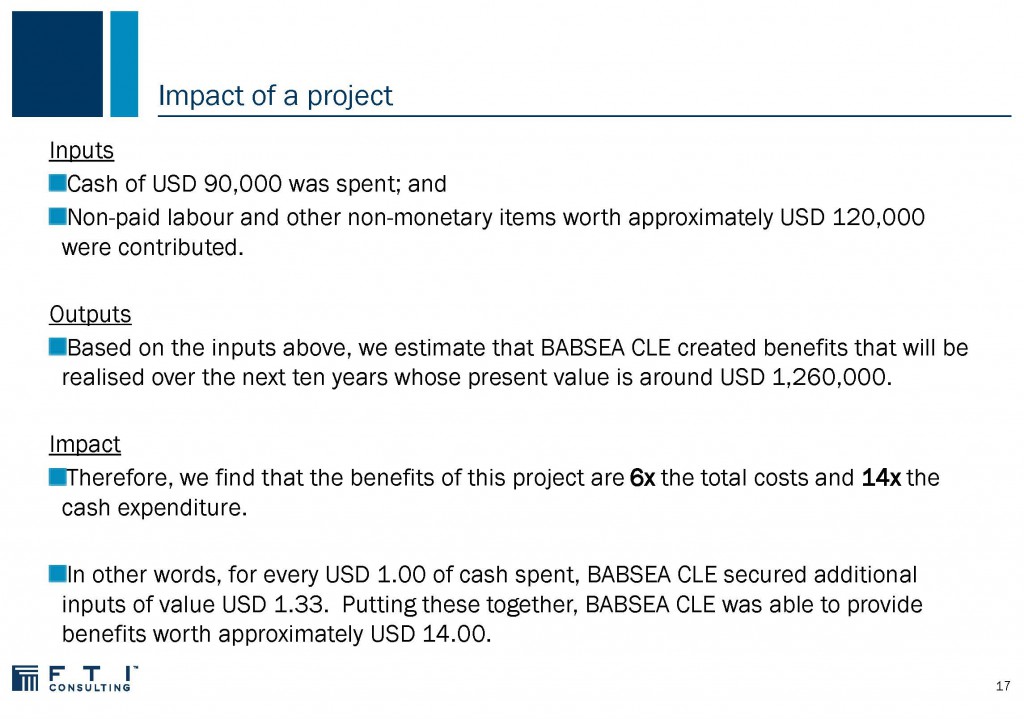 When we received this evaluation, you can imagine how happy we were. However, the news only got better. FTI explained to us that, due to the restrictive nature of the evaluation, it did not fully take into account the additional impact created by BABSEACLE's regional work.
A great strength of our work is to "build bridges", not only within countries, but also across national borders. In doing so, BABSEACLE applies the lessons learned, during the successive phases of a project, to other similar projects and programmes,, which actually amplifies these lessons, for even greater impact and success. This lesson-bridging-application approach allows BABSEACLE to: achieve a given level of impact, for lower cost; and/or achieve a larger impact, for a given level of costs.
A perfect example of the lesson-bridging-application approach is the incredibly successful work that BABSEACLE has been doing, within Myanmar, since 2013, which directly mirrors its work in Vietnam- i.e., applying its well tested Vietnamese strategies to Myanmar, and facilitating direct exchanges between its Myanmar and Vietnam partners. This has had the ancillary effect of magnifying the finite resources that were used in Vietnam, via these linkages, into an almost exponential cascading impact, within regional countries, because it has continued to develop and spread, with no sign of diminishing, to date.
What does this all mean? For one thing, it means investing in BABSEACLE gets you more "Bang for the Buck" and that investing in BABSEACLE is a very good investment that has the figures to prove it.
By Wendy Morrish and Bruce A. Lasky-BABSEACLE Co-Founders/Co-Directors