A Laos Law Student's Experience in Chiang Mai
By Pavina Thephithuck, FLP CLE, Laos
I'm a fourth-year law student at the National University of Laos, and in October last year, I was selected to be a member of the Laos BABSEACLE team going to Chiang Mai for the Trio for Justice event. The Trio for Justice is an annual fundraiser to raise money to implement and support university-based CLE programs throughout Southeast Asia. Each year, the money raised helps support social justice causes throughout the region, such as migrant worker rights, the rights of people living with HIV, prisoner rights, juvenile rights, discrimination, the rights of stateless persons, access to health care, and the rights of transgendered persons and sex worker rights. But this year was special for the Laos team: BABSEACLE pledged to give the first $5,000 from the "Trio" to my university's CLE program! Right now, we have a community-teaching program, but we want to have an in-house clinic with real clients, so this event was very important to us law students.
I was really happy that I was chosen to go to Chiang Mai, as I knew it was a good opportunity to build knowledge and gain experience on how to run a clinic. I travelled overland to get to Chiang Mai, first taking a private bus to Udon and then a public bus the rest of the way. The journey was 15 hours but it did not seem too long. The buses were faster than travel in Laos, and I was able to sleep or listen to music most of the way.
Arriving in Chiang Mai was very interesting, as I had never been there before. I liked the weather and found the local people to be very friendly. The BABSEACLE house was very warm – everybody knew each other, they were all friendly and they all wanted to help in any way they could.
I found Chiang Mai University to be very different to the National University of Laos. CMU's library was a lot bigger and had a lot more resources. While they have more students and more teachers, they also have smaller class sizes. While I was at CMU, Professor Pannarairat Srichaiyarat, Director of the CLE clinic came out and spoke about how they run the clinic in Thailand. This was very informative and it was great to be able to ask questions.
The BABSEACLE workshop was on supervising in a clinic, team management, office procedures and interviewing clients. We learned how to give advice to fellow volunteers acting as clients, about problems, how to resolve disputes and minimize any bad feelings. We also learned how to interview clients and give them advice about the law. We got a lot of information and learned about many new things. We spoke in Thai and in English, but we didn't always feel we understood properly – we would have liked the workshops to go on even longer!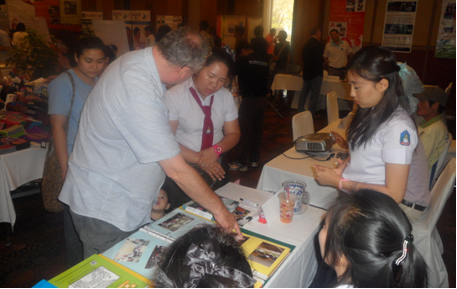 Of the entire "Trio" weekend, BABSEACLE's first 'Access to Justice Fair' was my favorite event. We got to meet lots of different legal organisations and social justice groups (for example, Burma Volunteer Program and Wildflower Home), hear them speak and ask questions. It was interesting to find out about the work they do as well as how their organization is run. I also worked on our information table and answered questions about CLE and the CLE clinic in Laos. People were very interested to find out about how volunteers go out into local communities to teach the people about the law.
I was a little apprehensive about working on the information table: although I'd worked on one before at the National University of Laos, I'd certainly never worked on one in another country! Luckily, attendees understood that we were not native English/Thai speakers, and asked questions in simple language. This allowed us to answer them effectively and a good experience was had by all. I'd definitely like to work on an information table for BABSEA CLE again. And we all would love for everyone we met at the BABSEACLE house in Chiang Mai to come to Laos; you could give further training to volunteers here, and besides, good neighbors should visit back and forth!