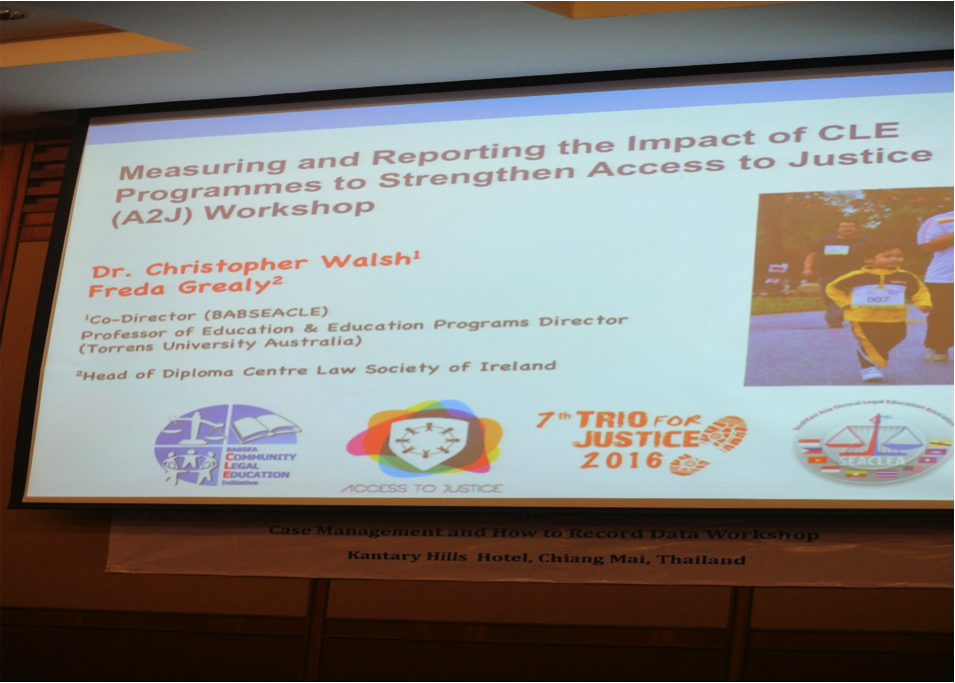 Aisyah is a lawyer, who is a CLE Project Officer, at the University of Malaya (Malaysia) Faculty of Law, co-coordinates their Community Outreach Programme, is in charge of establishing their legal aid and is currently pursuing her criminal justice masters degree, and Muhammad is a second year law student, at the Faculty of Law of the University of Malaya, and is actively involved in community outreach.
Bridges Across Borders Southeast Asia Community Legal Education Initiative (BABSEACLE) held the above workshop, January 21 and 22, 2016, at the Kantary Hills Hotel, in Chiang Mai, Thailand. It was attended by law lecturers, law students, lawyers and volunteers, from all over Asia, including 4 students and a CLE project officer from the University of Malaya. The two main workshop topics were titled "Measuring and Reporting the Impact of CLE Programmes to Strengthen Access to Justice and Case Management" (the first session), and "The Role of the Lawyer in Promoting Access to Justice and Legal Ethics" (the second session). Participants were asked to brainstorm many activities, terminologies and methodologies that are related to these core topics.
The first session was conducted by Dr. Christopher Walsh, Co-director of BABSEACLE, and Freda Grealy, Head of Diploma Centre Law Society of Ireland and long term BABSEACLE Senior Legal Support Officer Volunteer. In the second session, trainers introduced and explained new terminologies that are related to the process of measuring and reporting the impact of CLE.
We discussed monitoring concepts and related problems, and shared past experiences and the methods that we use in our own clinics. The importance of measuring data and reporting the impact of CLE programmes, to committees, organizations or governmental bodies, and the consequences of the failure of many clinics to do so, was emphasized. That is, we not only have a responsibility to our clients, to set up an efficient system that monitors the progress of any project or case, we also can directly benefit, monetarily, If we create awareness, on certain issues, to funders, governmental bodies and/or the general public.
We learnt how to create a Likert survey, which is a useful method to make sure that goals are achieved, to collect data and to measure the degrees of opinion or belief, on particular topics, of people from different backgrounds. Although such a survey might appear to be a menial task, a great survey can have a great impact on issues relating to Access to Justice.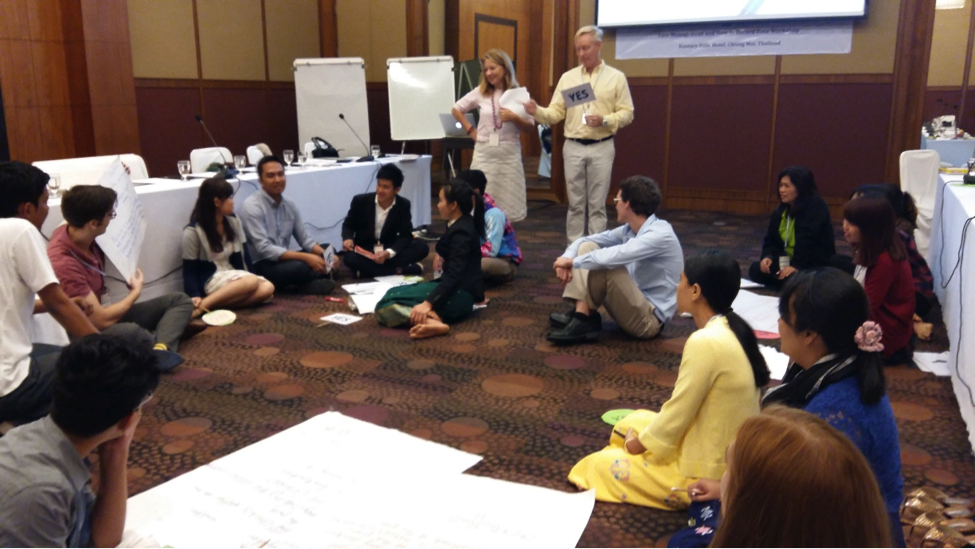 Please read the quotes, below:
"It was great for me to see Access to Justice practitioners and students from around the region engaged in learning monitoring and evaluation. M&E is too often ignored in the pursuit of justice. This session helped reinforce how essential it is." – Maxwell Abbott, BABSEACLE Legal Support Officer and Legal Researcher, Indonesian Legal Aid Foundation (YLBHI)
"Today's session was very useful. We need M&E for so many parts of our life to understand what is good and what needs improvement. I learned about the importance of collecting data, analyzing impact and making priorities for measurement." – PaponteeTeeraphan (Got), Lecturer of Law, Thaksin University (Thailand)
"This was my first time learning about monitoring and evaluation. I really enjoyed it and want to learn more when I return to my university in Vietnam." – Duong Khanh Ly, Law Student, National Economic University (Vietnam)
To us, this session was very important especially because we are in the midst of establishing a legal aid clinic in our university. We learnt a lot of new things, and we will use the new knowledge and skills to improve our own Clinical Legal Education programmes. Many questions which have been running in our minds were answered in this workshop. In fact, what we learnt in this session cannot only be used in Clinical Legal Education programmes, but also for administrative work and in general academics too.
This workshop served as a platform for aspiring legal clinic administrators, to share and develop their understanding of management issues, and it focused upon topics, such as the management aspect of clinics, which are otherwise rarely discussed. It is now clear that reporting and measuring the impact of Access to Justice are core aspects of Clinical Legal Education, to present and future lawyers, who are the voices of people-in-need.
By Aisyah MohdSoberi & Muhammad Kamil bin Karim (University of Malaya)