By Dr Chris Walsh_Co-Director, BABSEA CLE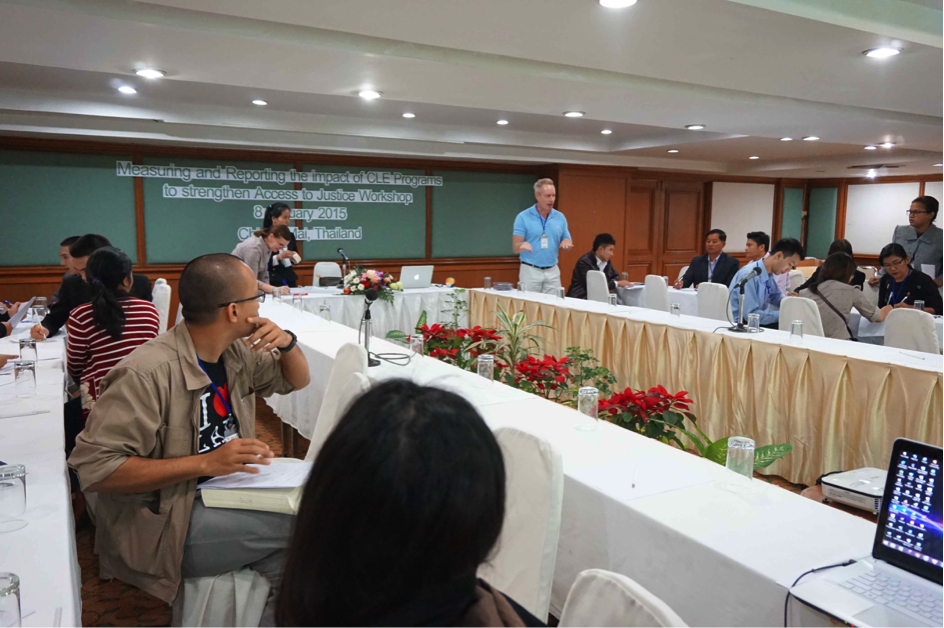 On January 8, 2015 I gave a workshop to just under 25 students and advocates for justice at the Access to Justice Weekend Fair at Chiang Mai Hill Hotel with Wendy Morrish. It was an incredibly exciting workshop with participants from the following universities:
Ratchapet University (Thailand)
Ubon Rathchatani (Thailand)
Prince of Songkhla University (Thailand)
Trade Union university (Vietnam)
National Economics University (Vietnam)
National University of Laos (Laos)
Rangsit University (Thailand)
Taunggoo University (Myanmar)
Magway University (Myannar)
Myitkyina University (Myanmar)
We started the workshop with an icebreaker entitled 'What do you believe" where workshop participants interviewed a person they did not know to gauge what he or she believes about clinical legal education (CLE).
A goal of the icebreaker was to illustrate how time consuming it is to interview an individual about their beliefs and to engage in a discussion about using surveys or questionnaires instead. This is because surveys and questionnaires allow us to collect a lot of information quickly.
The rest of the workshop was devoted to groups working together to describe the objectives of their CLE programs and think about the kind of data they would need to collect to know if their program was having a positive or desired impact.
A first goal of the workshop was to understand that measuring impact is a recognised way to demonstrate the value a CLE program is delivering to its beneficiaries and the community.
A second goal was to articulate or state key performance indicators (KPIs) or those measurable impacts that demonstrate how effectively a clinic is achieving its objectives.
A third goal of the workshop was to learn about Linkert surveys and the Linkert scale that allows researchers to uncover degrees of opinion or belief on a particular topic or the identified KPIs.
Then we all collaborated to design survey questions that used the Linkert scale, like this sample question:
Participation in the CLE clinic improved my lawyering skills
                 ☐ Strongly agree
                  ☐ Agree
                  ☐ Disagree
                  ☐ Strongly disagree
Overall it was a wonderful workshop, but wish we had much longer to spend on the design of the survey questions. Future workshops will cover the need to have a data analysis plan to drive survey design. One long term goal is to design a Linkert survey that can be used throughout Asia.