Phattharadanai Chaiyayong
Intern and Volunteer Coordinator
I studied at Chiang Rai University. My lecturer assigned, as a course for all students, to do an internship in a company or organization situated in Thailand. As part of the internship, students should use the English language to communicate to help them to develop their English skills. I talked with Nada Chaiyachit, someone who works with international organizations in the Chiang Mai area. I know Nada through Facebook, because she had previously invited me to join a Facebook group for the transgender community. I chatted with Nada on Facebook and asked for her help to find an organization, which will also accept that I'm a transgender student. Nada suggested that she could introduce me to BABSEACLE, and that I should search for more information about BABSEACLE.

This was the first time that I heard about this organization, and they have an office in Chiang Mai. Nada asked me what I want to do during my internship and what I want to learn from my internship. I answered that I want to develop my English skills, and also to communicate with people in other countries. It was a great opportunity for me to find out more about the history of BABSEACLE. I read some information on BABSEACLE's website, and then contacted them to request an internship with the organization. My lecturer noticed that BABSEACLE works in law and social justice, but that I seemed not worried, even though I have never learned about the law before. But I confirmed that working with this organization will help me to improve my English language, because I read on their website that they also have externs from countries outside of Asia. Also, the organization uses English to communicate in the office.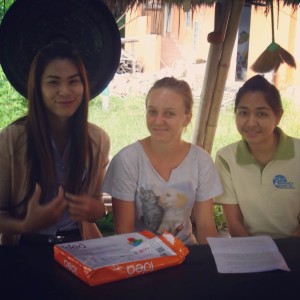 The 11th of June last year was my first day at BABSEACLE, and was an opportunity for me to see whether working at BABSEACLE will be beneficial for me or not. This was the first question in my mind. I met with Elaine, who was teaching English at BABSEACLE. She explained about our work and all of the different projects we were working on. I had some CLE English classes with all of the externs who were here from other countries. I felt like a student in these classes, but later on I felt friendlier with not only the externs, but also with all the staff at BABSEACLE. They were very welcoming to me, and we are the best of friends now.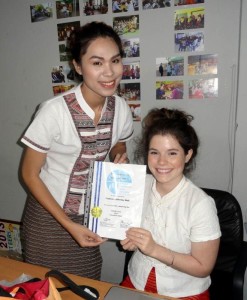 Some of the staff have now left their jobs at BABSEACLE, and have new jobs in other organizations, but we are still connecting all the time. I have never forgotten the time when I went hiking to Doi Suthep with interns from Vietnam; through this activity I learnt the meaning of the word "teamwork" even though I don't like hiking.
My internship with BABSEACLE lasted until the end of October, a total duration of more than 4 months. It was very difficult for me to speak in English before I came to BABSEACLE, but now I can write emails in English and can speak English better than in the past. I could not leave BABSEACLE because I would really miss all the people who are my best friends. I still came to visit the office every time I was free. BABSEACLE is like a big family for me, and I look forward to seeing all of them. After my internship finished, I also worked as a volunteer with BABSEACLE and helped them as much as I could. I do not know exactly why I like working here, but one thing I know is that this has been a big experience in my life. Now I am a staff member at BABSEACLE, and my position is to coordinate with interns and volunteers who want to volunteer or work at BABSEACLE. I would like to say thank you to everyone at BABSEACLE for the trust and confidence that you have placed in me.