Kai Chun Chan, University of York
Volunteering is about giving. But it is also about having a great time and experiencing more in life, a volunteer experience is one you will remember all your life. This experience means sharing time with like-minded people, sharing your expertise with the people you are helping, sharing the work and sharing the fun and excitement of being taken into another culture. I always hear people say: you only live once, so we should always experience and try new things as much as possible while we can, which I totally agree with. This is one of the main reasons I volunteer – for personal enrichment and to experience more in life. This summer I had the best volunteer experience I have ever had so far.
In the summer of 2013, I began my volunteer work in BABSEACLE's Chiang Mai office, where I had a great time. Before I came to BABSEACLE, I did not know much about the organisation- all I knew was it is a community legal organization which focuses on ethically orientated legal capacity development and community empowerment. It also aims to help establish, strengthen and support Clinical Legal Education programmes by educating law students, in order to help bring access to justice to marginalised communities.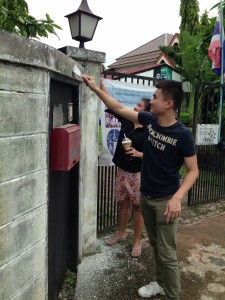 Nearly every summer, as a law student, I undertake an internship programme to gain more legal experience and before I came to BABSEACLE, I was working in a law firm for a month. I thought the work I would do in BABSEACLE would be very similar to what I had done for the law firms – working with clients with legal problems, giving legal advice, reviewing contracts – mainly working with legal issues. However, I was very wrong. What I did in BABSEACLE was much more meaningful and useful than what I did in my placement. One of the reasons I chose law as my degree was because I wanted to help people, especially the poor and marginalised communities- to help them access justice so as to preserve the notion of justice. While I was giving out free legal advice or producing legal reports in the placement and during my degree, I felt like I was aiding the community by providing legal services to people who could not afford it. But when I was working in BABSEACLE, I felt like I was really helping people, because BABSEACLE was educating communities about their rights and helping them to avoid injustice.
In my previous placements, there was some limited pro bono service provided for people, and seemed like it was providing a public service and doing good, however, it was not tackling the main problem. BABSEACLE was different. In BABSEACLE, I had the opportunity to work on the "Wildflower" project, which educates young women who often come from poor or marginalized communities and have little to no knowledge of legal matters. These classes teach basic legal rights and promote human rights awareness, emphasizing the importance of the assertion of these rights and hopefully will empower them to deal confidently with such issues in the future.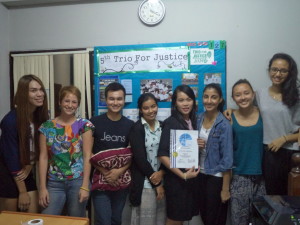 After working on this project, I felt like, although placement programmes and clinic modules in university can both help people, they are not the most effective ways. They only help people when they get into trouble, conversely, the Wildflower programme really tackles the root problem as it educates women about their rights to help them avoid trouble and know what they can and should do in different situations. This is why I feel like the work in BABSEACLE is so meaningful.
My volunteering experience in BABSEACLE Thailand office not only gave me memorable experiences, it also changed my perspective on what kind of lawyer I wish to become. Lawyers are supposed to do public good, they should not become too profit-oriented, and therefore, it is essential to provide pro-bono services to the public. I wish sincerely that in the future, more law students, lawyers and legal fellows will be inspired by this mission and help communities access justice and that BABSEACLE will become stronger and be able to help more people.