By: Marieke Johnson, BABSEACLE Externship Participant and Law Student at Ohio Northern University
On June 8th, 2014, I taught English at Wat Sai Moon for the first time. I went with a fellow intern, Parvinder Nijjar. As participants in the Externship Program offered by BABSEACLE, we not only participate in our daily work assignments, but also complete a community service requirement. I have chosen teaching English to children as one of my community service activities because I am a strong believer in education and youth.  Upon our arrival, we were shown the way to a classroom by a very soft-spoken monk who was all smiles about seeing us. The classroom had about 20 young children sitting on the floor who were so vibrant and full of life. We began by playing a game of telephone and saying the English phrase "I love ice cream" and having the children whisper it into the ear of the person sitting next to them. By the end of the chain, the phrase had turned into something completely different. The children laughed and smiled at the phrase and enjoyed our little energizer. Next, we had the children introduce themselves to one another.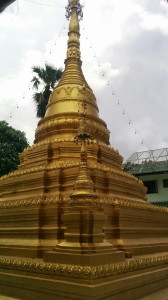 We learned this was not the best idea because the children were all on different English levels. We modified our lesson plan and went around from student to student, introduced ourselves, and then listened as they introduced themselves to one of their friends.
            Next, we had each of the students draw a picture of their favorite food. At first, I was just expecting them to want to know how to say the phrase "My favorite food is ____", but I was surprised when several of the students asked me how to spell their favorite foods and the sentences that we were having them repeat to us. All the students were so willing to learn and active in asking questions and how to say different things. Once every student had their favorite food drawn and had practiced the phrase with their favorite food, we wrote the phrase and each of their favorite foods on the board.  It was such a wonderful success; some of the students were even coloring in their pictures.
            At the end of the lesson, all the children hugged us and said "thank you" and "bye, bye teacher" to us in unison. It was so heartwarming and touching. I am so excited to teach them animals and colors next week, because that is what they decided they wanted to learn, not what we told them they should learn.