By Phatthararadanai  Chaiyayong Externship Coordinator
As a busy non-government organization, BABSEACLE is always looking for support from suitably qualified people who are looking to volunteer in Southeast Asia. We are constantly seeking supporters with experience in a variety of fields who are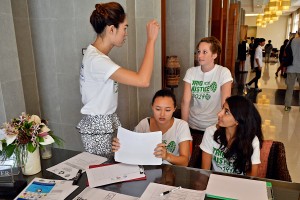 willing to both contribute to the organization and work to help continually improve the skills of our staff. We especially value those with experience in Southeast Asia or in a cross-border setting. In lieu of such experience we are more than happy to accept those with enthusiasm for working in a vibrant, culturally diverse workplace.
United World College of South East Asia (UWCSEA) endeavors at all times to promote excellent relationships based on trust and mutual respect with all stakeholders in the Gap Year programme. UWCSEA recognizes the enormous contribution made by its volunteers and their parents to the success of the Gap Year project and subsequent prestige of the college. Equally UWCSEA recognizes and appreciates the work done by the host organizations to look after, educate and mentor Gap Year volunteers. Therefore in order to facilitate the smooth running of the programme, we provide a memorandum of understanding with all stakeholders to clarify and strengthen these relationships.
Most of the students who apply are selected by Kevin Morley the head of Gap Year Projects at United World College of South East Asia (UWCSEA) in Singapore. This year (2013) we had 3 students from different countries including; Singapore, Malaysia and Australia. They came to work with us for 3 months and assisted with many projects. The main project was to assist BABSEACLE with organizational administrative support including a strong focus on  event organization. We also were involved in  making the BABSEACLE Calendar for 2014. Another  project that was undertaken by the UWCSEA volunteers was teaching English. Every week they go to help and teach the children at Wai Sai Moon (temple in Chiang Mai), through this project BABSEACLE is involved in the Myanmar community and can build a relationship between BABSEACLE and the local community. Here they can use many skills they have on projects such as managing the Access to Justice Fair event in 2013, where they helped to design the advertising. They also teach English to the staff. I spent much of my time working closely with them as I am also their supervisor. This was a great opportunity to work with them and get to know them. I can imagine that they will be great people and have more responsibility in their work.