From 8 – 13, August 2016, Dr. Chris Walsh, one of the Co-Directors of Bridges Across Borders South East Asia Community Legal Education Initiative (BABSEACLE), traveled to Vientiane, in Laos, to assist the BABSEACLE Lao team, in setting up a baseline study, for the Bringing Justice Closer to Woman Suffering from GBV project. This innovative project, in partnership with the Association for Development of Women and Legal Education (ADWLE), aims to contribute to the reduction of GBV, and increase access to justice, for certain target groups: vulnerable women, community members, local authorities and village mediation units, in 30 Laotian villages; 2 National University of Laos (NUoL) law faculties; 120 law students and 10 law professors and lecturers from Champasak  University;  and 50 judicial and law enforcement officials.
The project will undertake a number of activities, in order to reduce GBV, in Laos, including increasing the participation of civil society, improving the knowledge of fundamental human rights, raising awareness of GBV against women and men, drawing attention to the status of vulnerable women, and enhancing the capacity of key legal stakeholders such as judges, prosecutors, law enforcement officials, law professors and lecturers, law students/graduates and paralegals. The main objectives of Dr Chris' visit were to pilot test the project's surveys, to strengthen the National University of Laos law students' awareness and knowledge of GBV and to provide training on how to administer the surveys, to participants from rural villages.
It was a very busy four days.  On the first day, Pavina Thephithuck, Bounthy Xaechao, Dr Chris and ADWLE's Khitthachanh Phetouthone visited 3 target villages Phonengam, Paksarpmai, and Nontae outside Vientiane. On the second day, they met with the Head of The Faculty of Law and Political Science Clinical Legal Education, Aj Souliyun Lounchantha, to discuss the background of the GBV project and the reasons why BABSEACLE and ADWLE undertook the baseline study, prior to the project.  Then, they met with the Vice Dean of the Faculty of Law and Political Science, to discuss the promised implementation of the CLE curriculum, and to explain the GBV project, to the Vice Dean.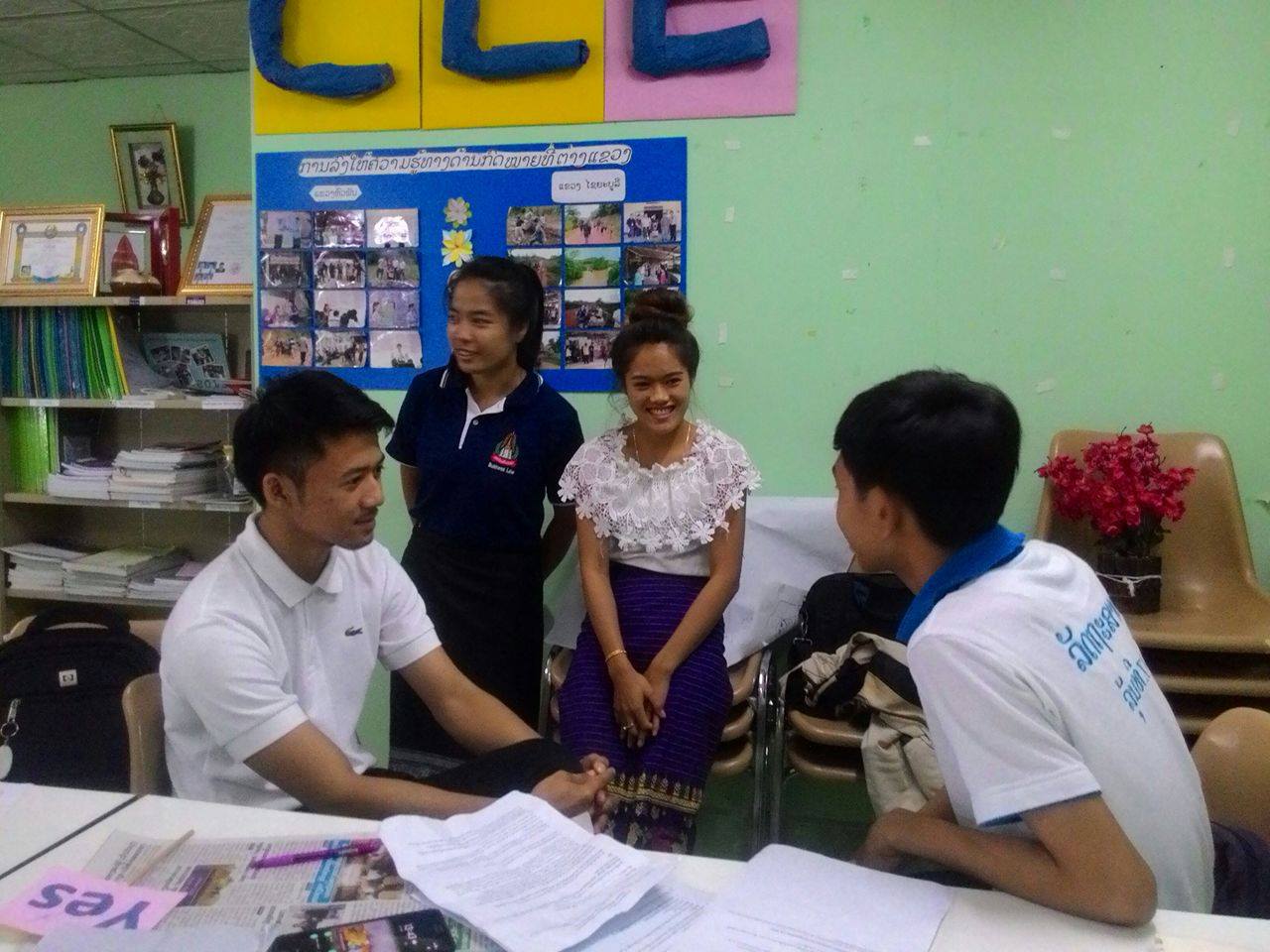 During the last two days of the visit, the team co-organized and co-delivered a training on GBV and Interviewing Skills, at the Clinical Legal Education Center at the National University of Laos Faculty of Law and Political Science. The objectives of this training were to strengthen knowledge about GBV, to improve access to justice for women in Laos and to develop law students' interviewing skills. On 11 August, we presented information about GBV, in Laos, and studied the Declaration on the Elimination of Violence Against Women.  The next day of the training was devoted to practicing interviewing skills, including: conducting sensitive interviews; obtaining informed consent; and maintaining the confidentiality of interviewees.
The law students were all volunteers, who will be travelling to 15 rural villages, outside Vientiane, in order to conduct the baseline at the end of September.
By Bounthy Xaechao & Dr. Chris Walsh, BABSEACLE Co-Director
Support by:                                                   Collaboration by: