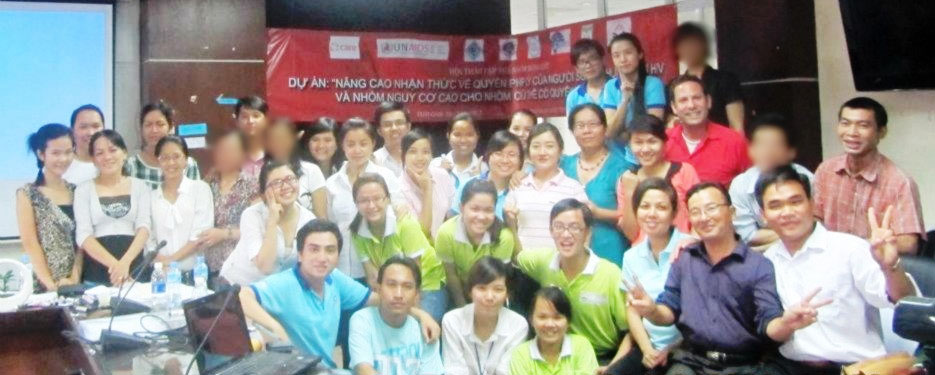 by Trang Tran Le (Ivy), BABSEACLE Staff Trainer
At the end of June, BABSEACLE and BABSEACLE Foundation, with support from UNDP, UNAIDS, and CARE International, offered a two-day Training of Trainers (TOT) workshop at Ho Chi Minh City University of Law in Viet Nam. The workshop was part of the project, "Raising Awareness of Rights Holders and Duty Bearers on the Legal Rights of People Living with HIV (PLHIV) and Key Populations in Viet Nam."
BABSEACLE worked with partners VNP+ and the Education and Cultural Center (E&C) on this special workshop to train participants who will go on to become the main trainers of other groups in the PLHIV community.
There currently are proposals for two community teachings in Can Tho and three in Ho Chi Minh City on the legal rights of PLHIV, to be held from August-October.
After the TOT workshop, the participants were divided into small groups of students from different universities and members of the community, to start preparing for the upcoming activities.
Participants in the Training of Trainers workshop in June included law students from Can Tho University, the University of Economics and Law and Ho Chi Minh City University of Law, four people from Can Tho and eight from Ho Chi Minh City who are PLHIV and/or working with PLHIV.
The workshop lessons included knowledge about HIV, the legal rights of PLHIV, how to teach others about HIV and legal rights of PLHIV, the value of protecting the rights of PLHIV and how to organize a workshop. All the
participants reported that they enjoyed all the activities.
Future Plans
In addition to forming small groups to carry out tasks for future workshops, all the par-ticipants helped form a country-wide network made up of law schools, NGOs and communities: a network dedicated to working to support the rights of PLHIV.
The success of this Training of Trainers workshop marks a turning point in the program: having succeeded in community outreach and the training of a core group of law students, NGO and community members, the pro-gram is set to grow nationwide, providing valuable training to more PLHIV and law students in Viet Nam