The View from Cambodia: Help Your Neighbor, Help Yourself!
By Vidjia Phun, Director, Pannasastra University of Cambodia Clinical Legal Education Program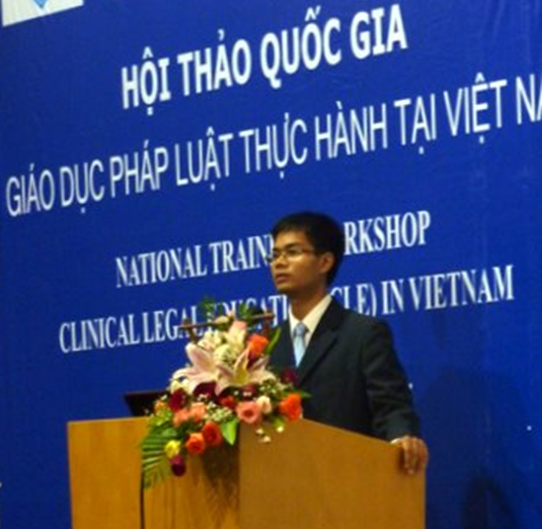 For the first time since 2007, I attended a CLE regional workshop – Viet Nam's 2nd National CLE Workshop, held last February in Can Tho. It was really useful and refreshing to get an update on the development of CLE in Southeast Asia. I was especially impressed with the development of improved curriculum and new materials: textbooks, lesson plans, even ice-breaking activities, and other vital resources that I can adapt for my own CLE teaching and management of the Legal Clinic office at Pannasastra University of Cambodia.
I was also pleased to observe the high level of enthusiasm and appreciation of CLE among Vietnamese law educators and students alike. I recognize that these are signs of a rich breeding ground for successful implementation of CLE.
The number of presentations done by instructors and students from various Vietnamese universities were an indication that although CLE started relatively recently in Viet Nam, there are many exciting and innovative activities, from an open mock trial held at a market to BABSEACLE's work disseminating information to law faculties throughout the country, helping them implement CLE programs. During the entire week-long workshop, I was reflecting on the situation in Cambodia, where only two universities have clinics – and they rarely think about working on joint projects.
I began to feel that the recent development of CLE in Viet Nam and other countries could even surpass a clinic started in 2003-2004 in Cambodia in terms of activities. There is the component of an in-house clinic attached to overall activities of CLE programs at Vietnamese universities. This week of workshops pushed me; it motivated me: I want to find a way to set up an in-house clinic at our university.
Challenges  
Before I arrived at the workshop, I expected that my role would be working with other international and regional clinicians to prepare curricula for both community teaching and clinics, and I really enjoy that aspect of my work.
But when I was assigned to supervise Vietnamese students and instructors to help develop a textbook, I thought that would be a difficult task, given the language barrier and limited amount of time to work on it. And we did have some communication problems.
It was difficult to talk about the structure of a lesson plan, knowledge of substantive law, or even basic MS-Office and Internet searching skills. Some of the students had not yet mastered the basic laws and so had difficulty in developing proper content with an acceptable reference to substantive Vietnamese law. To be honest, I was really frustrated. I had to think about productive supervision. After a several tries, I stuck to two groups with whom I felt I could communicate sufficiently. The other groups were assisted by outstanding international clinicians with the assistance of Vietnamese interpreters.
Another challenge was that Vietnamese law embodies concepts of a Socialist legal system, and in developing exercises for a lesson, I encourage the team to create a scenario in which learners can re-evaluate the law. In other words, what the law should be, not as it is. I sensed a feeling of resistance to my ideas. But in the end, both the teams I supervised completed a lesson plan each. Those lesson plans will be revised and improved as the textbook goes through its process, but I feel very happy and proud that a Cambodian CLE professor was able to come and share experience and expertise with the enthusiastic students of a burgeoning Vietnamese CLE movement.
And I am the first to acknowledge that the workshop was a learning experience for all participants, including me! I am sure the "cross-pollination" of new ideas and fresh activities that I brought back from the workshop will help CLE grow more in Cambodia, too.