As a volunteer for Bridges Across Borders Southeast Asia Community Legal Education Initiative (BABSEACLE), I attended the 2nd Access to Justice (A2J) weekend that took place in Chiang Mai, Thailand, January 21 – 23, 2016. This was a combined event that was organized by BABSEACLE, and it was comprised of: a 2-day workshop, with such topics as Legal Ethics, Pro Bono, Access to Justice, Professional Responsibility, and Monitoring and Evaluation of CLE Programmes and Case Management; the 5th Access to Justice Public Interest Fair; the 7th Trio For Justice run/walk; the Access to Justice Celebration Dinner; the legal-themed Movie Night under the stars; and the Silent Auction, which raised money for Access to Justice and Pro Bono Initiatives in the Asia region. These justice-awareness events brought together students, teachers, lawyers, legal trainers, non-government organizations, and individuals who wanted to improve their knowledge about access to justice and rule of law.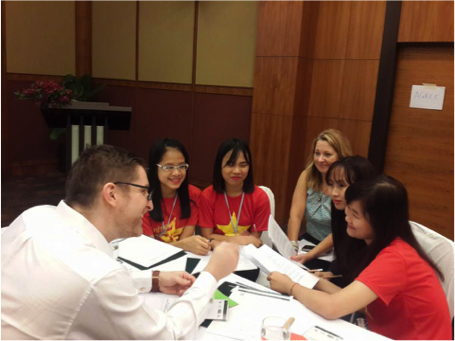 On Thursday and Friday, two parallel workshop sessions were held, at the Kantary Hills Hotel. These Clinical Legal Education (CLE) oriented sessions were run by trainers from BABSEACLE and its international partners, including DLA Piper/New Perimeter. 57 participants from Vietnam, Laos, Thailand, Philippines, Malaysia and Myanmar joined the workshop, including law teachers from the region, as well as representatives from the greater legal community and the NGO sector, including a significant number of current law students.
The first workshop covered legal ethics, and focused upon lawyers' duties and the role of lawyers who  promote access to justice. Numerous interactive methods were used to keep the participants involved and actively engaged- e.g., role play, case analysis and small group discussions. This workshop generated an intense and lively debate, on topics related to access to justice and pro bono work, and provided the participants with essential lawyering skills.
The second workshop was on Data Recording, Measuring and Reporting the Impact of CLE Programs (to Strengthen Access to Justice), and Case Management. It is important for current and future lawyers, and others in the legal sector, to prioritize social justice, in order to provide communities with access to justice. The participants were involved, passionately engaged and motivated with positive energy. When asked about their impressions of the 2-day workshop, many said that the sessions were inspiring and informative, and that it was beneficial to improve their knowledge and skills, and to get in contact with people from all over the region.
On Saturday, three events took place, simultaneously, at the Huey Tueng Tao Park:  the 7th Trio For Justice run/walk, the Access to Justice (A2J) Public Interest Fair and the Silent Auction. All events had the same objectives: to bring together many different people; and to raise awareness about access to  justice and pro bono initiatives, in the Asia region.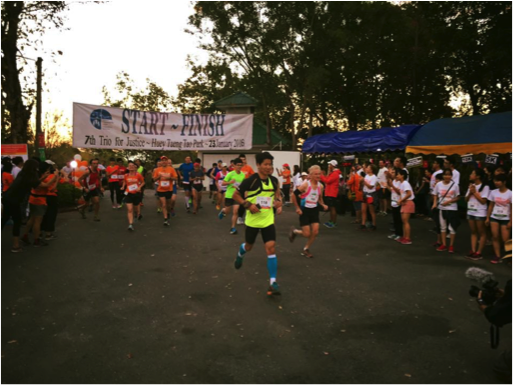 The Trio For Justice included a half-marathon (21k) run, a 10K run/walk, a 5K run/walk and a 3K fun run/walk. The day started with an optional Zumba session, as a fun way to help people get ready for the run. The run started, at 7am, and the sun was shining when the last runner crossed the finish line. What a magnificent day it was! For some, it was the first-time participation in a running event. People had a chance to write, on their bibs, the reason why they were running, such as: equality, respect, education, their family, the future, happiness, joy and/or health. The run was fun and challenging, surrounded by a beautiful environment, and over 400 people participated. They also explored booths at the A2J Public Interest Fair.
This fair hosted an array of organizations and foundations that shared their experiences and efforts, in furthering access to justice and public interest issues, in the Asian region. Attendees were eager to learn more about, and engage in, access to justice and public interest issues. This event was useful to boost local activism, to connect the NGOs with people who are trying to fight for justice and to improve society. It was a great opportunity to have fun and to learn about what happens around the world. Katherine Welch, the founder of Relentless, which was one of the organizations that set up a fair booth, said that it was all about "…engaging people who already care about their body, the environment, and care about other people, as well".
Next to the Fair was a Silent Auction, which had opened, on Thursday, during the workshop.
The final bidding and claiming of prizes was done Saturday, at the Park, at 11am, after the running event, where additional financial support was raised. The Silent Auction helps support many of the impactful justice education, ethics and pro bono initiatives that BABSEACLE and its partners promote, and helps  to fund pro bono and CLE Workshops, throughout the Asia region. A2J participants were asked to bring and donate traditional souvenirs from their home countries, in order to support Asian multicultural social justice.
On the Saturday evening, the A2J Celebration Dinner was held at the BABSEACLE Volunteer House Everyone enjoyed the weekend atmosphere, and shared a well-deserved meal, after all their physical efforts! The event was enriched by  cultural performances, organized by the participants, who sang a medley of songs, and danced traditional cultural dances.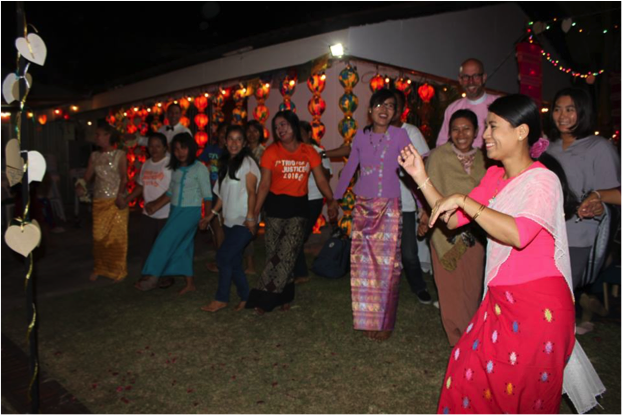 The A2J Weekend ended with a legal themed movie night "under the stars" that was held, Sunday, at the BABSEACLE Volunteer House. The rain didn't stop us from having a fabulous time, so we moved indoors! After The Verdict and The Sun, and the Moon and the Truth were shown, a question and answer period tested the audience about both video themes, justice and rule of law.
It was really important that many people joined the A2J Weekend, in support of access to justice. Martin Luther King Jr. said it best, "Injustice anywhere is a threat to justice everywhere".
The event was a lot of fun and definitely a great success. Hope to see you all again next year!
By Camilla Caron , intern for BABSEACLE