The Legal Ethics and Professional Responsibility Training Workshop was held, 29 – 30 September, 2016, in Hanoi, Vietnam, by Hanoi National Economics University (NEU), in collaboration with Bridges Across Borders Southeast Asia Community Legal Education Initiative (BABSEACLE), and with the support of the NEU Community Legal Education team (CLE). With the aim of raising awareness of legal ethics and professional responsibility, the workshop attracted many participants, who were teachers and students from the Faculties of Law of the NEU, the Foreign Trade University (FTU), the Vietnam National University (VNU), the Hue University (HU), and the Trade Union University (TUU), among others.
The 4-lecture workshop has given participants new lessons on legal ethics and professional responsibility, provided useful knowledge, and was an opportunity for teachers and students, from different universities, to learn from each other. It received great support from the NEU represented by its Vice President, Assoc. Hoang Van Cuong, who expressed his gratitude, for being given the chance to organize this workshop, and emphasized the importance of equipping teachers, as well as students, with knowledge about legal ethics and professional responsibility.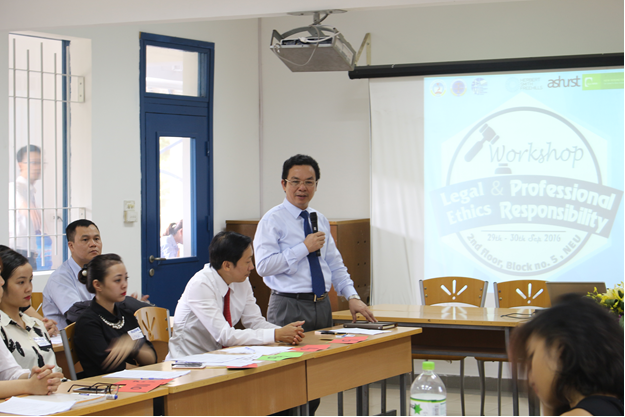 Assoc. Hoang Van Cuong expressed his thanks to BABSEACLE and Ashurst Law Company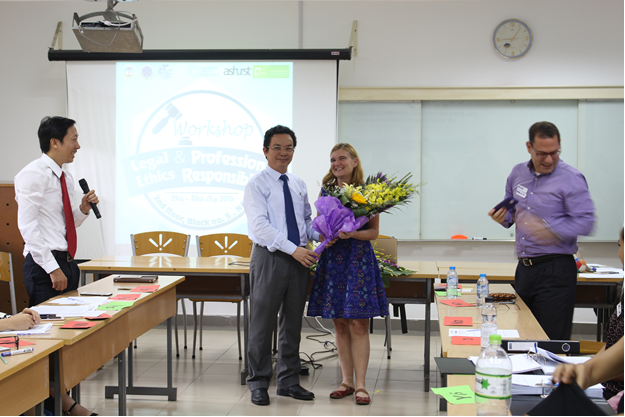 Assoc. Hoang Van Cuong on behalf of National Economics University, gives flowers to Mrs Wendy Morrish, co-founder of BABSEACLE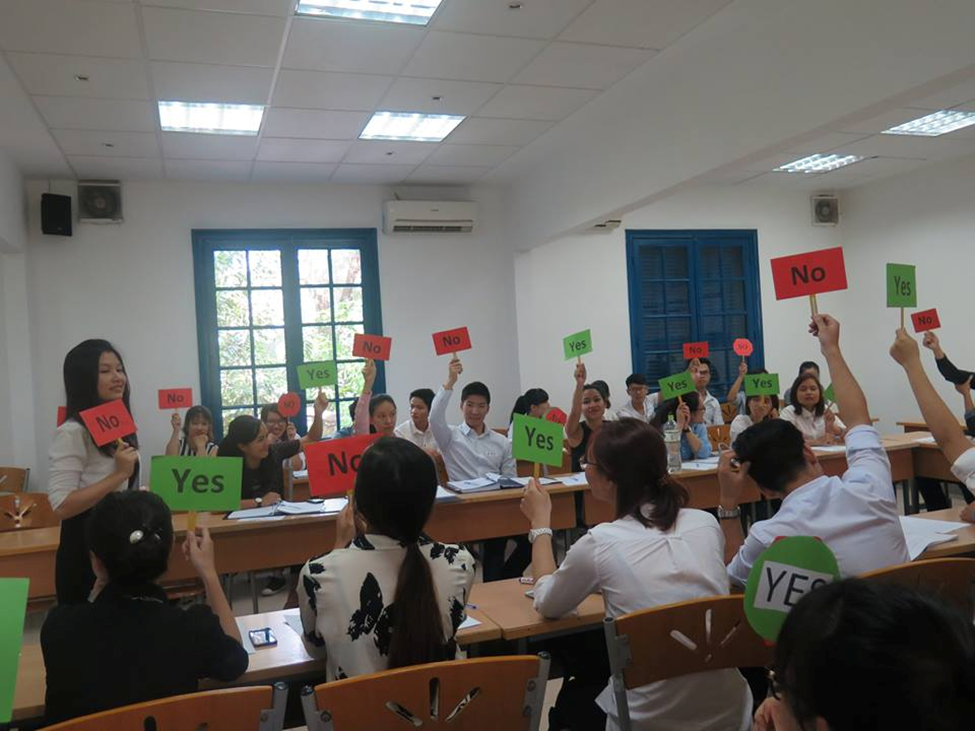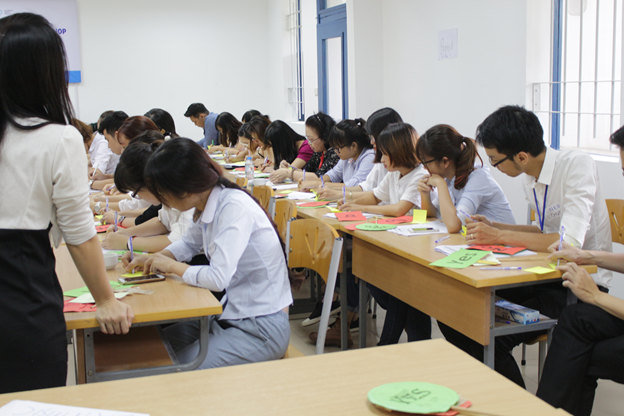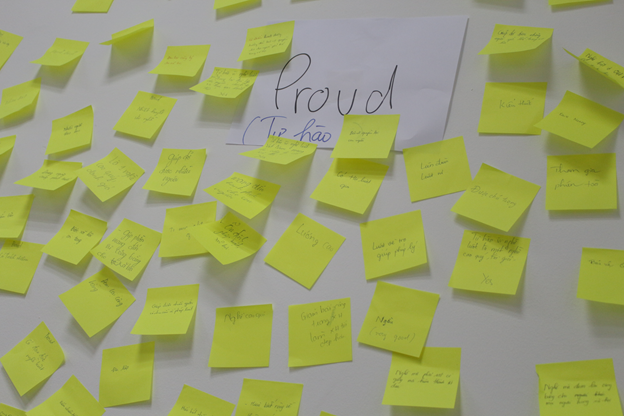 The first session began, with a warm-up game, so that participants and trainers could get to know more about each other. Then we learnt about general issues, relating to legal ethics, such as its definition and its source. During the second lecture, participants were equipped with knowledge about lawyers' ethical duties and the duty to communicate effectively and promptly, with clients. Our trainers shared their personal experiences, and help us recognize the key parts of a lawyers' ethical duty. Assoc. Tran Van Nam, NEU Dean of Law Faculty, highlighted the inestimable value that the workshop brought to participants. In response, Mr. Bruce A. Lasky, co-founder of BABSEACLE, thanked the NEU, for organizing this event, which helped to spread the word, to other Vietnamese universities. After the session, participants understood the different sources of personal ethics, and why legal ethics is relevant to legal practice.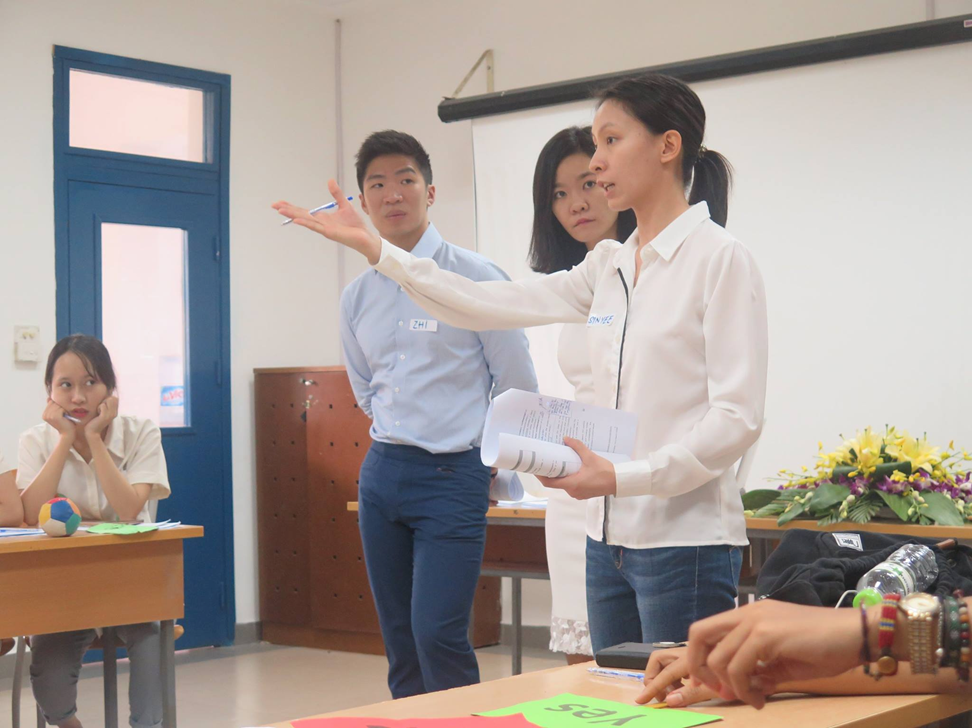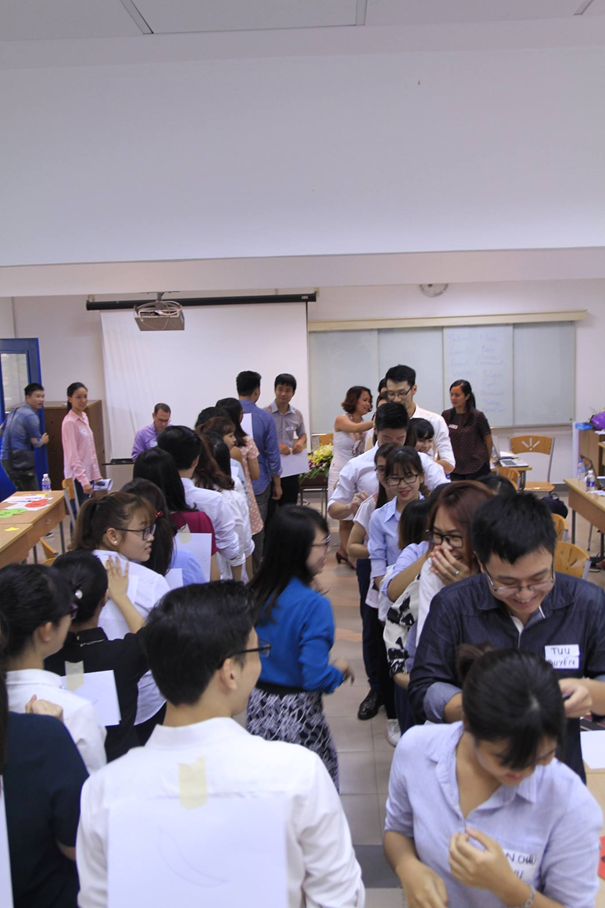 On the second day, we learnt about the lawyers' duty of confidentiality to clients. Through interesting activities, such as group discussion, case study and competitive brainstorming, we could understand the importance of that duty, and when it can be disclosed. The trainers also helped improve our problem-solving and communication skills. We then participated in discussions, about the barriers to access to justice, and found out solutions, in this regard. After taking part in those activities, we perceived the necessity of lawyers' duties to clients, as well as how to overcome access to justice barriers. Moreover, these activities helped us to enhance our teamwork and presentation skills.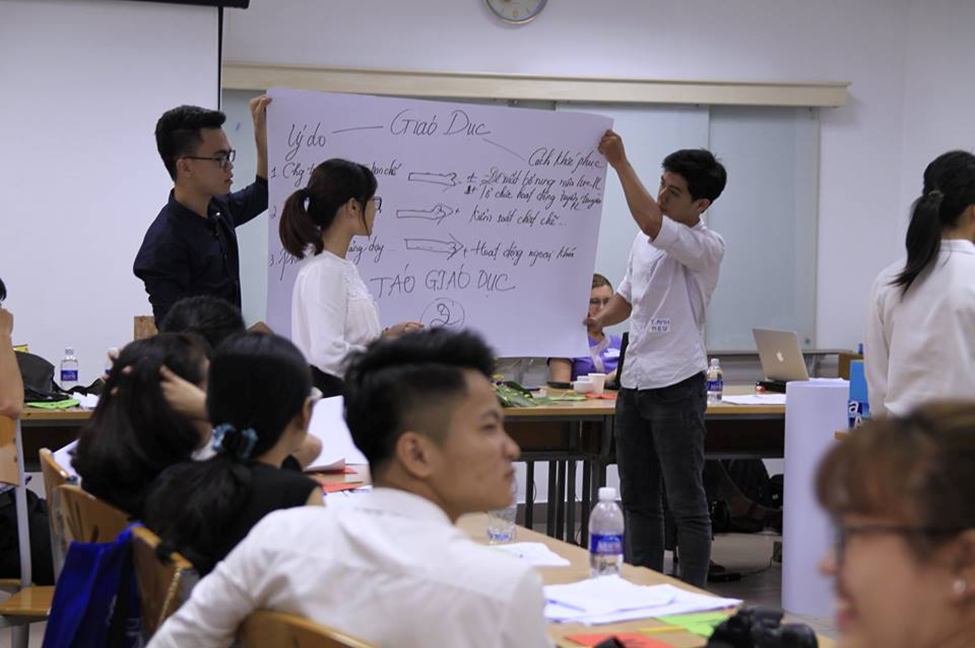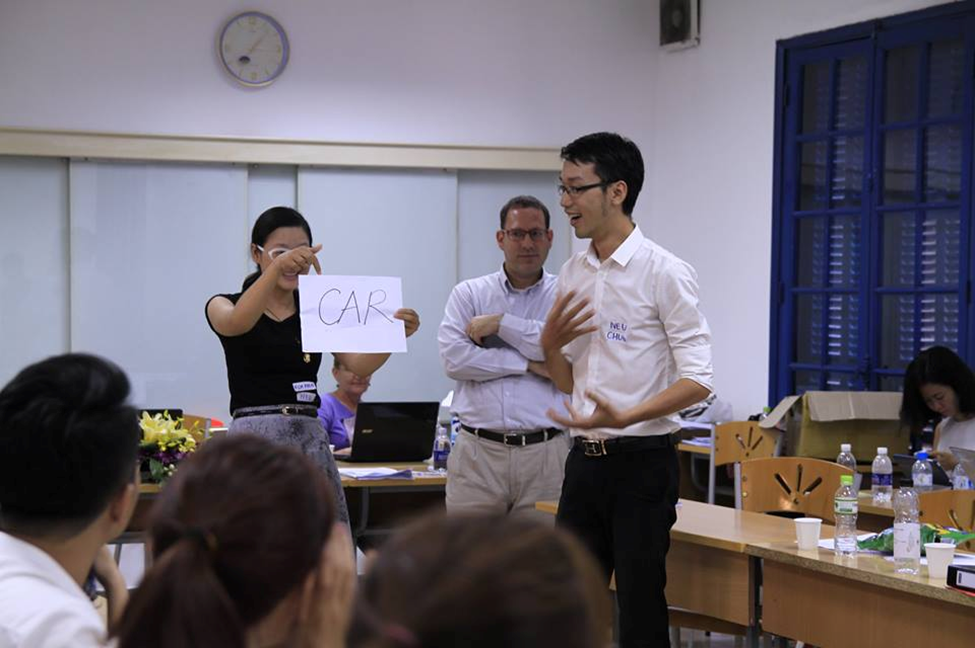 The Legal Ethics and Professional Responsibility Training Workshop ended with flying colors. Participants watched a short movie, about law counseling and advocacy, in Libya, which reflected the summary of our received knowledge. A student of the Trade Union University said: "It was a wonderful experience. After two days, I've learnt a lot from the teachers, and make new friends as well. It was a worth attending the workshop and I'm looking forward to more workshops like this in the future." And Sinyee, a lawyer from Ashurst law firm, expressed: "Students in Vietnam are very impressive – more impressive than the students in Singapore. In Singapore, students don't ask many questions. I'm actually surprise that the students here are very active and ask a lot. It's very good. Keep doing it."
Although the workshop took only two days, it has raised participants' awareness, about legal ethics and professional responsibility, in Vietnam. What we have learnt, from the workshop, is useful for both students and teachers. We hope that there will be more events, like this, for Vietnamese law students.
Some photos from the Workshop: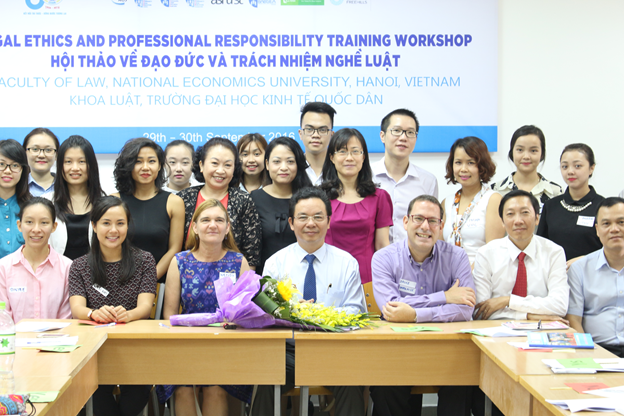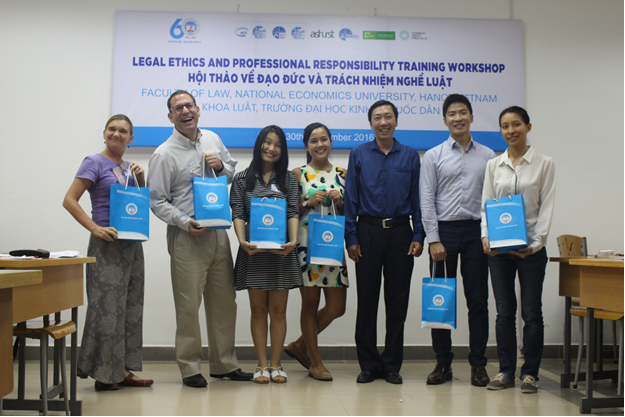 Assoc. Tran Van Nam gives presents to the trainers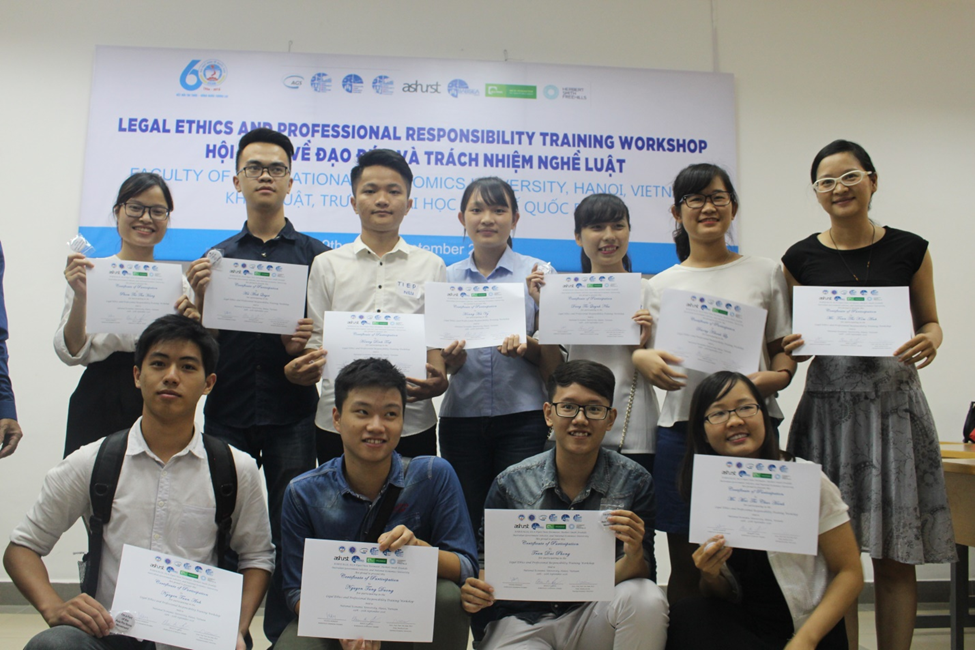 Participants received certificates after the Workshop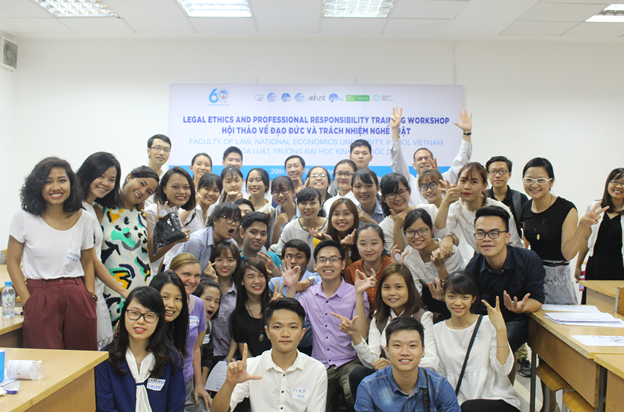 By Pham Duc Chung ,  NEU Law lecturer & Duong Khanh Ly , NEU CLE Club