Thi Thuy Linh Nguyen, BABSEACLE Project manager, Hanoi, Vietnam
 In 2012, BABSEACLE and the United Nations Development Programme (UNDP) jointly organized and sponsored an overseas CLE lecturer training program for the purpose of strengthening the development of the Clinical Legal Education (CLE) program at the core partner institutions including Trade Union University's (TUU) Faculty of Law. Thuy Linh who was a Fellow of BABSEACLE based at TUU and the TUU law clinic coordinator was nominated by the TUU School Board and accepted by BABSEACLE and UNDP to take the course at Monash University, Faculty of Law.  It is expected that the nominee, after completing the oversea placement, will help to build up the CLE course of Trade Union University. This article therefore discusses the success of the program for Thuy Linh, now a BABSEACLE Project manager who is teaching CLE at TUU as a lecturing assistant.
TUU is the first law school in Vietnam where CLE has been adopted as a compulsory course for first year law students. It was first taught in 2011 to over 80 law students of an LW1 class by Assc.Prof. Le Thi Chau, the Vice Dean of TUU faculty of Law. Up to now, there have been over 2000 law students passing through the CLE course. The current team, including 280 law students, are taking the course for their first semester. Thuy Linh, who is working as a BABSEACLE project manager, was invited by the Faculty to be the lecturing assistant for Assc.Prof. Le Thi Chau.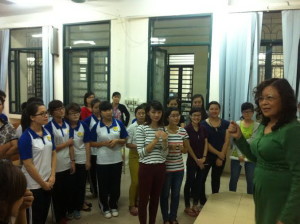 Thuy Linh has been teaching 3 law classes at TUU: LW5A, LW5B and LW5C at the same time, she is very busy but happy with the work she is doing. Besides her work with BABSEACLE, she spends 5 half-day's teaching and getting full support from her institution. Working with students generally as well as law students particularly is not easy work, since they always ask different questions or simply sit quietly during the class. In CLE classes, it is better to have a class that is full-of questions rather than a quite one. It requires a skilled lecturer to get the whole class involved in a lecture. CLE classes require interactive methodologies in which student-centered thought can always exist. The lecturer is advised to have good teamwork skills and impressive presentation skills to hold the attention of the students.
Teamwork skills play an important and necessary part inside and outside a CLE class. It is normally used to increase the quantity and quality of work and productivity, which requires the diversity of skills and abilities that only a team can provide. The most effective teamwork can be seen when all the individuals involved harmonize their contributions and work towards a common goal. This does not mean that the lecturer individually is no longer important; however, it means that effective and efficient teamwork goes beyond individual accomplishments. In the lesson on "Teamwork skills", when asked, Doan Thi Hong Chuyen, a LW5A student answered that: "CLE skills and Teamwork skills can help me progress through my Law Degree, develop my personal and social abilities and become an independent life-long learner." Using teamwork skills successfully, a CLE lecturer can also improve their personal capacity and a lot of the soft skills mentioned above at the same time. In addition, CLE classes are an environment where students and the lecturer work together to achieve the different outcomes and goals the class has set out with their lecturer for them to attempt to achieve. Thus teamwork is generally the soft skill that helps to ensure the effectiveness of a CLE class and is highly likely to be improved by the CLE lecturer.
More importantly, the ability to present and communicate fluently which involves speaking knowledgeably, tactfully and candidly as well as listening actively with an open mind is the second component of a good CLE lecturer. Being an effective CLE lecturer starts and ends with communication. In TUU – CLE classes, as well as in many other CLE classes, the lecturer learns how to communicate openly and honestly about their ideas, and how to communicate their recommendations and concerns to the students constructively and effectively. Listening attentively and responding objectively with helpful feedback is the best policy when interacting with students as a CLE lecturer. Generally, a CLE lecturer who has good communication/ presentation skills can control the attention of students during CLE class.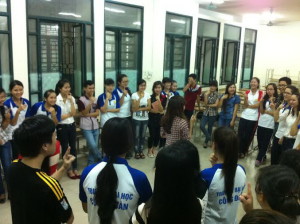 Above all, taking responsibility for all aspects of preparing and conducting a CLE class are a vital part of a CLE lecturers' duties. This means that the lecturers' ability and desire must be to committed to the shared goals of the class. It is a futile task when the CLE lecturer and the students work toward a goal without the commitment to truly try and complete it satisfactorily. With this professional responsibility, members should be ready to take on any necessary role to complete home-work, required in-class tasks, and well-prepared community teaching. It is also important for CLE lecturers to practice as well as teach their classes' effective time management skills. This will help to build the trust with the students and help them enjoy the class.
The above tips have been used in every CLE class at TUU. Recently, Vice Dean and the lecturing assistant conducted an informal assessment to evaluate the classes' effectiveness and the students' feelings toward CLE classes. They were asked to write a journal about CLE classes and all of them submitted their work to the Faculty. Many of them wrote that CLE class and the teaching methodologies employed help them improve their knowledge and skills not only with the subject of CLE but also with the other law subjects. CLE is mentioned as a subject that they enjoy the most and that is the class that most effectively holds their interest for the entirety of the time spent in the subject. The others wrote that CLE brings them value of life since they can help the community and enjoy practicing their legal skills and knowledge. The teaching methodology therefore was also frequently mentioned as the most effective one they have come across in their education.
In conclusion, although some programs may be more effective if done by individuals, greater interpersonal skills are necessary if a CLE lecturer would like to conduct an effectively CLE class which engrosses the students entirely. As a CLE lecturer's skills develop, more options become available regarding the dimension of involvement that they might select for any particular activity. Teams are a part of everyone's life, thus CLE, in which all people work like a team and learn together, in this way encourages a broader understanding of the concept of teamwork as well as access to justice.