By Phuong Nguyen Tue, Curriculum Development Project Manager, BABSEACLE
Escaping the freezing temperature of Hanoi, during winter, I flew to Chiang Mai, heading to the BABSEACLE office, to work with our team and volunteers, and to help with the many interesting events that we would organize, during that time. Even though I knew about, and had organized the legal movie night before, which takes place every Wednesday night, at BABSEACLE volunteer house, I was still impressed by, and had strong feeling for, the "Movie under the star".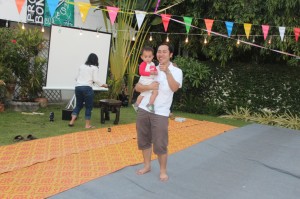 This is a very well set up program, where each team member, in rotation, is in charge of  organizing the event. Every organizer filled in and gave us a recorded sheet of the films, and their show dates, so that we could keep track of the schedule. That person is responsible to choose the film, to write a brief introduction of what the film is about, and to invite everyone to the event. On the day of the next show, it was time to set up the projector, the sound and the chairs, and to prepare popcorn and food. Everyone spectator was reminded to bring some food, so that we had a variety of different dishes to eat, while we enjoyed the film. After the film, attendees were engaged in a discussion on the legal, social justice, and/or ethical issues that were raised in the film. Hearing different opinions, from different people, from different parts of the world, and with different backgrounds and cultures, was really great. Within a short time of meeting new friends and colleagues, this became a mutual activity for people to understand each other's thoughts and values.
Movie night is a very me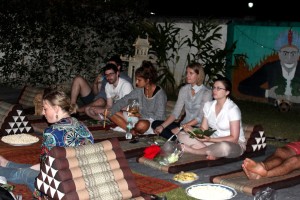 aningful leisure and educational activity. Sometimes we are too busy working, and don't have the time or mind for some fun. In order to enjoy a refreshing work of art, we must, sometimes, leave behind the hustle and bustle of the day, and while enjoying it, we can still learn something to improve skills (including lawyering skills) that have legal and social justice themes. At an organizational level, this is a perfect mutual activity for members to spend their time, to understand more about each other, and to form the organizational culture and spirit, which an effective team needs, in order to reach mutual goals. From a broader point of view, this is part of a democratic world, and is an ideal place for people, from different countries, to discuss and share their thoughts and dreams about common issues. From only one activity, a great number of beneficial outcomes can be achieved.
I really like the idea, and the way that it is organized, and I believe that it has had a great impact on, not only me, but also on many other people.
Below, is a list of recommended legal and social justice films that were watched by us:
| | |
| --- | --- |
| Recount | City of God |
| Pre Attitude | A Civil Action |
| My Cousin Vinny | Pelican Brief |
| Catch Me If You Can | Baby M |
| Lincoln Lawyer | The Firm |
| Dr Strangelove | The Man Who Sued God |
| Rabbit Fence | 12 Angry Men |
| Dead Man Walking | Green Mile |
| The Verdict | To Kill A Mockingbird |
| Erin Brokovich | Kramer vs Kramer |
| And Justice For All | A Few Good Men |
| Gandhi | Hocus Pocus |
| Legally Blonde | The Castle |
| Witness For The Prosecution | Reversal of Fortune 1990 |