I attended the CLE Summer School hosted by Can Tho University June 23 to July 5, as part of BABSEACLE's organizing team. As a logistics coordinator, I experienced a lot of personal challenges. After it was over, I realized that the course itself had also brought me a lot of pleasant and mem-orable experiences: funny energizers, interesting group activities and the most awesome classes I have ever attended.
Can Tho was well-prepared to host a big CLE family of international and local trainers and created a friendly atmosphere where everybody felt at home.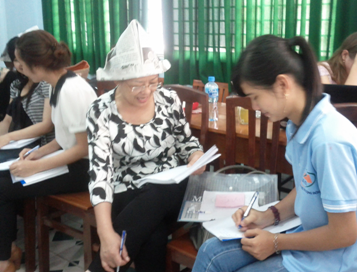 The CLE summer school was designed to further strengthen the network of CLE programs in Viet Nam by having the Core Partners share their experiences and learn from each other, and then apply "lessons learned" from each other and from the international CLE experts giving the training. Traditionally, they are used to lecturing and they felt it was their duty to come to the course. Most had not thought about the fact that, here, they would be students. But in the first week of the course, they wore their "student hats", as international CLE experts trained them in how to use the new CLE manual. Then, in the second week, they became lecturers again. They could apply the new methods they had just learned to their old lessons and practise teaching in this new way to real law students.
The summer school experience was different from any previous CLE workshops held at individual universities we had attended. The law lecturers worked an eight-hour day, with assignments ranging from individual research papers to group work, including attending the "Clinic Office Hour" every day. I helped organize the Office Hour and I can tell you that the more interest the participants showed, the more inspired we were to make the Office Hour realistic and creative. Every-one, participants and staff and international experts, worked very hard.
There was also a social side to summer school: we visited the largest Floating Market in Viet Nam and had a football "play off" between local and international CLE members, complete with cheerleaders.
I am convinced that all the participants gained new knowledge and improved their skills, and that this experience will have a huge influence on how CLE courses are run in Vietnamese universities.Our course demonstrated that CLE methods really work and how the CLE course should be implemented in the curriculum.