By Nguyen Nguyen Thi Thao, University of Economics and Law
I am Nguyen Nguyen Thi Thao, a sophomore at the Faculty of Law. I am now working in the CLE team at the University of Economics and Law.
Born and growing up in a remote area with unfavorable social and economic conditions, I understand fully the living conditions of marginalized communities. There is no good health care, no good way to get information, and a lack of education, especially given the limited opportunity to access to justice. That is the reason why I choose law as my major. It is my pleasure to work directly for social justice for disadvantaged people. I love to see their smiles when they know their legal rights. That is enough to make me happy!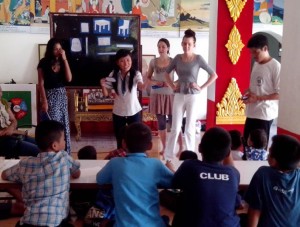 After one month of working with BABSEACLE Thailand, I have accumulated a lot of experience. I have learnt about outreach communities, how to advocate legal knowledge, how to work in groups, how to think rationally, how to observe carefully, how to accurately assess issues and many other wonderful things. However, the most important thing is to put what I have learnt into practice. The people at BABSEACLE are very friendly. They have taught me how to use practical and social skills. Particularly, teaching single mothers at Wildflower Home about children's rights was a wonderful opportunity for me to meet and a chance to gain a deeper understanding of the dynamic relationship between academic knowledge and its practical application to the legal system and access to justice issues that arise in communities.
This made me change my way of thinking about their lives so much. Due to a lack of knowledge, they had to be young mothers! Beside, teaching English to children at Wat Sai Moon made me feel that I have to take responsibility for helping marginalized groups of people by applying what I have learnt. I also discovered my ability to stand and speak before a crowd, after taking action and experiencing it. That was the result of a process of considerable effort.
Right after I came back to my country, I found that the legal studies internship resulted in a really positive improvement not only in my knowledge but also in my thinking. That is truly necessary to lead to a successful and happy life. I opened my mind, grew up, and no longer feel scared of talking with foreigners in English, which means my English skills have significantly improved. Because in Vietnam I can use our official national language, Vietnamese, to handle all situations in life, but in another country the environments regarding culture, religion, and language are completely different. Language is just a way of h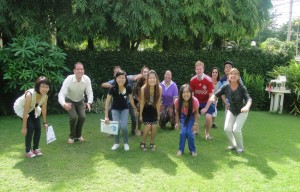 With this legal studies internship, I not only studied for myself but also with a mission on behalf of the CLE team of UEL. Additionally, my friend and I, Moon, built good relationships between BABSEACLE and UEL, and interns from other universities.elping me to achieve my goals, not a difficulty!
With these relationships, I hope I can give CLE a hand to implement the CLE program so that we can have more effective activities such as focusing on community empowerment and legal service outreach, as well as providing legal education and supplemental legal services to poor, vulnerable and marginalized communities.