Nattakan Chomphuthong
BABSEACLE & BABSEACLE Foundation's Legal Fellow
After I graduated from the Faculty of Law, Chiang Mai University, I was drawn to BABSEACLE's vision, the mission of its project and working toward social justice for people in vulnerable communities. I am fortunate enough to be a Legal Fellow here at BABSEACLE, and now I have one year experience as a Legal Fellow. CLE fellow positions are often created to provide administrative and teaching support for clinic programs by augmenting the work of the established clinical faculty and by providing relief to clinical faculty engaged in other responsibilities. Increasingly, clinical programs are designing these positions to provide training for those wishing to become clinical faculty members.
By their nature, clinical fellowships are short-term (2 year) terminal contracts designed to provide the fellow with clinical teaching experience, the opportunity to reflect on these experiences, and possibly the prospect of being better positioned in the law school teaching market. Fellowship contracts can enable clinical programs to expand into new areas, or take on limited projects on grant funding. Such experimental and limited duration projects can provide valuable service to a community, open up clinic slots to additional students, and strengthen and enliven a clinical program to build a solid foundation of clinical faculty members. Providing a thoughtfully developed training ground for new clinical faculty who are making the transition from practice to clinical teaching is even more important. Clinical fellowships can allow opportunities for mentorship in clinical teaching and provide entry-level candidates with the time and intellectual space to craft a scholarly agenda that is tied to and symbiotic with clinical teaching and service.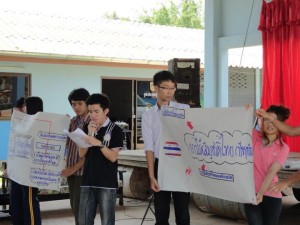 Since Joining BABSEACLE, I have worked with local NGOs like Wildflower Home Foundation (for single mothers) and mPlus Foundation (a civil rights organization supporting the LGBT community). I help empower people in these communities by teaching them their legal rights. I find this work extremely rewarding because I can see that this knowledge makes a difference to them. Through working with different communities, my mind is more open to people who are stigmatised by society like transgender groups, poor people, single mothers and other marginalized groups. I have learned to understand, accept, respect and value them as part of our society, and realize that they are equal to everyone. It allows me to see the problems of different communities and meet their needs.
My fellowship at BABSEACLE has also given me an opportunity to work with Clinical Legal Education (CLE) clinicians coming from different parts of the world. I worked the entire summer of 2012 alongside international professors who came to volunteer in Chiang Mai; to develop the training workshops for the law students on different topics including Pre-trial Detention Initiative, Street Law, Mediation, and Community Teaching Preparation. Mentoring students to develop professional ethics and practical skills for tomorrow, that help marginalized communities today, is such a valuable experience I have gained from this work.
Besides providing training workshops to law students, I have facilitated the training workshops on 'Introduction to Clinical Legal Education' for law lecturers in different universities in Thailand, to make universities understand and see the importance of CLE. In addition, I have had the opportunity to help with the Negotiation Skills training workshops for law lecturers, which were conducted by pro bono lawyers. It is a huge value to experience these across boarder educational exchanges.
I am glad to be a part of a Clinical Legal Education association, which gives me the opportunity to provide pro bono services to the community while educating the next generation of social justice, pro bono champions. My ultimate goal in life is to work for social justice for disadvantaged people in my country, Thailand, and in the ASEAN region. There is still so much that I need to know and skills I need to have to achieve my goal. Therefore, I am hoping to be able to find the support that would allow me to continue in my position at BABSEACLE.