As part of the continuing partnership between the Queensland University of Technology (QUT) and Bridges Across Borders South East Asia Community Legal Education Initiative (BABSEACLE), 10 lucky QUT students were selected to travel to Myanmar for the second two-and-a-half week BABSEACLE Legal Studies Externship Clinic.
The QUT law students attended two Myanmar universities to help support and assist both teachers and students in the area of Clinical Legal Education English, encourage interactive teaching methods and promote the growth of an ethical legal profession.
With funding from the Australian Federal Government's New Colombo Plan, the students also represented Australia as ambassadors and helped to build lasting ties with Myanmar and its people.
Upon arrival in Yangon, Myanmar's largest city, students took part in BABSEACLE's five-day intensive training course alongside Myanmar students from Yangon University (YU).
Photo 1: QUT studentBenjamin Chapman longyi shopping with YU students.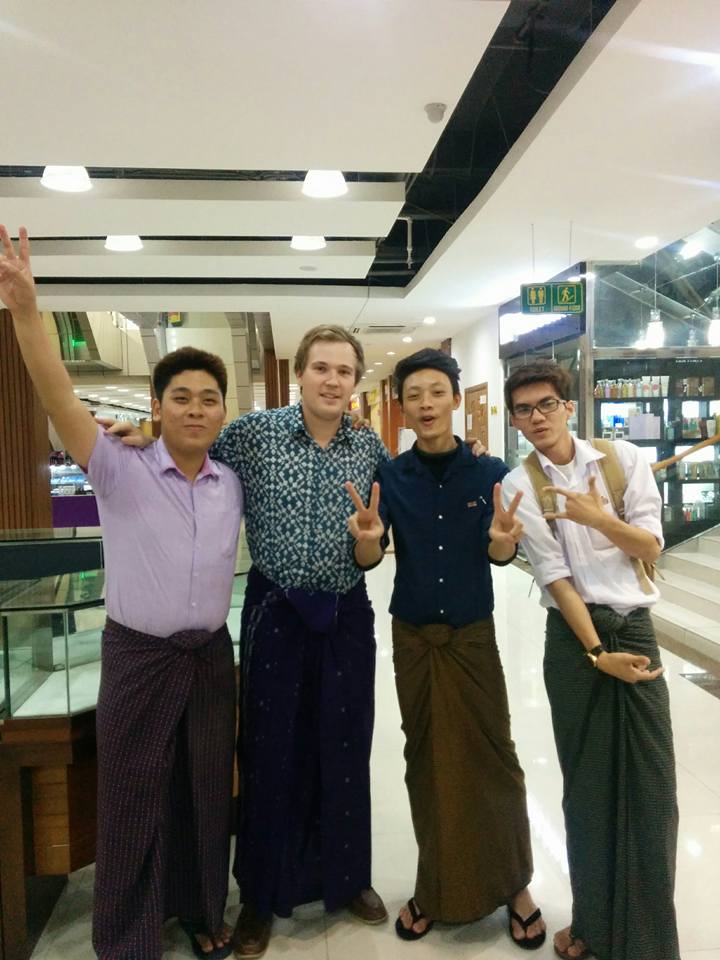 The training focused on equipping the QUT students with knowledge required to effectively run CLE English classes at their respective universities.
The important inclusion of the YU students allowed the QUT students to practice interacting with Myanmar locals and learn important cultural information such as how to wear the traditional Myanmar longyis.
After a night of dancing and karaoke in honour of the YU students, the QUT students split into two groups of five and left for their respective universities, in: Taungoo (about 5 hours north of Yangon) and Mawlamyine (about 7 hours south-east of Yangon).
Photo 2: (From left to right) QUT students Benjamin, Danielle, Alison, Marcus and Bobbie.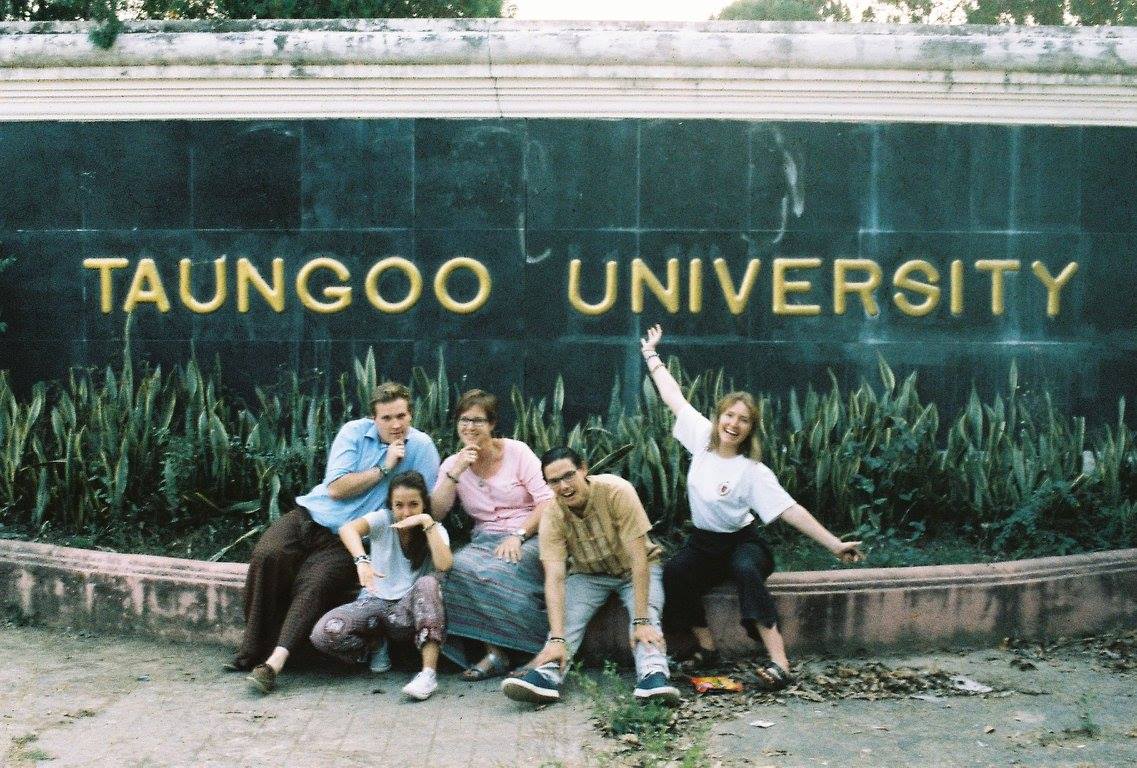 Taungoo Time
After arriving and settling in Taungoo, the QUT students started the construction of their first lesson plans.
Lesson plans were created with reference to lesson plans from the prior QUT CLE Externship and had to accomplish the goals of the program: get students and teachers practicing CLE English, encourage interactive teaching and promote ethical legal practice.
The content of the lesson plans were sculpted from the raw materials provided in the CLE English study guide provided by BABSEACLE. With two weeks to teach, the Taungoo group had to focus on the study guide's first two chapters: introducing CLE and access to justice.
The QUT students had no way of knowing the level of English ability the Taungoo students might possess so they acknowledged that flexibility and improvisation would play a large role in implementing each plan.
On their first day at Taungoo University, the QUT students experienced the first class hospitality of the University's teaching staff and students.
From the initial meeting with the Taungoo Rector, it was clear that everyone at the University was grateful to host the Australian QUT students.
Any smile the QUT students gave was met with an even bigger one from anybody on the University campus and each wave was met with giggles of excitement and photo opportunities.
Teaching Begins
The QUT students delivered lessons over nine days, with four 50 minute classes of 10 to 25 students or teachers each day.
Photo 3:Ben with first year law students.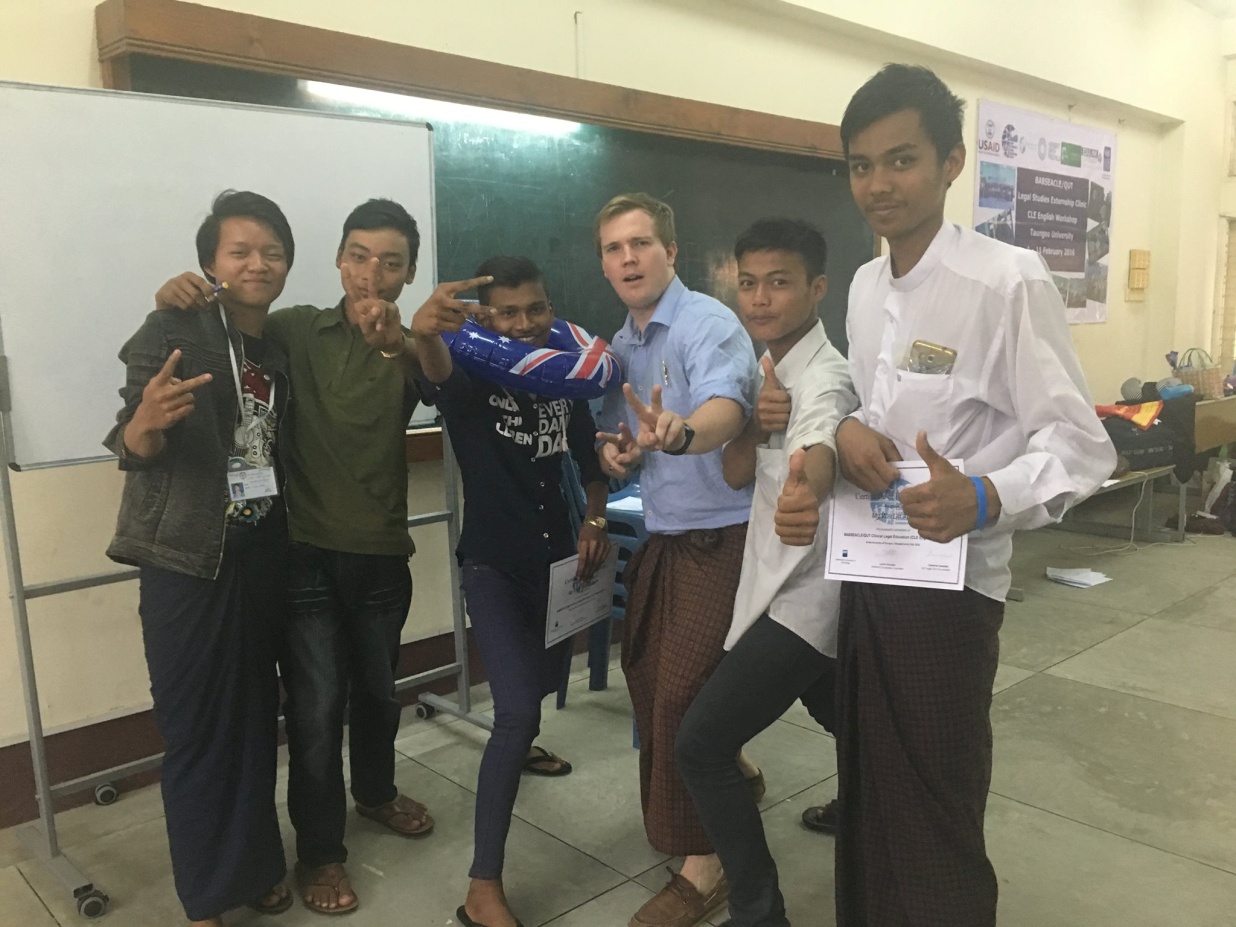 The Taungoo students attending classes ranging from masters students, to professors, to first year law students all with different levels of English.
The five QUT students took classes in pairs, with one student having a day off each week to help run classes or make lessons plans for the following days.
After each day a debrief was held to review the day's lesson plan, talk about what worked and what didn't, update the daily lesson plan and discuss ideas for the next day's lesson plan.
Through the cycle of drafting lesson plans, implementing and updating them with improvements, the QUT students helped to develop a CLE English lesson plan curriculum based on the study guide which could be used for future teaching programs.
Lesson planning was handled carefully and each plan often took several hours to achieve the right balance of English speaking practice, content, interactivity and legal ethics while avoiding repetition and allowing room for change to meet different English levels.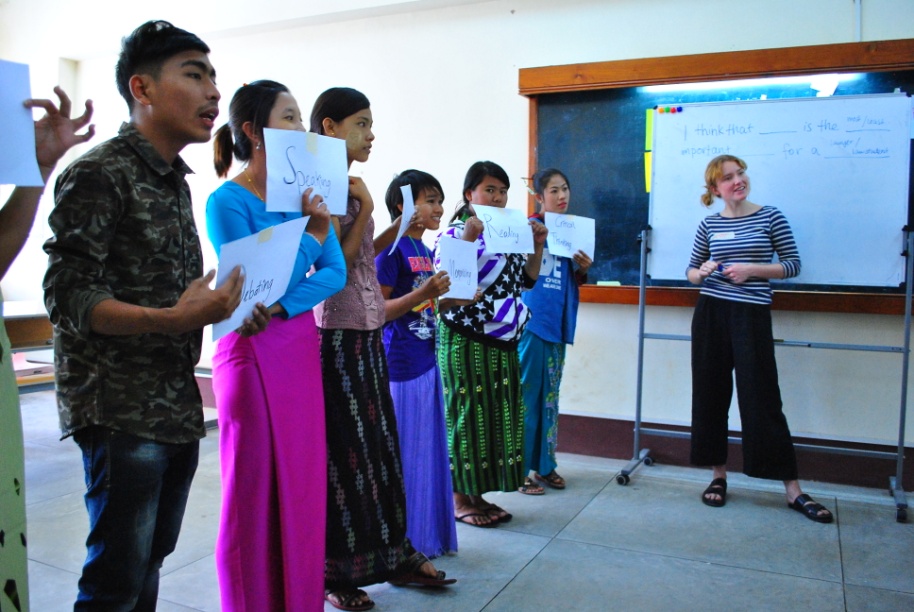 While teaching, the QUT students observed the amazing memories of the Taungoo students, they could learn to memorise entire textbooks, however their understanding of material and their ability to apply concepts to novel situations was more challenging for them.
To help overcome this challenge, lessons focused on helping the students to learn by doing to ensure they had a deep understanding of the concepts covered in each lesson.
Games, role plays, debates and discussions were implemented to develop concepts from several different perspectives to cultivate understanding but it was always hard to know whether students truly understood or whether they relied upon their seemingly photographic memories.
University Shenanigans
While teaching was an essential component of the trip, every day was different from the previous in terms of knowledge shared and unexpected activities.
One such activity saw the QUT team delivering a speech to about 1000 Taungoo University staff and students with only one day to prepare.
The Rector of Taungoo University wanted to give his students the opportunity to learn about the cultural differences and opportunities in Australia.
In particular the Rector wanted the Taungoo students to hear about the different ways of studying in Australia, the ability to change courses and take up further study and how different disciplines could work together.
On campus, QUT students shared lunch with Taungoo University staff, played sports games with students and took part in a ceremony making offerings to Buddhist monks.
Photo 5: Ben and Marcus help take offerings to a nearby monastery.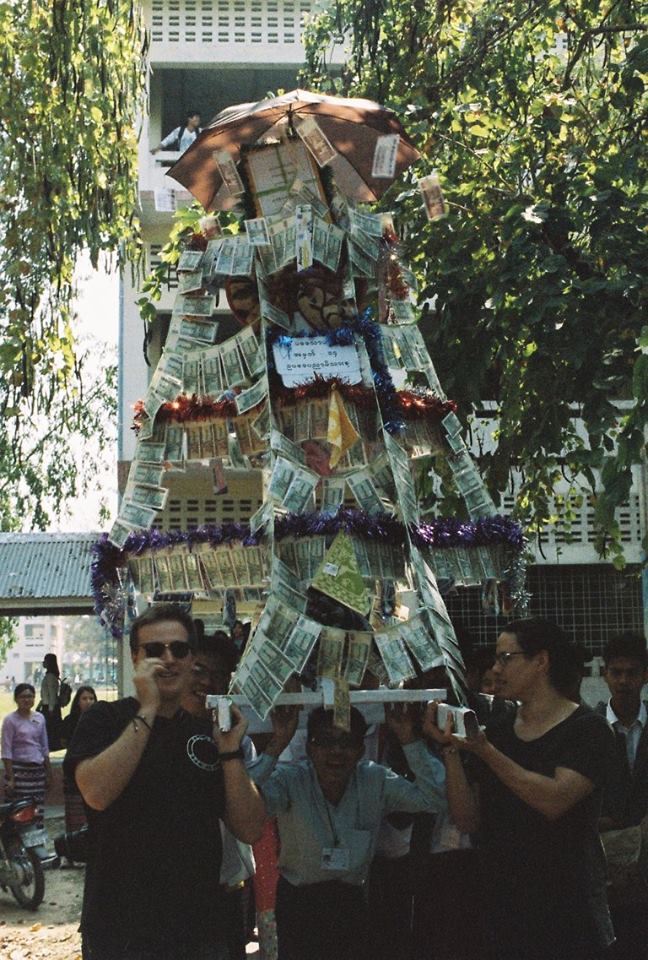 Beyond Teaching
Once the teaching day was over there were always plenty of opportunities for QUT students to explore and immerse themselves in the Myanmar country and culture.
Students adventured around Taungoo by foot and on bicycles, learnt about Myanmar culture, traditions and religion over dinner with University staff and visited pagodas and other sacred sites.
Photo 6: QUT team (left to right: Marcus, Bobbie, Alison, Lauren [BABSEACLE Supervisor], Danielle and Ben) atop a pagoda at sunrise, before the government banned tourists from scaling pagodas.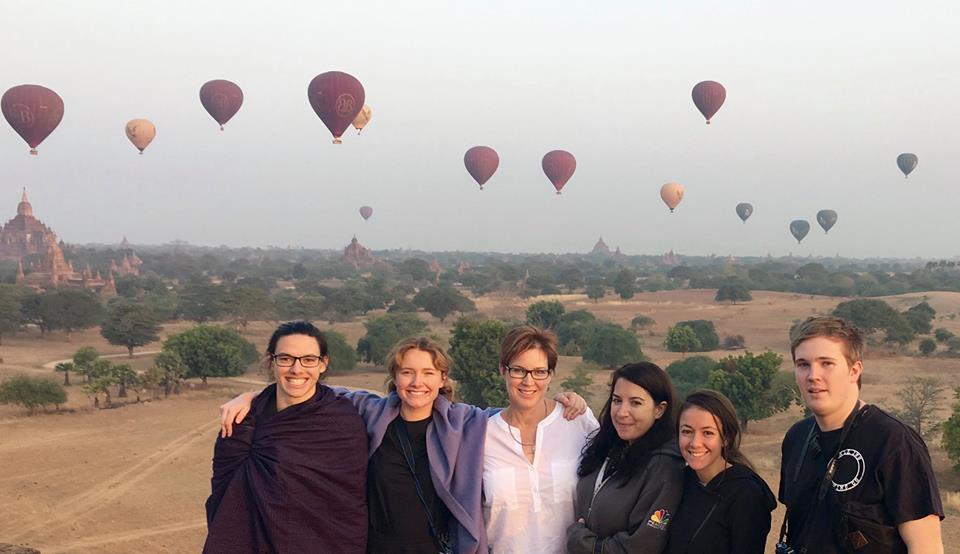 Over the weekend the QUT team was even able to travel to Bagan and catch breath-taking sunrise views of over two thousand pagodas scattered among sweeping plains.
Pack It Up
The QUT team returned from Bagan to four more days of teaching before it was time to leave Taungoo.
On the final day the QUT team were showered with gifts, gratitude and photo requests before heading back to Yangon for a final day of debriefing.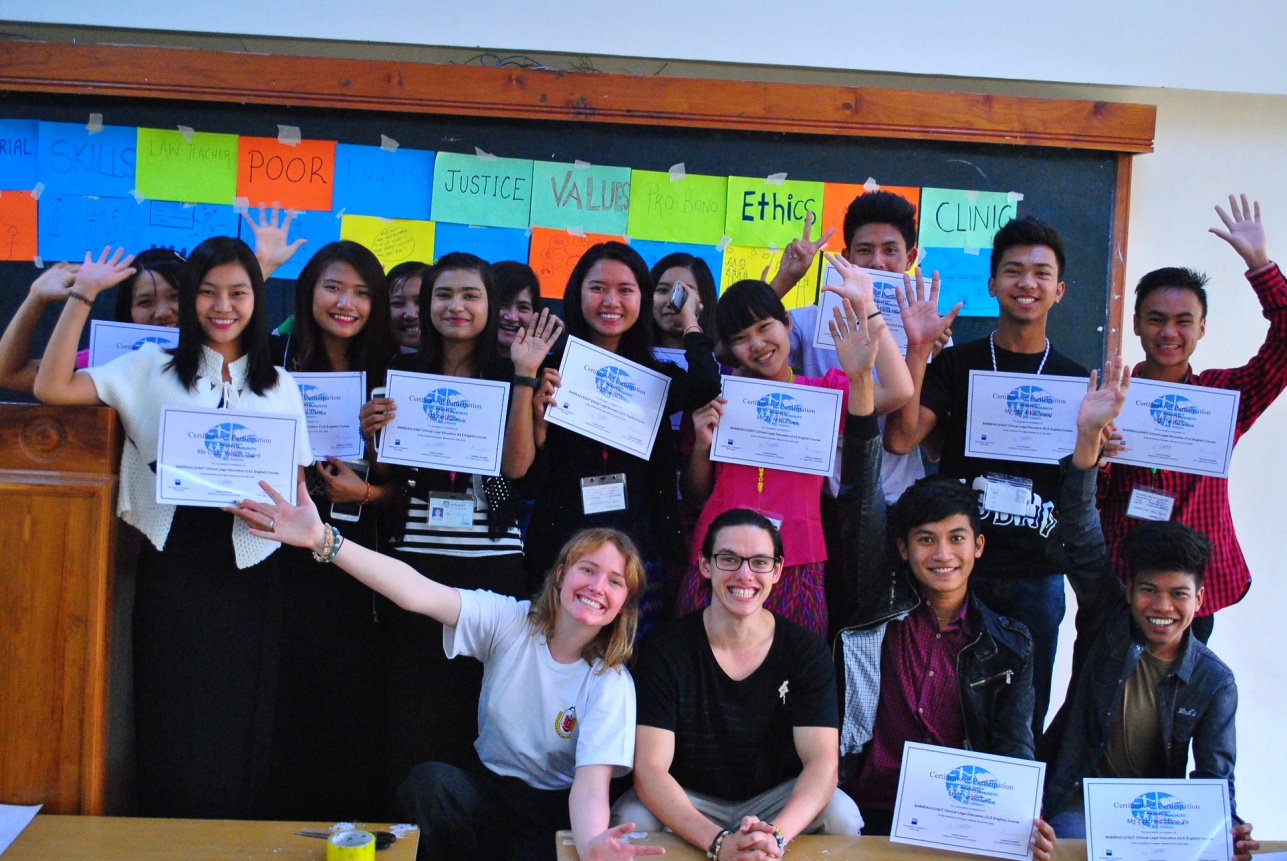 Once reunited with the Mawlamyine QUT team the students spent a half day with QUT and BABSEACLE staff evaluating and brainstorming improvements for the program, a process that continued with the QUT participants even once they return back home to Australia.
Reflections
The Myanmar externship was an undeniable success and a truly valuable experience for all involved with much learnt by participants on both sides.
The staff at Taungoo University were so pleased to give their students the opportunity to practice English with fluent foreigners, and allow their students to listen to and explore different perspectives about learning, combining disciplines and changing career directions.
The Taungoo students were grateful for the opportunity to learn law in a new and interesting way, to learn everything they could about Australia and to share everything they could about their way of life.
Many students wrote letters of appreciation and some continued to praise the program and thank the QUT team for the experience over Facebook after the team's return to Australia.
The QUT team returned to Australia truly thankful for the amazing hospitality and kindness of the Myanmar people, the commitment to learning of the students and for the lasting friendships they forged with fellow participants.
Marcus De Witt – Ryall
Myanmar Externship Participant at Taungoo University
6th year Laws and Journalism student at QUT