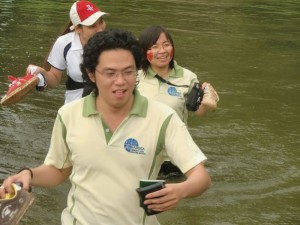 On August 10, 2011, BABSEACLE held its "Running 4 a Cause" Half Marathon/10K run.  Committed to raising money for the construction of the legal consultation clinic for the National University of Laos, Faculty of Law and Political Science (NUL FLP), the BABSEACLE team woke up at an early hour to participate in our fundraiser run at 6AM.  Although no one ran the half marathon, everyone ran and/or walked the breathtaking 10K route around Sankampaeng, and ended the run in high spirits.  Before this event many of the runners had never even been part of a long distance run/walk like this, and so we were thrilled to see everyone committed to "running 4 this cause"!
Our BABSEACLE running team consisted of our staff, professor exchanges, and interns from all over the world: Thailand, US, Canada, Australia, France, Vietnam, and Laos.  At the end of the exhilarating run, the team received certificates for completing the run, and cooled off by swimming at a nearby pool at the new local guesthouse, Baan Pong Lodge, in Sankampaeng.
This fundraiser run not only raised a significant amount of financial support towards our goal of $6,000 USD for the legal consultation clinic at NUL FLP, but also gave the staff and interns a final bonding memory as the interns finished their summer internship with BABSEACLE.  What a great way to finish off a fantastic summer!  Thank you to all the participants and sponsors who helped make this fundraiser a worthy success!