By Support for the Strengthening of CLE in Myanmar Project Management Team.
On July 12 – 14 2013 in Yangon, Myanmar BABSEACLE with the support of the United Nations Development Programme (UNDP) hosted the Inaugural National Clinical Legal Education Workshop. The Workshop came about from discussions with the Ministry of Education and select universities and was focused on assisting university law departments across Myanmar to develop and implement clinical legal education (CLE) programmes.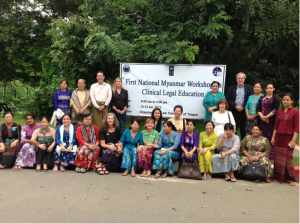 Often, a key challenge for effective legal education is the traditional emphasis placed on the teaching of theory in lecture format at the expense of developing interactive and practical skills-based legal training. CLE prepares students to be effective and ethical law practitioners by helping them to understand and apply the law through experiential learning opportunities. CLE also allows law lecturers to improve their teaching and to enhance student learning by introducing them to a range of interactive teaching methodologies. It also provides access to justice support for underserved populations.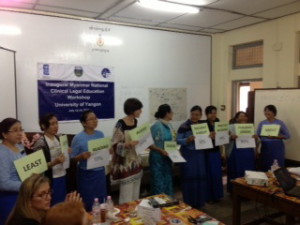 The Inaugural Myanmar National CLE Workshop provided a forum (1) to raise awareness and create opportunities for promoting CLE in Myanmar; and (2) to create a network of law lecturers focused on the development of accredited CLE programs at their universities. The workshop also laid the groundwork for the establishment of an association of university legal clinics in Myanmar and linkages to a regional CLE network.
The workshop attendees included Myanmar university law department heads and professors from fourteen (14) law departments, a number of whom had expressed interest in strengthening legal education and learning more about CLE methodologies prior to the workshop. Workshop participants also included UNDP Rule of Law Specialists and regional and international CLE experts, pro-bono lawyers, and researchers from Thailand, Vietnam, Australia and the USA.
Some of the workshop's key outcomes included:
Raised awareness of the role and importance of CLE programmes in Myanmar's system of legal education. 

Initiated steps to establish CLE programmes in participating universities throughout Myanmar.

Encouraged the collaboration and integration of CLE models from within and outside the SE Asia region.

Provided insights and practical methods into how to assess community legal needs and interests as well as how to foster collaborative CLE partnerships based upon these needs and interests.

Introduced the importance of strategic planning in the creation of sustainable CLE programs, the role of participants in the development of such plans, and next steps in the CLE planning process. 

Initiated a preliminary communication system with a view to establishing a national CLE network. 

Provided participants with a baseline study to assess the status of legal education, community services, ethics and lawyering skills at their university institutions and to determine ways to improve them.
The interaction with experienced clinicians from established and newly-established CLE programmes and pro bono lawyers gave Myanmar law heads of departments and lecturers a better understanding of how to develop and implement CLE courses at the law department level as well as incorporate CLE teaching methodologies into the traditional legal curriculum.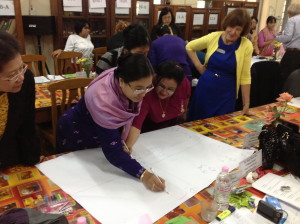 The discussions were varied and lively. They included lessons which focused on substantive areas of law and jurisprudential issues such as the role of law in society, the elements of a good law, and the balance between an individual's right and the State's responsibility to provide health care when limited resources exist. These lessons were delivered using a variety of teaching techniques including role play, drawing, song, debate, and collaborative group work.
Furthermore, the discussions focused on the deep academic value of CLE for both faculty and students.  During a session on CLE academic scholarship, workshop participants saw examples of law journals, books and other literature exploring global and domestic issues in clinical legal education.
Another key area of discussion was the critical role of pro bono lawyering in supporting student learning and serving the legal needs of the public.  Participants explored issues such as the relationship between pro bono and clinical legal education. This included strategies for instilling pro bono lawyering values at the university level and in the legal profession as well as ways to support law firms engaged in pro bono initiatives.
The workshop represented a positive and strong step forward in the institutionalization of clinical legal education in Myanmar.  As Bruce Lasky, Co-Director of BABSEACLE, observed, "based upon our years of experience in the region, the enthusiasm and support for this event in Myanmar demonstrates a nationwide desire and commitment to build sustainable clinical legal education programmes throughout the country."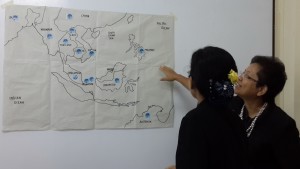 The introduction of CLE into Myanmar's existing law curriculum holds strong promise for strengthening legal education, preparing practice-ready lawyers to serve the needs of government and civil society, and expanding access to justice, especially for vulnerable citizens.  As noted by Mascha Matthews, Rule of Law Specialist with UNDP Myanmar, "clinical legal education assists in providing various forms of legal assistance to poor and vulnerable populations who may not otherwise have access to justice. That is why it fits so well in UNDP's mandate."  Similar optimism was voiced by Dr. Khin Mar Yee, head of the Law Department, Yangon University:  "Myanmar needs such programmes and I am proud to see that this important event is giving us the opportunity to establish a network on clinical legal education among fellow universities – is hosted here in Yangon University."