By Helen Yandell Director, BABSEACLE
BABSEACLE, in consortium with Herbert Smith Freehills (HSF) and DLA Piper/New Perimeter, have undertaken the role in assisting to establish and strengthen university-based and community-based Clinical Legal Education (CLE) programmes in Myanmar. This nationwide programme is co-supported under the United Nations Development Programme (UNDP).
The first quarter of this programme's first year has seen great success and support for the further development of CLE in Myanmar university law departments, setting in place the foundation for achieving the programmes many outputs.
Meetings have been held with 70 Myanmar professionals—including policy makers, government ministry personnel, advocates, civil-society groups, university rectors, pro-rectors, department heads and law department staff—to discuss how CLE programmes strengthen legal education and help meet the need for justice education. At each meeting, the Consortium's programme management team (PMT) met overwhelming support for CLE and an understanding of how the methodology and pedagogy would help the legal profession
At the same time, the PMT met with university rectors and department heads to discuss programme goals, activities, obligations and expectations for the universities. These universities included Mawlamyaing University in the Mon State, Taunggoo University in the Bago Region, Yadanarbon University in the Mandalay region, Mandalay University and University of Distance Education Mandalay, Magway University in the Magway region, Taunggyi University in the Shan State, Dagon University, Yangon University and the University of Distance Education Yangon in the Yangon Region.
Summer School
The first National activity for this year was the CLE Summer School, in May 2014, at Taunggyi University. 50 Myanmar nationals representing all 18 Law Departments attended the training which focused strongly on all participants gaining a stronger understanding of the goals of CLE and the various models of CLE programmes that can be incorporated into the law curriculum.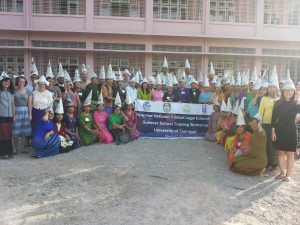 I was lucky to be one of seven international and regional CLE experts and pro bono lawyers who conducted the trainings, teaching participants how to develop CLE programmes and apply CLE teaching methodology. The Summer School exposed participants to a variety of CLE-related knowledge, programme examples and curricula. The training workshop included demonstrations and interactive trainings with all participants having the opportunity to practice CLE lessons with each other.
Strong government and university support for the Summer School was evident at the Opening Ceremony on May 8. In attendance were U Kywe Kywe (Chief Justice, Shan State); U Maung Maung (Advocate General, Shan State); Daw Cherry Kyi (Head of the State Judicial Officer, Shan State); U Myint Lwin, (State Law Officer, Shan State); U Chit Swe (Director of the State Education, Shan State); U Tin Oo (Chairman of Taunggyi District Election Sub Commission & Part Time Lecturer at Taunggyi University); the Rectors, Pro Rectors and Professors (Head) of Taunggyi University; and various university faculty. UNDP was represented by U Myat Thu (Area Office Coordinator of Shan State), Christina Beninger (UNDP Myanmar Rule of Law/Access to Justice Officer), and Hnin Marlar Htun (UNDP Logistics Assistant). Many of these officials also sat in on Summer School sessions, participating in lessons and discussing the workshop with participants and trainers.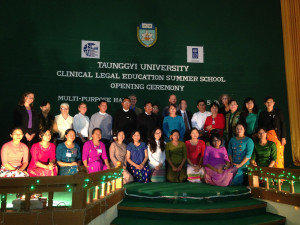 Dr. Yin Yin Win, a lecturer previously from Myitkyina University and now with Yangon University, said, "This CLE programme really enhances the rule of law sectors in Myanmar. This training gathers all of the teachers from around the country, which is why we can share our knowledge, teaching methods and experience, which benefits the whole law department and benefits the whole country."
Dr. Myint Thu Myaing, Professor at Yangon University, said, "This is my first time at a training like this. I came because we will be introducing CLE into our law courses. Previously we have been lecturing, and we don't use the CLE teaching methodology. Now, I realise I can use these teaching methodologies in my class. I believe these teaching methodologies will make the students more interested, and they will gain more thinking skills too."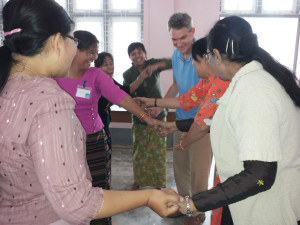 The participants' reported greater confidence in their knowledge and skills as the Summer School progressed. Participants were also actively thinking of ways to incorporate CLE into their own teachings and beginning to formulate plans for establishing CLE model programmes at their home universities. The feedback was very positive.
Andrew Valentine, one of the international trainers and a partner at DLA Piper, said, "This was the most attentive group I have ever had the honour of teaching. Their achievements over the ten-day course were truly remarkable!"
Capacity Building
The Summer School helped law teachers develop strategic planning skills they can use in implementing CLE programmes in their universities. Several law departments have shown improvements as a result.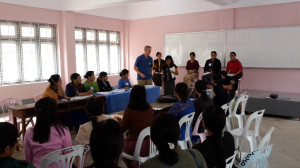 For instance, Daw Khin Tinn Tinn Oo from Pyay University showed a much deeper understanding of the benefits of CLE in Myanmar by presenting a paper on "Effective teaching methods of legal education and the effective use of CLE" at a recent university event and has held a four-day CLE train-the-trainers course for law lecturers using various models, including mock trials. Pathein University now provides space for student mock-trials despite showing little interest in CLE before the Summer School.  In addition, after formal school hours, every Tuesday and Wednesday, the law department shows law related movies and videos followed by discussion from students. Pathein has reported that the students find this learning activity very enjoyable and useful.
Some universities, like Mawlamyine, have conducted mock-trial sharing sessions within their departments. Dawei University held a five-day course titled "Introduction to CLE and Practicing Mock Trial" for law students. Moreover, Taunggoo University also had shared the lessons from CLE summer school training which they have learnt among their law department teachers.
               Pyay University CLE Presentation                                                                                                       Dewai University CLE Presentation
Ongoing Training
Subsequent to the summer school, partner universities will be receiving 3 day workshops that will strengthen their understanding and ability to use CLE methodologies in many law subjects and develop a CLE unit. Many have started with Mock Trials, Externships and community teachings. A national Mock Trial event is being planned for February 2015.
The first such workshop was held at Taunggyi University where Nwe Mar, Bruce Lasky and I delivered the training to 25 law teachers from Taunggyi and 3 from Pinlong University. It was a great success. With the assistance of the Advocate General, U Muang Muang, we met with the Chief Minister of the Shan State, U Kywe Kywe. We were accompanied by Colin Herrman and Malar Myint from the UNDP office in Taunggi. There was great support for the programme and for the development of CLE in Myanmar.
As well, an Introduction to CLE Seminar was conducted at East Yangon University on June 26 to 15 law teachers, the university Rector, to lawyer representatives of the Yangon Bar Association and over 300 LL.B. and Master Level students.  Prior to this, the team met with the University Rector to discuss ways and means to support CLE at East Yangon University, where he pledged his strong support for the CLE programme as well as his intent to sign the programme MOU.
Following the seminar the Yangon Bar Association lawyers agreed to provide assistance to the development of the university through teaching services, mock trial training and identifying potential placements for students engaged in CLE externships. In addition, the International Bar Association is working with the Myanmar State and Regional Bar Associations as a means to individually strengthen them and to assist in the creation of a national independent bar association. Mae Tanner, the IBA country representative, has reached out to our programme to explore ways and means the member lawyers from the bar associations may provide a means of support for the CLE programmes. She has indicated they are eager to do so.
Additional positive lobbying for CLE at the national level has occurred. On June 14, Dr May Htar, the Head Professor of East Yangon University met with Thura U Shwe Mann (Chairman of the Lower House of Parliament) This meeting was also attended by Professor Heads from Dagon, Yangon Distance and Yangon (Dr. Khin Mar Yee).  The purpose of the meeting was to discuss issues related to both law drafting and law education. Dr. May Htar specifically presented on CLE during this meeting.
Course Accreditation and Curriculum Development
 The Myanmar Board of Legal Studies has been discussing an accredited CLE course since 2013. The first step was to approve the inclusion of CLE methods in existing courses. Thus, in 2014, many of the universities have been using CLE teaching methodologies in their regular classes. Since the CLE Summer School in Taunggyi, most of the universities have started regularly using CLE teaching methodologies, and they support including CLE in the current law curriculum as an extra subject called "Introduction to CLE".
Eight universities have plans to implement externship CLE programmes, and six universities will implement community-legal-teaching models. Next year Yangon and Mandalay Universities will provide the first full course on legal ethics for an LL.B. class of outstanding students. Legal ethics was previously taught only as a session in the "Introduction to Law" class for first-year students.  The PMT has agreed to review the curriculum for this course and provide the current Legal Ethics/Pro Bono/Access to Justice curriculum developed by BABSEACLE/DLA Piper-New Perimeter/HSF and the Australia Government Solicitors (AGS) Office as a model proto-type.
Taunggyi University has begun a 12-week non-accredited, stand-alone CLE course for first- and second-year students. The course includes access-to-justice, pro bono and legal-ethics components. Taunggyi University will also be integrating an externship program into the accredited criminal-procedure course for third-year law students this year. This will be a mandatory component of the criminal procedure course.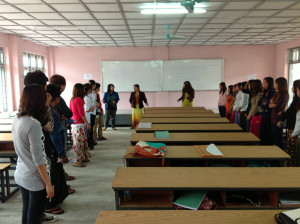 Outcomes
The initial plan for the programme was to begin with 12 university core partners during 2014-2016.  However, soon after conducting the outreach to the universities in April, and then meeting with many of their representatives during the CLE Summer School, we are aware that more than 12 universities currently have the ability and are willing to commit to be part of the programme. Therefore, the number of core partners will increase to 14 with the likelihood of this number increasing further during either Year 1 or Year 2 of the programme.  The PMT and BABSEACLE see this as a very positive opportunity to achieve the goal of nationwide development of CLE. There will be issues of budgeting and spreading the currently planned resources to more partners than originally intended but the PMT is confident this can be done without sacrificing the quality of the individual university CLE programmes. To assist with this challenge BABSEACLE is actively engaged in seeking additional financial and technical support.
The PMT and BABSEACLE believe we have successfully delivered and exceeded expectations on this programme to date. We remain positive about the outlook not just for this programme but for the broader justice education and rule of law programmes within Myanmar.