From an Academic Supervisor's Perspective
By Catherine Campbell: Associate Lecturer Law School QUT
In January 2013 thirteen Law students from the Queensland University of Technology completed a 3 week internship with BABSEACLE. This is the third successive year in which students have completed the internship for academic credit. Students are enrolled in an undergraduate law work-integrated learning unit 'Learning in Professional Practice' which is offered over the summer semester.
With my QUT colleague, Associate Professor Tina Cockburn (who developed the internship program with BABSEACLE starting as a virtual placement) we originally joined our QUT students for a few days in January 2013. Instead we ended up joining the students for a longer time to gain a deeper understanding and appreciation of the program, as well as provide an academic mentor for students.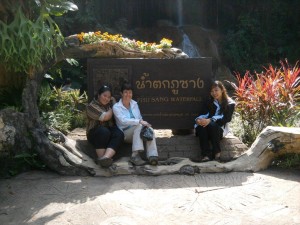 I joined the QUT students for in January. I arrived in Chiang Mai just in time for the Trio for Justice. The students were at Huey Tueng Tao park near Chiang Mai by 3am to set up the course. I arrived at 7am to find the students bright and cheerful and keen to walk or run the course. I was impressed – most had had 3 hours sleep or less, and they were still positive and enthusiastic. This attitude and energy endured throughout the placement and I was constantly amazed at how hard-working, professional and engaged the students were.
It was only when I was with the 8 QUT students and other BABSEACLE interns at University of Phayao (UP) for a week that I realised the value of having an academic supervisor accompany the students. The students could have managed without me, but I was a sounding board for daily issues and cultural concerns.  I assisted the students to reflect on their experiences by referring them to readings and other resources provided in 'Learning in Professional Practice'.  I was also the link between the Thai lecturers (ajaans) and the QUT students.
The Phayao trip was a unique experience for me and my students. We slept in school classrooms and camping in tents in a nature reserve.  The QUT/BABSEACLE interns taught CLE lessons to the Thai students in open school gyms and under trees. We ate rice and 'spicy' for breakfast, lunch and dinner.  We used squat toilets and had cold showers or no showers. We sang songs with the Thai students and played games with children in the local schools. Every day was a new experience and we were often uncertain about what was happening next. I was expecting some of my students to find this challenging. Occasionally, I had to reassure my students to just 'go with the flow', but overall I was impressed with their adaptability and resilience.
I was also surprised by my own level of resilience. I had expected to find the intense week of proximity and new experiences challenging – but apart from the need to find an uninhabited classroom for one night, I thoroughly enjoyed the opportunity to spend time with my students and the Thai students and staff.
The last week back in Chiang Mai the students debriefed. As their academic supervisor, it was exciting to hear how they had developed and learned from their internship experiences.  Written reflections don't capture the excitement, joy and wonder of the learning journey which was evident from their presentations. It was a privilege to spend time with my students, to get to know them better, and to share their learning journey.