By: Krirkrit Ponlakhetpaiboon, National University of Laos, Faculty of Law and Political Science Intern from Khon Kaen University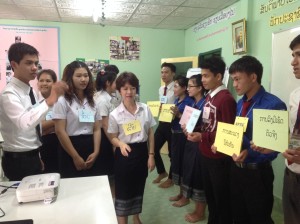 I have been studying for two years at the Faculty of Law at Khon Kaen University in Thailand. I am so lucky to have received the ASEAN Intern scholarship from my university. I have decided to intern in Lao PDR, because Laotians and Thais have something in common: we can communicate in the same language. I had a chance to come to Clinical Legal Education (CLE), which is a part of the Faculty of Law and Political Science at the National University of Laos.
When I first came here, I was taught about community teaching. After this, I was assigned to promote CLE.  "How to Promote CLE" was the main topic and one way of helping people with access to justice. We had three ways to promote CLE: posters, brochures, and videos. In every step, we received assistance from everyone at the CLE office, because they hope that our good work can help give people access to justice.
In addition, I had a chance to meet with other organizations such as international organizations, private organizations, and non-governmental organizations. It was a good way of increasing my experience. As part of the internship program, we had to do a writing project. CLE allowed this to be much easier, since we contacted people to help us with this project.
The atmosphere at the CLE office is good. Everyone is friendly and funny. The other interns and I are happy to work with this group. Everybody is kind because they help us and collaborate with us on every activity. We usually have parties after work to communicate and share our legal or other experiences.
I am so lucky to have had this experience.