By Bruce  A. Lasky BABSEACLE Co-Director.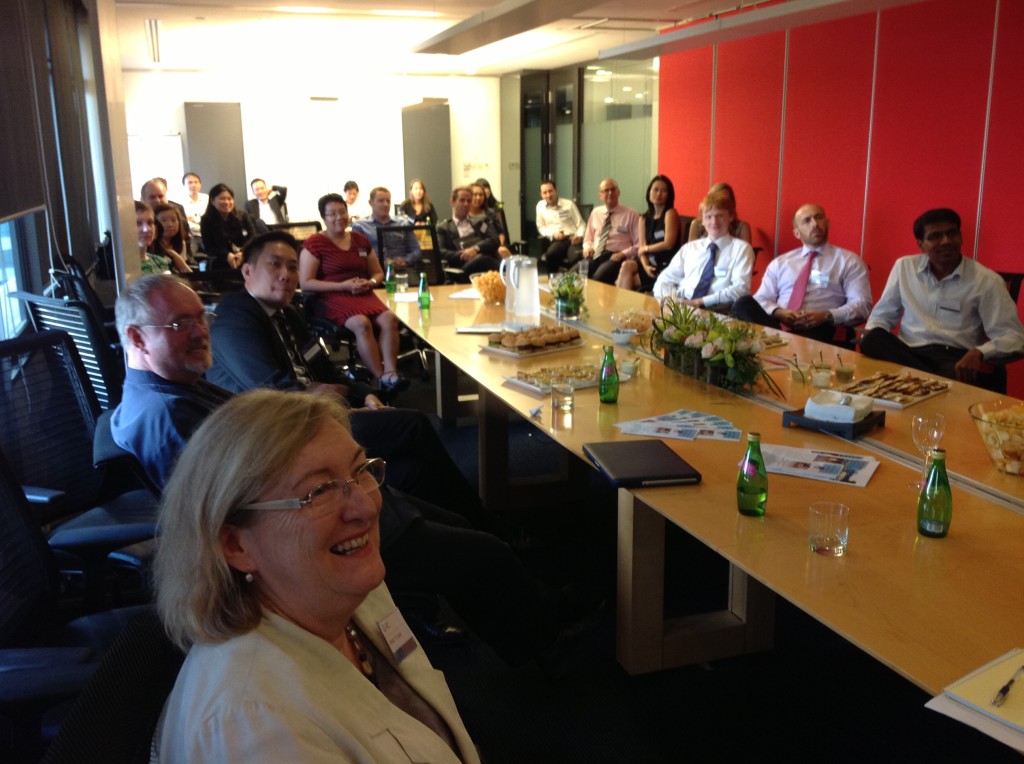 Once again, rising to the challenge and shared responsibility of helping to strengthen access to justice and legal education in the region, the private sector boldly and successfully did more than its fair share. On August 22, 2013, BABSEACLE and BABSEACLE Singapore's long-standing partner Herbert Smith Freehills (HSF) organized an amazing pro bono related event at its Singapore branch office. The affair was planned as a way to help others learn about the work of BABSEACLE and ways to get involved. The occasion was attended by more than 50 persons, which included many of its own HSF legal team, corporate clients and other members of the legal profession both within Singapore and globally. Some of those attending came from Master Card International, Samsung, the Singapore Law Society, Sumitomo, Alston and FTI Consulting.
To open the affair both HSF's Simon Taskunas, HSF Partner, and Annette Bain, Head of Pro Bono and Community at HSF, provided the participants a keen insight into HSF's long standing commitment to pro bono as well as its broad philosophical view of the variety of ways and means to be involved. In doing so they eagerly encouraged those attending to explore options to also be engaged.
Following this introduction the gathering then showcased a number of the pro bono related events, activities and projects BABSEACLE, BABSEACLE Singapore and many of its regional partners are involved in. This afforded those who attended a much greater insight into the multiple ways to connect either officially through their workplace pro bono departments or through less formal means. Some of the thematic events which were highlighted included the upcoming 2nd SE Asia/Asia Pro Bono Conference and Workshop (Oct 11-12, 2013 Ho Chi Minh City, Vietnam), the 5th Annual Trio for Justice (Jan 12, 2014, Chiang Mai, Thailand) and the 3rd Annual Access to Justice Fair (Nov 16th 2013, Chiang Mai Thailand). Projects which BABSEACLE and BABSEACLE Singapore are engaged in and are seeking pro bono collaborative support included the Pro Bono/Legal Ethics/Professional Responsibility/Access to Justice Legal Education Curriculum Development Project, the Clinic Legal Education (CLE) English Skills and Study Guide Manual, and the Regional CLE Legal Fellow Sponsorship/Mentoring Programme.
As the formal presentations came to a close, all attending were treated to a scrumptious array of canapés as they networked with each other and members of BABSEACLE and BABSEACLE Singapore. During this period BABSEACLE Co-Director Bruce A. Lasky had the fortunate opportunity to spend quality time with many. This included discussing the commonly shared vision of pro bono with HSF and others in the region.
Demonstrating the continued and productive partnership between HSF and BABSEACLE, Michael Walter, HSF Managing Partner SE Asia, unequivocally stated, "the type of pro bono work BABSEACLE is engaged in, as well as its strategy of how to get there, is part of Herbert Smith Freehill's DNA. This is what we believe in and what we do."
Was the evening a success? This question can be answered in-part simply by asking those persons who are now registered to attend the 2nd SE Asia/Asia Pro Bono Conference in HCMC, less than two weeks away, and others who will be running and walking at the Trio for Justice this January.
We hope many of you will be as well, along with your pro bono DNA.