My name is Zabu Aye Chan Aung, a/k/a Kamar, and I am a third year Yangon University law student. I was an intern in the Bridges Across Borders South East Asia Community Legal Education Initiative (BABSEACLE) Myanmar Office, during April and May, 2016.
In each of the last two years, I participated in both international externship programs that BABSEACLE has brought to Yangon University. The last one, on the 27th -29th of February, 2016 was with Australian students, from the Queensland University of Technology and with Myanmar students from Yangon University.
 These programs increased my interest in CLE to the point where I wanted to become a program intern, and was happy to apply for this position, during my school holidays. I had never worked in a local organization or NGO, and almost all Myanmar Law students haven't worked as interns. This encouraged me to join the internship, even more, as I believed that I would gain experience and learn much about CLE and Access to Justice, in Myanmar, from BABSEACLE.
As I predicted, I have had many such experiences, as an intern and a team member of BABSEACLE, and my improvement, in different skills, is amazing. I have observed how NGOs work including: their funding, activities, duties and obligations; how to prepare a workshop; how to connect with other team members around Southeast Asia; and how to communicate with law departments, students, teachers, lawyers and other actors, who all develop access to justice, in Myanmar.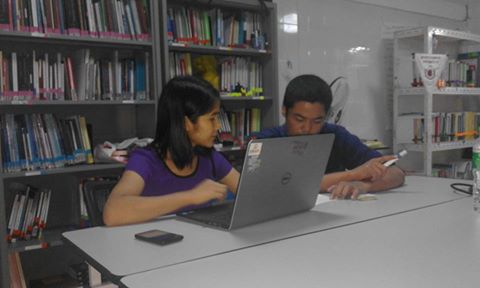 Working with Dang in the BABSEACLE Yangon Office
I also learned about: the usefulness of computers; the function and preparation of pre and post workshop tests and evaluation forms; file saving (a skill that will help me a lot in the future); and how to organize workshops, from the beginning to the end, I now realize how much work there is behind a successful workshop.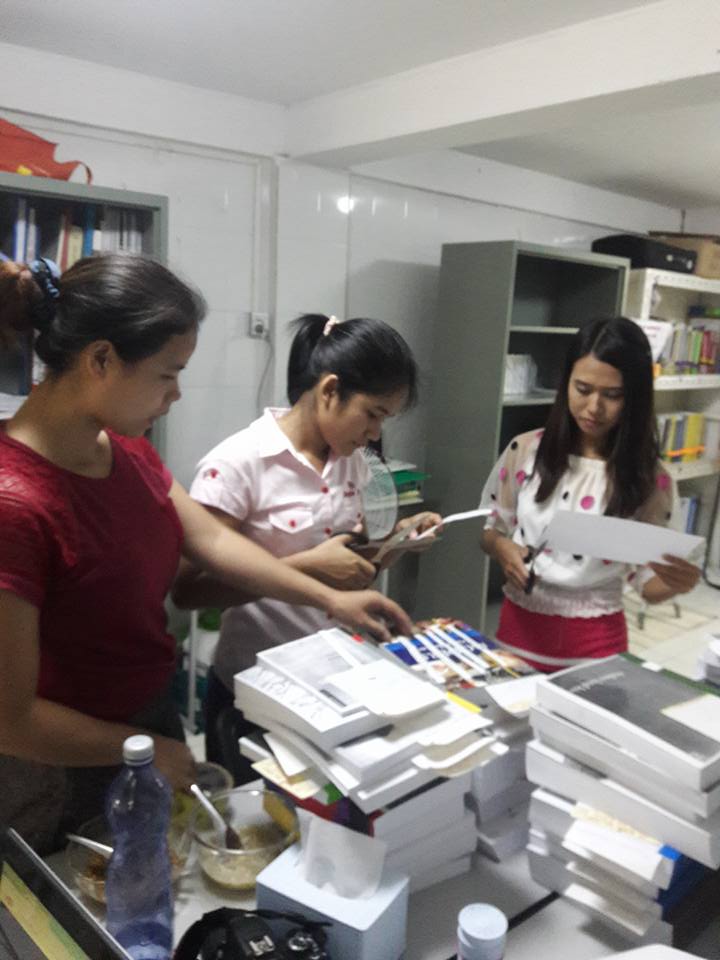 Working in groups for Library Books
Learning library management taught me how to organize library books, group work and how to hyperlink books on a computer. By answering the BASEACLE newsletter quiz, I also learned about BABSEACLE activities across the Asia region. This strengthened my understanding about the BABSEACLE organisation.
I joined the UNDP Rule of Law monthly meeting, which was attended by various NGOs who are trying to establish Rule of Law s and Access to Justice initiatives across the whole Myanmar. I really appreciate their efforts and activities, and I hope that Myanmar society will soon benefit from fair and balanced justice.
Participating in the Yangon Justice Center (YJC) Workshop increased my confidence and self esteem, which overcame my initial intimidation at the prospect of instructing teachers and lawyers. As a result, I and another intern friend, Nadi, prepared a successful energizer, and all the participants were satisfied.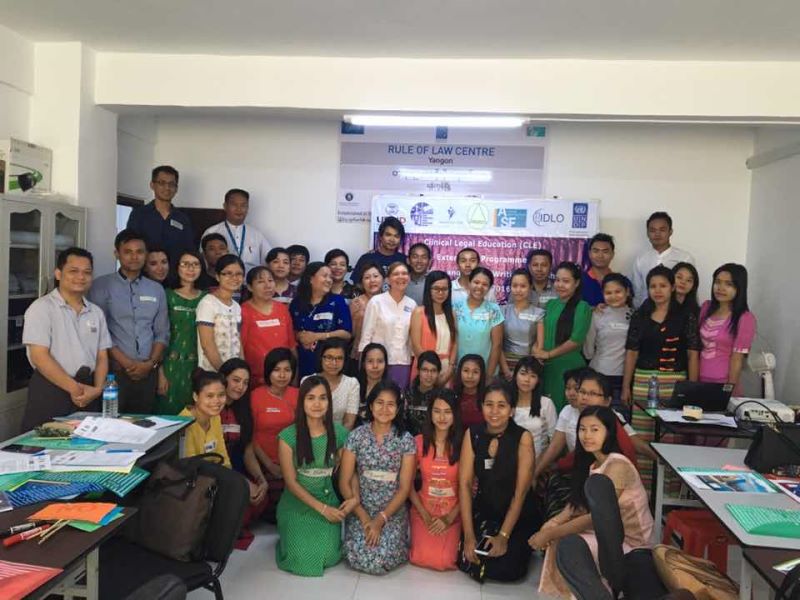 Participants and trainers from YJC Workshop
My internship taught me many valuable skills, and I became confident and thoughtful, which will guide my future. I really enjoyed this fantastic experience, although I sometimes faced stress and challenges, when doing things that were unusual for me. I hope to work in the BABSEACLE Office, again, and to collaborate with all BABESEACLE team members, soon!