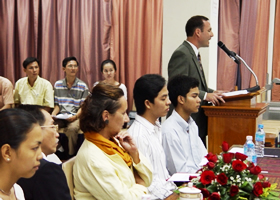 Beginning October 2003, under the direction of Professor Bruce Lasky of BABSEACLE, Pannasastra University Cambodia began implementing a Clinic Legal Education Program at the PUC Faculty of Law and Public Affairs.
Paññasastra University is an English based undergraduate and graduate accredited academic institution that models itself a progressive North American style of Education. It requires student to both identify their major areas of studies while further requiring them to enroll in and complete an extensive general studies academic program. The teaching of critical thinking and analysis is an integral part of the scholastic agenda. For many of these reasons, the justice PUC was identified and chosen as a model institution to begin a clinical legal education program.
Clinical legal education is inherently a cross-cutting theme. If carried out with pedagogical integrity, it lays a foundation for law students to carry with them, throughout their professional careers as attorneys, a greater sense of professional commitment to the ethics and values of public service. It provides needed legal services to the community outside of the law school in an almost limitless array of doctrinal areas of the law. It immerses the legal academy -both students and teachers -in the world as actors, not merely observers. Clinical legal education is one of the most successful innovations in legal education in the last thirty years.
Structure Should Method of the Clinical Legal Education Program:
The Paññasastra University of Cambodia- Clinical Legal Education Program is a two-section program. It is divided into a Criminal Law (CL) Section and Community Legal Education Program (CLEP), formerly referrd as "Street Law" Section. Both Sections began in late January 2004. The Criminal Law Section, which is a year-long program, is being conducted in conjunction with the Cambodian Defenders Project, a Cambodian NGO. Students in this section receive a half year in-class intensive academic and practical legal education and training, including such areas as investigations, interviews, witness examination techniques, evidence, etc. The students will then spend the second half of the year working at the Cambodian Defenders Project and other legal aid NGOs where they will engage in assisting in live client representation activities.
The CLEP, which consists of students, both law and non-law, is a six month program. This program, with the mentoring help of the Community Legal, a Cambodian NGO, teaches students law and access to justice issues; how to teach these subjects through progressive training techniques; and then requires these students to apply and pass on these newly acquired skills and knowledge to persons in various Cambodian community settings in both Phnom Penh and the rural communities. One significant and hopeful eventual focus of the Street Law Program is to integrate this program it into the Cambodian public school system.
Both Clinic sections have been made an elective part of the PUC Legal Studies Curriculum and students enrolled in either section receive academic credits which apply toward their graduation requirements.