by Sukrat Baber, BABSEACLE Legal Studies Clinic
Before arriving in Chiang Mai, I chose Viet Nam as my preferred placement for my internship with BABSEACLE. Then it seemed I would stay in Thailand for the entire time — and then, I was lucky enough to get support, and I was on my way to Can Tho. I would be one of the official event reporters at the 2012 CLE Summer School at Can Tho University.
The first day of summer school was sharply organized. Chairs in the large room were set in the CLE semi-circle fashion, and translators, trainers, and learners assumed their positions. The Dean of the Law Faculty and the Vice Director of Can Tho University gave excellent introductory remarks and BABSEACLE directors Bruce Lasky and Wendy Morrish did what they do best: motivating the crowd for the experience ahead and outlining what the Summer School could ultimately do for social justice in Viet Nam.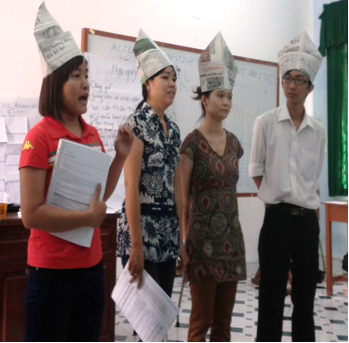 The Summer School was a dynamic and novel creation. Participants were mostly law lecturers representing nine universities throughout Viet Nam. Each day, they wore their "student hats" in the morning when international CLE experts gave workshops on CLE topics, and their "teacher hats" in the afternoon to practise what they'd learned.
There were many challenges for participants. They were directed to facilitate sessions without notice. They had to put aside pedagogical differences and work in groups to teach groups of other, often heavily critical, teachers. They were posed difficult questions by international experts about professional responsibility and client confidentiality.
Many international experts and CLE trainers were teaching in an unfamiliar academic culture. They had to be mindful of cultural and political sensitivities and there were concerns about how a group of Vietnamese lecturers should be instructed when they were assuming the role of students.
The day real students arrived, participants and experts alike were caught off-guard when Bruce opened the session by saying "Here are your students. Give them an assignment." Impressively, the teachers broke into two groups: one to reassure the students and one to huddle and come up with an assignment.
The talent and enthusiasm of the participants and the tireless efforts of the facilitators and trainers made it possible to jump all these hurdles, if not with ease, then with grace. The participants brought to every session the competitive spirit and high energy I had heard the Vietnamese were known for. Most notably, they were terrific teachers.