New Skills and New Opportunities
By Pangthong Xayyavong & Yotxay Dalasack, Law Lecturers,
Faculty of Law & Political Science, National University of Laos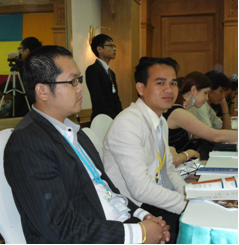 We both came to Chiang Mai for the first time in June of 2011 to attend classes at Chiang Mai University (CMU). We took classes in International Public Law, Human Rights Law and International Trade Law. We were supported by a Memorandum of Understanding (MOU) between Faculty of Law (FLP) and CMU to study and we felt very excited and privileged to have this opportunity.
When we arrived in Chiang Mai, we instantly loved it: it's a fantastic and beautiful city. The people we met in Thailand were very friendly and the people we met through BABSEACLE and CMU helped us to achieve all our goals. We lived in the BABSEACLE House, which was a very good place to stay, and because there were always lots of people around, we never felt lonely. BABSEACLE Directors Bruce and Wendy and the staff really made us feel at home and part of the big BABSEACLE family.
Becoming English-Speakers
CLE and Community Teaching Workshop in Chiang Mai
by Pangthong Xayyavong
During our stay, a workshop on CLE and Community Teaching was organised. We both attended along with CMU students and BABSEACLE interns. I was very excited when I was asked to help translate English to Thai for the students. It was very difficult at times, but I tried very hard to help. It was my first time doing this kind of translation and it really helped me improve my English and build up my confidence. Before I went to Chiang Mai I had started to study translation and when I returned to Laos my positive experience at the conference made me more motivated and inspired to study. In the future, I hope to be a translator for a conference organised in Laos. I especially want to help my faculty when we have a conference in Laos with foreigners.
We had studied English before we went to Chiang Mai, but we had only studied reading and grammar – we did not have any speaking experience. BABSEACLE helped us by providing English classes with interns from many different countries at the BABSEA house. Because of this, we were able to develop our English and become much more confident in our speaking ability.
In Laos, we don't meet many foreign people, but at BABSEACLE we met people from all over the world. Before we arrived, we were worried about speaking English to foreigners, but over time, as our English improved, we really began to enjoy speaking English. We would have lunch and dinner together with the interns and practice speaking English as much as possible, to become more confident when speaking English. Now, even though we have left Chiang Mai, we still keep in touch with many interns from Malaysia, Singapore and Viet Nam.
Our experience at CMU was good but took some getting used to. Things were a bit different from Laos. The system of learning differed; in Laos we have lectures and then lots of different activities and demonstrations. In Thai-land, they spend a lot more time on lectures and less time doing other activities. We preferred the Laos teaching methods because when you have to spend a lot of time in lecture classes, it can be bit boring! Lectures alone are simply not as effective as activities and demonstrations as teaching tools. However, we really liked and appreciated the lecturers themselves, because they had a lot of experience and knowledge in the field of law.
From our experience at CMU, we understand how bored students may feel if we just use lectures to teach them. Therefore, in our classes, we try to make the lessons as interesting as possible and include lots of activities in the hope that the students will have more motivation to study – and remember more of what they learn. At BABSEACLE in Chiang Mai, we also learned many new teaching activities; we spent some time studying the Teaching Methodologies in the CLE manual. We never want our students to get bored and lose interest in class!
In Laos, Pangthong works with the CLE Clinic on the community outreach program. Yotxay is the leader of the community outreach group and at the beginning of each community outreach session he gives a speech about the purpose of the workshop and the importance of the workshop for the students. We have covered a wide variety of topics, including trafficking, criminal law, family law and land law and we always make the topic relevant to the audience so that they can benefit from the workshop. In Chiang Mai, BABSEACLE helped us develop our teaching skills so that we could do better community teaching workshops.
Meeting International Legal Experts and Access to Justice Workers
We, along with Mr. Manolin, a lawyer from the Laos Bar Association, had the opportunity to attend the Asian Consortium on Human Rights Based Approach to Access to Justice (HRBA A2J) held in Chiang Mai in August 2011. BABSEACLE helped coordinate this conference, many NGOs attended and we both got to meet legal experts from over 20 countries. This Consortium was very important for us because we learned a lot from the presentations and gained experience and understanding from the event.
We both really enjoyed our time in Chiang Mai and at CMU; we learned may new skills and improved old ones, too. We shared some really great experiences, like climbing a mountain to visit the temple at Doi Suthep – which was lots of fun but also very tiring. We also had lots of fun at the BABSEACLE House International Cooking Night, and we got to try food from countries like Viet Nam, Thailand and Malaysia.
We would like to say a big thank you to BABSEACLE for helping us improve our teaching, translating and English skills. This was the first time we had lived in another country, but we rarely felt homesick because everybody was so kind and friendly and we always had so many things to do to keep us busy. Now that we are back in Laos, we miss Chiang Mai and the people we met… and Chester, the BABSEACLE cat.