By Jason Lilly, BABSEACLE Volunteer, Chiang Mai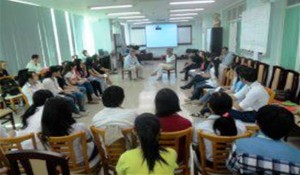 On 30-31 November 2012, Michael Mills and Michelle Fox, two partners specializing in dispute resolution from the international law firm Herbert Smith Freehills, led the second workshop on effective negotiation techniques. The workshop was held at the University of Economics and Law in Ho Chi Minh City, Viet Nam.
There to assist them were BABSEACLE Directors Bruce Lasky and Wendy Morrish, BABSEACLE Vietnam staff member Laura Milne, BABSEACLE Vietnam Country Manager Bui Thu Hien, CLE Legal Fellow at the Faculty of Law & Political Science at the National University of Laos Thip Nouansyvong, and BABSEACLE Thailand volunteer Jason Lilly. Taking time out of their busy work schedule at their office in Sydney, Australia, Mr. Mills and Mrs. Fox, flew up to Vientiane, Laos and then onto Ho Chi Minh, Vietnam to share their knowledge and expertise on introductory negotiation skills to a classroom of law students from both the University of Economics and Law and Ho Chi Minh City Law University.
The workshop began with Michael and Michelle outlining 10 important lessons and practices for successful negotiations. These included key points such as: being an active listener, always coming prepared, and understanding both what you and the opposite party (or parties) hope to achieve in the negotiation.
This was followed by a number of exercises designed to help the workshop participants understand the necessity of maintaining trust between all parties involved in a negotiation, what type of negotiator each participant believed he or she was (what type he or she actually was), and the different types of negotiations that often occur in both professional and home settings.
To help illustrate their points, Michael and Michelle used a number of visual tools, including a large and very effective PowerPoint presentation written in both Vietnamese and English. In addition, all of the exercises done throughout the workshop were very interactive: participants engaged in activities ranging from team-based negotiations (designed to establish the importance of trust in a negotiation) to role-playing a one-on-one dispute resolution scenario.
All in all, it was an incredibly successful and informative workshop. Having participated in it myself, I can say first-hand that I walked away from it with a better appreciation for the hard work that goes into achieving the desired outcome, the nuances of the negotiating process, and the necessity of ensuring that all parties in a negotiation emerge mutually successful.