By Sophie Geoghegan_International Fellow
Dagon University hosted the hugely successful Inaugural Myanmar National
CLE Mock Trial Event, on February 7-8, 2015. The event brought together almost 100 participants, including students, law faculty teaching staff, International Clinicians in Residence, international trainers and legal experts, law officers, UNDP personnel and international lawyers, who attended as judges The first of its kind to be held, in Myanmar, this event was co-organised by Bridges Across Borders South East Asia Community Legal Education Initiative (BABSEACLE), DLA Piper/New Perimeter, Herbert Smith Freehills (HSF), and was supported by the United National Development Programme (UNDP) and USAID.
In attendance were at least two L.L.B students, from each of the eighteen Myanmar law departments, and they were specifically chosen, for their active involvement and commitment to their university's Clinical Legal Education (CLE) programmes. The judges came from various parts of the justice sector (both local and international), including lawyers, teachers, senior law officers from the Union Attorney General's Office and civil society members.
A Mock Trial is one of four CLE models, in which students simulate a court trial of a minor civil dispute or criminal offence. Students develop legal, analytical and advocacy skills, through this exercise, which increases their familiarity with the court process and enhances their appreciation for, and understanding of, legal ethics. The Mock Trial was arranged into three rounds, with the teams of students being mixed up after each session, and this allowed them to practice a number of different roles.
All participants showed enthusiasm and were very engaged with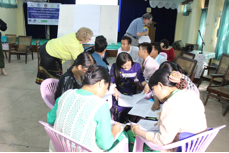 the proceedings. Jane Sanders, a lawyer from Herbert Smith Freehills in Australia said, "They [the students] are really enthusiastic, they really want to learn. They are preparing well and working very hard for this Mock Trial. They have been very easy to engage. They have been fantastic. Their understanding of the law and court procedure is really great for people who have never done this before, and whose first language is not English. They have done all of this, in English, and it is really amazing."
The CLE Mock Trial Events that took place, throughout Myanmar, in the run up to the National CLE Mock Trial Event, included a CLE Mock Trial Workshop that was hosted by Yangon University of Distance Education, on February 5-6th. It prepared the participants for the upcoming Mock Trial, and it strengthened their lawyering skills.
Participants, at the Inaugural Myanmar National CLE Mock Trial Event and training, returned to their home universities, sha
red what they had learnt with their colleagues and peers, spread CLE awareness and encouraged others to become involved. One student summed up her experience, saying, "I am getting more experience, and really supporting my life, and getting new friends from all different universities. It is really nice, and I would like to have more and more Mock Trial events, in Myanmar, at other universities. When I am finished, I am going to my university to share what I experienced. We are trying to do Mock Trials, at my university."
Thank you, to everyone who participated and/or supported the Inaugural Myanmar National CLE Mock Trial Event.
"This study/report/audio/visual/other information/media product (specify) is made possible by the generous support of the American people through the United States Agency for International Development (USAID). The contents are the responsibility of the grantee and do not necessarily reflect the views of USAID or the United States Government."