By Victor Yisa, Indiana University
Today, 9 August 2013, is my last working day as an intern with BABSEACLE, Chiang Mai, Thailand. I have been here for about five weeks now and it has been a most rewarding experience.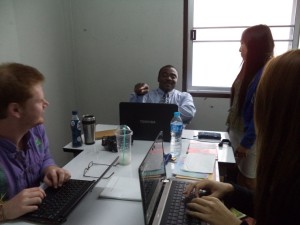 I came to BABSEACLE as an intern through the Program in International Human Rights Law (PIHRL) of the Robert McKinney School of Law, Indiana University, where I am running a Masters' program in law.
My encounter with BABSEACLE afforded me my first opportunity to visit Asia. Even though I was primarily with BABSEACLE in Chiang Mai, I also went with a team to Vientiane, Laos for a legal ethics training workshop. The people, culture, architecture, educational / legal system, transportation and food are all interesting points of discussion.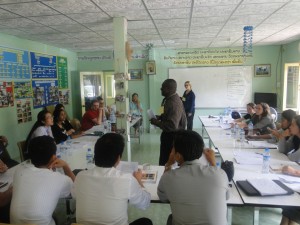 My time here has been a fruitful learning experience. I practiced law in Nigeria for over 15 years before relocating to the U.S., but BABSEACLE was my first practical encounter with Clinical Legal Education (CLE).
I was part of the team of interns that developed the lesson plan for the Laos legal ethics workshop which was held in Vientiane, Laos shortly after my arrival in Chiang Mai. As I have stated, the Laos legal ethics workshop was my first time actively participating in a clinical legal workshop. Back in the days in Nigeria, where I had my legal education, the closest I had to anything like a CLE was a three months law office attachment during law school.
I have come to appreciate the new teaching methodologies that CLE offers. The development of a viable working relationship with universities who are increasingly becoming more aware of the importance of CLE and adding it to their curriculums is a positive step in the right direction.
It was almost an emotional moment for me to see young students from The National University in Laos, who attended the CLE workshop we held there engage us in interactive discussions with a zeal to learn and develop new skill. An opportunity which they would have been deprived off, like I was, had it not been for the vision BABSEACLE represents.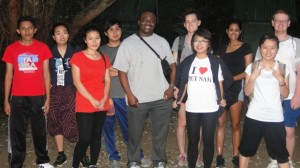 I am also learning through my involvement with the BABSEACLE organizational skills that would definitely assist me as I continue to build the organizational structure of my nonprofit organization – Vision Center International – an NGO dedicated to assisting the blind and visually impaired in developing countries through access to qualitative education and health care and enlightenment programs about the prevention of avoidable blindness.
BABSEACLE is not only about academic objectives or pursuits. It is an organization that encourages diversity and healthy interactions with people from different parts of the world. During my internship in Chiang Mai and Laos, I lived with and interacted with people from Australia, Canada, Britain, Malaysia, Vietnam, Laos, Myanmar, Netherlands, India, Russia, U.S and of course Thailand.
We took time off to relax the BABSEACLE way, always in an interactive and engaging manner. The two hour hike up the mountain was quite an experience. I particularly love the Wednesday movie nights where each intern / volunteer has to choose a movie that has a legal or social justice theme and we have a post movie discussion about it.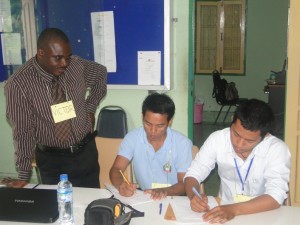 Finally I want to say a big thank you to those who have made my internship here a memorable one. First to Bruce and Wendy, Directors of BABSEACLE, for your untiring devotion to this great work. To all the staff here thanks a million. And to a wonderful person, Helen Yandell of the Springvale Monash Legal Service who I met in Melbourne, Australia, thank you Helen, BABSEACLE was everything you promised me it would be.