By Bebs Chorak: Volunteer Expert Assisting BABSEACLE and its Partners
Law students are just the best. Street Law works with law students in the USA and in many other countries around the world. In our experience, law students are always enthusiastic, involved, and innovative. We find that law students instinctively understand that good law lessons and programs use interactive teaching methods and cause students to think and be active participants in their own learning. This is just as true for the law students in the CLE program in Vietnam, when they are presented with the opportunity.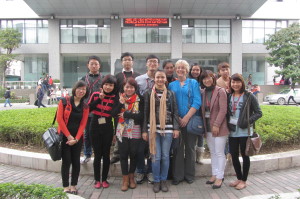 When I first arrived in Hanoi I met with Hà Công Anh Bảo, other faculty and students at the Foreign Trade University. One of our first discussions centered on the use of the terms "moot court" and "mock trial." They were beginning a new CLE program and were eager to learn how to set up a moot court. To clarify that we were talking about the same activities, we agreed to call a first instance court trial a "mock trial" and an appellant court hearing a "moot court". As an example of the first term, we conducted a mock trial based on the theft of money from a business. Then we conducted a moot court the next day to review an appeal of a decision on environmental protection, to question what the code actually says about environmental protection.
In the moot court, we asked if the lower court ruling was correct in allowing a company to continue to pollute, thereby saving jobs. In the discussion at the end of the day one law student comment that she liked moot courts better than mock trials. When asked to explain her statement she said that the moot court was harder, as you really had to think and analyze the law in a way she never had thought about.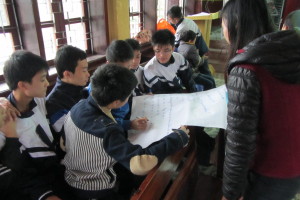 Presently I am at Vinh University and enjoying life on the campus. I live in the dorm and wander around the neighbourhood looking for the best pho. The mornings and late afternoons are generally spent with the law students, working on methodology or English. One evening we were preparing a lesson for the law students to deliver to students at a local orphanage called SOS. The topic was child abuse and the students were thinking about using role plays to introduce the topic. We had a long discussion (thanks to the Google translator) about the proper use of role plays. Role playing is a powerful learning tool and often it is the only thing a student remembers from a lesson.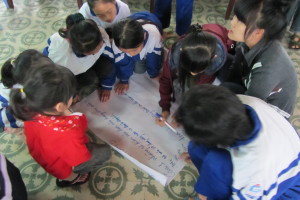 Therefore, selecting the role play is very important and must reflect the values and information that you want the students to learn. One student looked at me with a quizzical expression and asked what I meant by value. While I was trying to explain a "light bulb" went off in her eyes and she exclaimed, "Oh, that is why the SOS students always laugh about child abuse instead of being concerned." It was instant understanding based on her experiences in teaching.
As a Street Law instructor you can't ask for better understanding than you get from Law students like these. However the real test will be tomorrow when they deliver a truly interactive lesson to 80 SOS students. They are up to the task and have the understanding, if not the prior practice. It will be through continued practice that these students will learn the skills to be come as good a Street Law facilitator as any in in the world.