As the Pro Bono Initiative and Externship Coordinator for Bridges Across Borders South East Asia Community Legal Education Initiative (BABSEACLE), it was with great pleasure that I had the opportunity to attend the 9th PILnet Pro Bono Forum, in Rome, November 11 – 13. Although it was my first time to visit this wonderful city, and the first to attend a Pro Bono conference in Europe, it was nice to see some familiar faces, from the 4th Asia Pro Bono Conference and Legal Ethics Forum, which was held in Mandalay, in September, and I was excited to meet new faces too.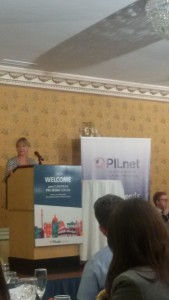 The three day event, which was held at the NH collection Hotel, began with the Pre- Forum Clearinghouse meeting, hosted by DLA Piper Rome, and was attended by around 40 participants, from all over the world, in order to discuss the development of European clearinghouses. The first day started with participants sharing their clearinghouse experience, and the main theme was how clearinghouses build lasting and meaningful relationships with NGOs. This topic was continually addressed, throughout the day, and many ideas were exchanged. The highlight of the day, for me, was the talk given by Adraina Gonzalez, from the Taproots Foundation, on "Engaging other professionals in pro bono work." She discussed ways in which clearinghouses and law firms could support NGOs' needs, by providing them with non-legal professionals and services, such as IT skills and marketing. This was very relevant, to me and our organization, since we have non-legal professionals, who often assist us. Another interesting discussion, led by Lucia Borovska of the Pontis Foundation, and Noanne Tenneson from Alliance des Avocats pour les Droits de l'Homme (AADH), a/k/a Alliance of Lawyers for Human Rights (ADH), was on the ways in which clearinghouses can helpfully respond to the current refugee situation in Europe. Following the meeting, participants were invited to the forum, at an opening reception, by Atanas Politov, on behalf of the European PILnet team.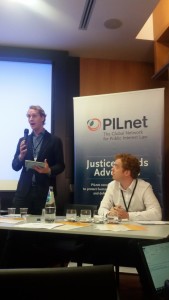 The next day, participants were welcomed by Atanas Polivos. Guest speaker, Ireane Khan, really set the tone for the whole event, as she discussed the importance of creating a stronger culture of justice, by focusing on the development of a stronger Rule of Law, within societies. Throughout the day, I attended several very interesting sessions, one of which was "The Global Goals and What They Mean For Your Pro Bono Practice", when and where the newly revised UN Global Goals, which aim to eradicate poverty by 2030, were discussed. Goal 16 is a new addition that focuses on the importance of Rule of Law and access to justice, as a means to eradicating poverty. Goal 16 was a core topic of discussion during the Mandalay Conference as well in August. Similar to what occurred in Mandalay, the Forum in Rome stressed this to be a very important step in acknowledging the importance of Rule of Law, as a part of development. This session offered creative ways, in which law firms can achieve these goals, through their ongoing pro bono work- e.g., Goal 2 focuses on food security, and ; if lawyers were to work with farmers to provide land security, it could lead to community food security. Representatives of three new projects shared their work and experience, with me and other participants, at a session on "NGO Pitches". All of the speakers had innovative projects that worked towards increasing access to justice. One of these, Lawyers Against Poverty, set up by Oxfam, hopes to increase access to justice and human rights awareness to the poor and most vulnerable members of society.
In the evening, the Pro Bono Awards Dinner, sponsored by White and Case, was held at the beautiful Parco dei Principle Grand Hotel. At the dinner, two awards were given: the 2015 European Pro Bono Award for Exemplary Partnership in the Public Interest, awarded to DLA Piper; and the 2015 Pro Bono Award for Local Pro Bono Impact, which went to A & L Good body and the Irish Refugee Council.
On the final day, I attended the two sessions on legal clinics which gave an interesting insight into the development of legal clinics across Europe. As the intersection of justice education and pro bono is one of the central focuses of our organization BABSEACLE, and an area that is given great importance in the various Pro Bono Conferences we and others have assisted in co-organizing, I was delighted to see a panel of law professors, lawyers, and university deans all come together to share their positive experiences about the law clinics they work with or run and the positive impact they have had on the students.
Following this, Amy Heading from DLA Piper, gave a very inspiring spark talk on "Psychology of Pro Bono" where she put forward her argument that all lawyers should do pro bono since pro bono makes happier lawyers.   The forum closed with a very powerful and inspiring speech from Laura Boldrini, from the Italian Chamber of Deputies, who believes strongly that no one should be left alone while trying to seek justice and that it is imperative that we have more socially conscious lawyers who work towards creating equality in society. It was announced that the 10th PILnet European Pro Bono Forum will take place next year in Amsterdam.
The Forum was a huge success and I took many new innovative ideas away with me that can be adapted to fit into the Asian context. I was very happy to meet so many likeminded people and hope that some of them will be able to join us in 2016 in Bali for the Asia Pro Bono Exchange (30-31 August, 2016) which will be co-organized by Bridges Across Borders Southeast Asia Community Legal Education Initiative (BABSEACLE) and its international consortium partners, alongside PILnet.
By Lauren Donnison, Externship Coordinator for BABSEACLE