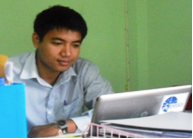 By Souliya Vithonthai, Legal Fellow, Laos
I work at the Faculty of Law and Political Science (FLP) of the National University of Laos, where I am a Legal Fellow in the Community Legal Education (CLE) office. The vice dean of FLP is the director of the CLE program. So, this is important work in an important office and it makes me happy, because it gives me the opportunity to help teachers and students. I coordinate information and activities with many organizations, here and abroad.
What I like best about being the CLE Fellow here is the training I do with the students and then going with them to teach in the countryside. The Land Law lessons I teach are important for both the students and the community, because many people do not understand the law. I really want to help the people in the rural areas understand their rights, so that they can protect those rights. And the training that I do with the FLP-CLE students is important to me because it also helps me develop my teaching skills. It gives all of us more knowledge than we had before!
BABSEACLE supports me to do this work in Laos; they pay my salary and they sent me to do training in Chiang Mai, Thailand, and Singapore to help me develop both my working skills and my English. Before I came to work here with FLP-CLE and Lux Development, whose programs support the Law Faculty at NUL, I received many lessons in teaching techniques. In my training, I learned how to interview clients, how to manage an office, how to collaborate on projects with partners and, most importantly for me, how to develop legal knowledge and teamwork with many different people.
One of the most important things for me personally, is that I have had the opportunity to work with CLE experts from all over the world. I learn many things from them, from Bruce and Wendy, who encouraged me to become a Fellow, from CLE teachers and CLE students and "Sister Thip", my fellow Fellow who mentors me here at FLP-CLE.
We work to learn the law, to teach the law to law students and to help people in society understand the law. It's my job to coordinate this training and to support all the activities of FLP-CLE, so that it can grow and continue.
When I first came here, I did not have many skills; now I am a trainer. When I first came here, the CLE program was just starting; now FLP-CLE is get-ting ready to open its in-house clinic. We have grown a lot… together!