My BABSEACLE Trip
By Colin James, Solicitor at the University of Newcastle Legal Centre and Senior Lecturer
at the Newcastle Law School, Australia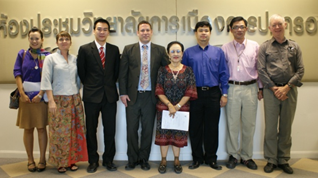 In early 2011 I decided to combine a holiday with visiting my BABSEACLE friends in Southeast Asia. Before long I had a packed program of legal clinic and law school visits, but it was still one of the best holidays I've had.
In Ho Chi Minh City, I visited the impressive Vietnamese University of Business and Law where I met Professor Huyen Pham and we discussed strategies for clinical legal education. Then I saw the Legal Aid Centre at the HCMC Law University, apparently the largest law school in Viet Nam and met Professor Dang Tat Dung.
Later, at Can Tho University, I met Dr Le Thi N Gueyet Chau and was fortunate to be able to sit in on a student mock trial involving two men charged with murder, based on a recent real case. The auditorium was completely full of fascinated law students. That was so interesting!
In Hue in central Vietnam, I met up with Bruce Lasky and the BABSEACLE team, who were preparing to run clinical initiation seminars with the Hue University Law School with the help of their Vietnamese partners. We met Assistant Dean, Foreign Affairs, Mr Ho Nhan, and law lecturer Ms Nguyen Hong Trinh.
BABSEACLE's Vietnamese legal trainers conducted a very active seminar with about 60 law students about community legal education in a clinical law school model. I was invited to present on the methods of my legal clinic at the Newcastle Law School, Australia.
Later we met up again at Chiang Mai and drove to Udanthani in northeast Thailand. There we met with the Dean and other staff at the College of Politics and Governance at Payap University and talked about the benefits of clinical legal education. My thanks to Bruce, Wendy and the team for showing me how BABSEACLE works so well and giving me these great experiences.