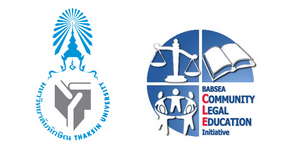 Monitoring and Assessing Clinical Legal Education (CLE) Program Conference
Hosted by the Faculty of Law Thaksin University, Songkla, Thailand
28-30 March 2015
Clinical legal education (CLE) is a progressive educational system most often implemented through university-based law programs to help develop better-trained and more socially conscious lawyers. It is a process whereby students learn by doing. It is an experiential problem-solving based model, in which students actively involve themselves in either real client/personal interactions or simulation case studies set up to mirror real client/personal scenarios. This process is conducted under the supervision of experienced clinicians and legal practitioners. As a teaching device, this type of experimental problem-based learning is considered a highly effective means of adult learning where students learn and importantly retain a vast amount of what is taught.  The use of this interactive method of teaching focuses students on becoming more able, thorough and ethical advocates and attorneys as well as government and private employers/employees. It is important to note that while this type of educational program is often implemented by law faculties, it is not limited solely to such institutions and can readily be practiced by a wide assortment of other faculties and in interdisciplinary programs. Currently the CLE movement is establishing itself throughout the Asian region, but it remains fragmented both within countries and throughout the region. The Measuring and Assessing Clinical Legal Education (CLE) Program, hosted by  Thaksin University Faculty of Law and Bridges Across Borders Southeast Asia Community Legal Education Initiative (BABSEACLE), aimed at assisting Thailand to develop  a best-practice model for emulation throughout the region. This conference was to follow up the previous conference (The Clinical Legal Education as a Means to Assist in Reforming the Thailand Legal Education System: Regional and International Experiences and Perspectives Conference). This conference was for the participating universities to come together and receive assessment and evaluation of their work, which was accomplished successfully. They were given feedback and help from BABSEACLE and BABSEACLE Foundation in order to accurately assess the success of their programs and make improvements.
After the 2 day workshop, a *South East Asia Clinical Legal Education Association (SEACLEA) meeting was held to plan and project for the events of the upcoming year. (*A Southeast Asian Network of persons and institutions committed to improving the quality of legal education and achieving justice in-part through the use of Clinical Legal Education (CLE). It aims to bring together persons from different countries, who will exchange perspectives and work collaboratively from a variety of legal, educational and organizational settings in order to increase the quality of law teaching and improve justice through CLE.)
Purposes achieved:
Work with university partners to implement  CLE programs which apply best practices in supervision/assessment/monitoring and evaluation, and
Further strengthen the Thailand CLE Network.
Speakers:
Participants:
Law lecturers and Legal Practitioners from the region.
Venue:
After the Monitoring and Assessing Clinical Legal Education (CLE) Program Conference, we held the Active Learning in Law: Case Study of Legal Ethics & Professional Responsibility and Regional Collaboration Conference and Workshop which took place from the 1-3 April at the Prince of Songkla University.
Please click here to access the agenda on the events which took place.
For more information, please contact Nattakan Chomputhong (Ann)