This year, for the first time, BABSEACLE Foundation hosted three interns for our Legal Studies Volunteer Internship Program 2012.  Top law students Prik, Lek and Neung, who report on their experiences below, were sent to us by our partner universities Mae Fah Luang University and University of Phayao. In the Internship Program, they learnt about CLE (Clinical/Community Legal Education), managing and administrative systems, teaching communities such as Wildflower Home, and other trainings, including one partner-sponsored workshop by International Justice Mission. These interns trained with and worked closely with our new Fellows, as well as with international interns in the Summer Externship program. While they were working here, they did their jobs very well and we are proud of them. Moreover, we believe that now that they are back in their universities, they will make good use of the knowledge they gained here by applying it in their law clinics.  — Yada (Sung) Mahawongsnan, BABSEACLE Foundation
I'm not confident enough to speak English because I'm afraid to make mistakes. The most difficult part of the internship for me was making the work plan and working in English. Moreover, it was quite hard to understand the office rules in English. But English is the official language for the organization's communication and efficient operation.
I liked working with people from other countries — America, Australia, Vietnam, Sweden, China, Burma — to learn how to work alongside people from different cultures, and to learn about similarities  and differences in the legal systems of each country. I learned a lot about things like teamwork skills, and organizational systems.
I appreciated the support and welcome of everyone at BABSEACLE. I liked CLE class because I could learn both  English for commun-ication and about CLE program. I also learned about legal procedure in Thailand and other countries.  And I now know more about BABSEACLE itself. I have seen that this international organization works for access to justice and legal education that helps us become ethical lawyers at the same time it helps empower communities.
KETSARA THEPMA – MAE FAH LUANG
I was happy to come here and interested in relationships with international friends because I had never had that opportunity until I worked with BABSEACLE. I gained experience and knowledge from this internship. I liked working with people from other countries and learning about their culture. I hope I can apply those experiences with studying and working abroad one day. The most difficult thing was having to speak English at work. But I improved my English by translating chapters from the new CLE manual and lesson plans for Wildflower Home into Thai.
I really enjoyed teaching at Wildflower. I was surprised and happy with this experience. I thought that I couldn't teach if I had to teach in English, but finally I could do it in Thai. It was wonderful that I could give knowledge to learners. I like this project very much because I liked to teach. I liked that the learners participated in my lessons, they had fun! The most important I learned was teamwork skills and being responsible for my work.
There are many good reasons why law students should come to be interns here. First, law students can provide legal assistance to help poor people and society. Moreover, students get experience and the chance to learn about other cultures. Most importantly,  they become more aware about social justic and professional ethics.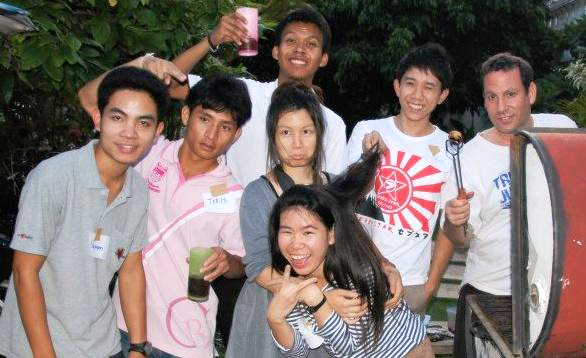 ATTAPOL YUNGNOI – UNIVERSITY OF PHAYAO
I was very excited to be one of the first Thai interns at BABSEACLE, but I didn't know what to expect, what I would do. But from the beginning all the BABSEACLE staff were kind and friendly and I felt like they were my family. I didn't want to leave at the end, but I had an obligation to finish my studies.
The most difficult thing for me was learning how to plan ahead for doing projects. Speaking English was very important for me, since I had a plan to go to study abroad. English wasn't difficult for me because I've always been interested in speaking this language. Certainly, I liked to work with people from other countries and practice and improve my English with them. I could also learn about the legal systems of other countries.
I liked to go to teach at Wildflower because I could know and talk about real-life problems. I have acknowledged that in our society there are people who are less fortunate than me. The most important thing I learned as an intern was how to work in a team. It was the basis of working with others in community.
I think Thai law students should be interns here because BABSEACLE teaches a lot of good and useful things. I believe that you can be a very good lawyer after working here, because they have a manual that can teach you how to be a good lawyer. Living at BABSEACLE was like a family, I loved it.