Jittima Maneewan (Tik)
Accountant
The experience of working in an international organization is the biggest challenge for me as an accountant. Before working with BABSEACLE, I had experience working in accounting for eight years. When I first started working here, I found that it was difficult for me to work in an English speaking environment. It takes time to learn and manage an accounting system, but I can see how far my skills have developed.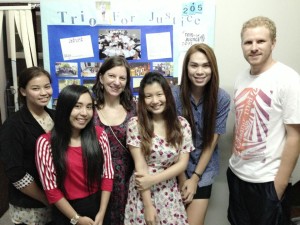 Besides accounting, I have gained new knowledge and have learned from different projects. I have learned about social justice work, clinical legal education, the externship clinic, etc. I have had the opportunity to participate in the CLE training as well. It is interesting to learn and see new things besides accounting. It helps me to see and think in different ways. I am surprised when I realize that I am now a part of a group that works towards social justice. It is amazing that my profession, which seems unrelated to social justice, can be a small gear helping society. As we have many projects in different countries, I have to communicate with people from different parts of the world. It teaches me to develop the system of accounting management for each project and each country. This helps me to improve my organizing and management skills. To work internationally, I have been trained on professionalism. I am trying to improve myself to work professionally because I know that my work will affect soceity empowerment and strengthen legal education somehow.
The only thing I worry about is English. I often worry that I will make others do more work by helping me. Even though I meet the tough barriers of this work, I can get through those difficulties with support from my colleagues. I admire my colleagues' spirits. I appreciate that they are always able to help me even though they are busy as well. It can be said that what I get from here besides new knowledge and skills is family. I feel very comfortable with everyone here. All in all, those taking good care of me and offering kind support make me feel at home. Additionally, I get help from interns and volunteers with English and new accounting skills. An accounting computer program is provided to me as part of my accounting training as well. By collaborating with the international team, I have opportunities to exchange culture and learn from other cultures. I am thankful for this opportunity.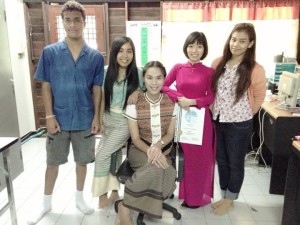 I am delighted that I have the opportunity to be involved in different events/activities with my colleauges and international volunteers such as hiking Doi Suthep ( a mountain located in Chiang Mai Province, Thailand), Trio for Justice (fundraising and raising awareness of social justice event), Access to Justice and Public Interest Fair, and the Legal Fellow and Externship Clinic. I always recognize that I received this big chance to learn and do good things for society through being a part of this social justice network.