Amni Raihan Abdul Rahman and Kanika Kirpalani
The Annual Access to Justice Public Interest Fair is the result of a philosophy of bridging like-minded organizations to the BABSEACLE and BABSEACLE Foundation. The objective of this fair is to bring these organizations together to help them to develop or establish their own, similar projects, with the help of already established organizations to to have them work together and support each other. This networking event benefits organizations and projects that share similar missions and objectives. Through building networks with organizations promoting similar ideas, the individuals and the causes they benefit are provided with greater opportunities for development. The Access to Justice fair acts as a platform for numerous people and foundations to promote their work to a wider audience and create awareness about worthy projects.
This year's Access to Justice Public Interest Fair will be held at the Kantary Hills Hotel on the 13th of November. The fair will be host to major organisations such as: Amnesty International Thailand, United World College South East Asia, and International Justice Mission to name just a few. Furthermore various smaller, local foundations will also attend the fair, seeking to create awareness of social issues through the sale of traditional, regional handicrafts. Hence the Access to Justice Public Interest Fair is an event which promotes increased awareness of major social issues such as, migrant worker rights, the rights of people living with HIV, prisoners' rights, juvenile justice, discrimination, the rights of stateless persons, access to health care, and the rights of transgender people and sex workers.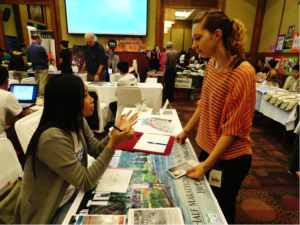 In raising awareness, we hope that all organizations and foundations involved will be able to garner support and that society as a whole will be able to develop their understanding of these problems; creating opportunities to eradicate prejudice, promote equality and further the community legal education and access to justice.
This years registration is open and has an interesting mixture of attendees and participants; The shirts have been designed, the location has been confirmed, all we're waiting for is you!
For more information on the Access to Justice Fair and for how to get involved click here.