by Trang Tran Le (Ivy), BABSEACLE Staff Trainer
"Poverty can only be reduced if governments give all citizens, especially the poor, a legitimate stake in the protections provided by the legal system, which should not be the privilege of the few but the right of everyone."
— Commission on Legal Empowerment of the Poor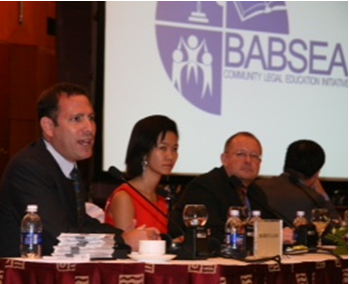 In 2010, the Ministry of Justice in Thailand hosted the first Legal Empowerment Asia Partnership (LEAP) meeting, to identify new ways in which law and justice institutions could help protect vulnerable communities. In 2011, the Mongolian Ministry of Justice and Home Affairs hosted the 2nd Annual Conference, to share experiences on how to empower poor groups, as well as to discuss the best way to ensure the success of the LEAP network.
This year, it was Viet Nam's turn. The 3rd Annual LEAP Conference was hosted by the Viet Nam Lawyer's Association (VLA) in Hanoi, August 27-29, with support from UNDP Vietnam and UNDP Asia Pacific Regional Centre (APRC). The aim of the meeting was to bring together legal empowerment practitioners, government representatives and delegates from civil society organizations, to share lessons learned in legal empowerment.
BABSEACLE participated by presenting on the synergy between Clinical Legal Education and Legal Empowerment for the Poor. The two most important methods we use to support poor people are client-centered lawyering, which empowers poor people to help solve their own problems, and our practice of "not just tolerance for the poor, but standing in solidarity with the poor." Director Bruce Lasky discussed how BABSEACLE teaches and promotes these methods, practiced by CLE programs throughout Viet Nam.
In addition, I shared my experience in working with People Living with HIV (PLHIV).  Our training sessions not only teach PLHIV their legal rights, but also teach them how to teach other people in the community those rights and what to do, where to go, and who can support them, if their rights are violated. Finally, Viet-nam National University, one of BABSEACLE's core partners, gave a presentation on their CLE program, giving participants a better understanding of CLE's effectiveness in empowering the poor.
The LEAP conference was really successful, with more than 50 regional and international representatives attending. I myself learnt a lot. I had the opportunity to visit the Center for Consulting on Law, Policy, Health, and HIV/AIDS (CCLPHH), a Vietnamese NGO based in Hanoi and affiliated with the Vietnam Lawyers Association. I saw how PLHIV peer-counseling can help, how the hotline providing free legal advice works and how enthusiastic the lawyers and other staff were: how willing they were to contribute their time and expertise to help vulnerable people. It encouraged me to continue my current work with PLHIV.