By Uyen Hoang To: BABSEACLE Vietnam Project Coordinator
And  Ha Cong Anh Bao:  Law Lecturer of FTU's CLE Team
On the 26th and 27th of January, just almost one month after the official date of our starting cooperation among the Faculty of Law, Foreign Trade University (FTU), BABSEACLE and BABSEACLE Foundation. We followed up the successful CLE Introductory Workshop with the second training workshop on "Legal Clinic Education Methodology at Foreign Trade University." The workshop was incredibly successful as well. More importantly, the workshop was bringing over international CLE experts like Bebs Chorak, who has been working with Street Law Inc. for many years and Binh Nguyen Thanh, a young lawyer who helps run the Binh An Law Firm among many other experts.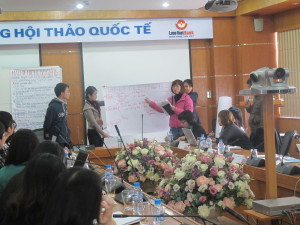 We started the second day with the content concentrating on three main topics. The first lesson involved teaching the FTU CLE team with the background of the establishment and maintenance of the CLE program through role plays simulating some legal consultation situations at a CLE office. The second lesson dealt with sharing experience in the establishment and maintenance of street-law offices presented by BABSEACLE experts. The third, right before the end of the morning session, was preparation of CLE role plays by four student teams.
Also during the last session, the four student teams performed their CLE simulations and gave feedback about such topics like domestic violence, violations of road laws by youth and we also discussed drug prevention for young offenders. We looked at case studies, focusing on penalties for the violations of those law  topics we discussed in the role plays. At the end of each simulation, each team self-evaluated their work as well as gained assessment from the other teams and experts on how to  improve their work. The BABSEACLE experts really appreciated the quick learning and creativity of the FTU CLE student members, which were the basis for the successful CLE implementation at FTU.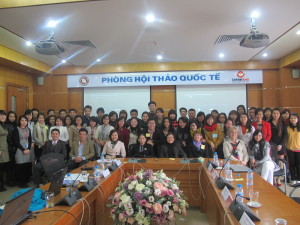 The training workshop was a good example on implementing CLE program when FTU had no funds to organize it. However, with strong support from BABSEACLE and the FTU management board, the workshops were held effectively. It also showed  the  cooperation  of CLE networks  when TUU, HU and VNU sent their team members to share their experience and the  opportunity to get FTU involved more in CLE activities in Hanoi and Vietnam. Hopefully FTU will soon play an active role in CLE movement in the near future.