Learning Life Skills and Legal Skills 
By Malaya students Ainnur Mardhiah Bt Wan Mohammed Azmi,  Darnisa Abdul Jalil, Don Stiwin Malanjum, Muhammad Syafiq Bin Salleh, Ahmad Zuhaini Bin Muhammad Amin, Nur Iffah Izzati Bt Musa, Nur Husna Najihah Bt Mohd Roseli
Our externship with BABSEACLE in Chiang Mai was very exciting and interesting – even spectacular! We gained so much experience in only three weeks. The program exposed us to real Thai culture, tradition and lifestyle, in addition to teaching us about the Thai legal system. The skills we obtained are so enriching that, to talk about them, we've divided them into two categories: general skills and specific skills.
The externship taught us a lot of general skills, for example, about basic human skills. Living abroad for three weeks as a team with a limited amount of money, we couldn't help but learn that every activity carried out had to be cost-effective, both money- and energy-wise. Although we were only interns, the workload was not light: we had tasks ranging from preparing lesson plans, to teaching at Wildflower — the local single mothers centre — to writing reports on workshops. Basically, our everyday life in Thailand was hectic. Therefore, to ensure our performance was cost-effective and energy-effective, we divided all our tasks strategically, so they could be done faster and better.
Another basic human skill we learned was communication. Interning for an organization that holds so many workshops meant we had to prepare presentations on topics as simple as prevention of HIV to as complicated as the effects of Free Trade Agreements on the spread of HIV/AIDS. Doing these presentations enhanced and polished our communication skills.
The preparation process mainly involved group discussions, which also improved our communication skills. Having discussions with group members of different cultures and backgrounds taught us how to speak in a way that was easy to understand. And, since BABSEACLE is an international organization, we had an opportunity to work with law lecturers from Laos, law students and graduates from Thailand, and our fellow interns came from the United States, Australia, Canada, India, Singapore and the UK. Working and socializing with them also greatly improved our English.
As for specific skills, legal skills, we gained a lot of knowledge about the current state of Thailand's legal system. By doing law-related tasks and attending numerous law-related workshops, like those on legal clinic and in-house consultation, we were able to identify pros and cons of our own Malaysian law. For example, we were told that in Thailand, although sex work is illegal, there is often no punishment of those involved in it. As a matter of fact, it is the most profitable sector of the economy. Moreover, the Thais have one unified and well-coded law that is binding on all citizens, whereas in Malaysia, we have two different legal systems, namely the civil legal system and the Shariah legal system.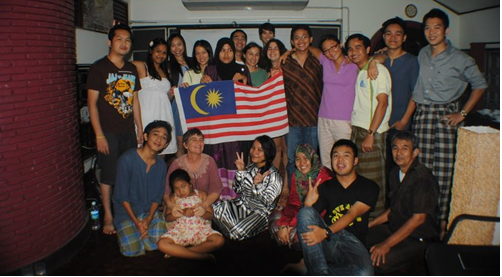 BABSEACLE actually has the same objective as the Community Outreach Program (COP) of our law faculty:  empowering people with legal knowledge. Hence, as BABSEACLE interns, we were able to learn how international community overcomes issues of citizens lacking legal knowledge and having poor access to justice. We were exposed to how developed countries overcome these issues with systematic and sustainable procedures. In addition, we were equipped with human psychology skills that are vital in the effort of achieving the COP prime objective. For instance, we were taught how to encourage people to share all the information needed by active listening. We were also taught the importance of having a lesson plan and incorporating interactive teaching techniques into our community teaching, so that our classes will not be dull and tedious.
We were also involved in the Textbook Project. This is an initiative to compile at least 60 legal lesson plans in an orderly manner. As a result of this work, we will be able to use the textbook ourselves, as a guideline for community teaching. This textbook is really important for COP. Furthermore, we attended two workshops, an In-House Legal Training at Chiang Mai University and an International Debate Association (IDEA) workshop. These workshops exposed us to some basic skills necessary for our future law practices.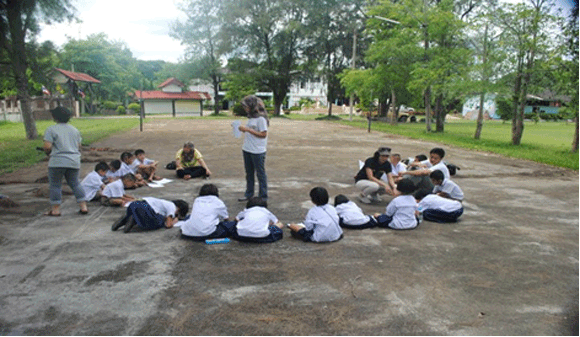 We were also sent to the King's Project – one of the many projects established by the King of Thailand, in this case, to build dams. The workers need to have 200 bags of dirt to make two dams. Our team of seven combined to fill as many bags as possible with dirt during our morning shifts. We were given a translator-guide, a Thai law degree graduate, to help us in communication. In his free time, he was more than willing to tell us the history of Thailand and discuss Buddhism, politics and culture. In the evening, we went to the local school to 'play' with the kids. The students were in grades 1-3 and ranged in age from 5 to 12. The school does not have enough supplies. All we could do to help was contribute our energy and time to share with them our knowledge and love.
For Wildflower, we made lesson plans and went to teach on topics like Family Law, Awareness of HIV/AIDS, and the importance to having citizenship status. This gave us a chance to meet less fortunate young women and share with them the little knowledge we had. The learners were excited to have us teaching them because we also shared our experience with them. Most of them were less educated than most of us – but they had far more life experience.
Those are the highlights of the projects and activities we joined during the externship. We definitely gained a lot; especially, to be more grateful and respectful to people less fortunate than us. The externship experience was very useful to all of us. We not only gained experience working with BABSEACLE but we also gained knowledge closely related to our own Community Outreach program.