By Annisa Furqanina (Student of Faculty of Law at Pasundan University, Bandung)
Introduction:
The Faculty of Law, at Pasundan University, in Bandung, Indonesia, features Clinical Legal Education (CLE) which is not compulsory required in the law curriculum, and was established in 2007. I, as a law student, am one of volunteers at CLE who help spread legal education to marginalised communities, especially to women and children. This is done under the guidance of the university lecturers, as supervisors. This activity is called "Street Law." CLE uses interactive teaching methods to deliver legal lessons to students and the community, and to provide an enjoyable, enriching and effective learning experience.
Missions:
We help marginalised communities extract knowledge, skills, and values from their CLE experiences, and provide an important supplement to legal education, by serving people who lack access to justice.
Local Activities:
One focus is sharing the law with young criminal detainees by teaching them the rules and rights in our state. Our supervisors, Ms. Leni, Ms. Hesti, and Mr. Rossa, organize students into teams, during street law sessions, and base the activities upon family and criminal law principles and human rights concepts. As students, we design our own teaching materials- e.g., games and small group discussions engage the participants. So far, CLE has collaborated with 13 Indonesian Universities, by inviting their students to participate in our CLE and Street Law with 27 Bangdung Senior High School student groups, (Sekolah Menengah Umum 27 Bandung), women juvenile prisoners (Lembaga Pemasyarakatan Wanita), and juvenile prison children (Lembaga Pemasyarakatan Anak).
Activitities Abroad:
CLE has a collaborative project with the Community Outreach Project (COP) of the University of Malaya, Malaysia and they sent exchange students to do Street Law with teams in Indonesia. Our next collaboration project will be to share Street Law with the street children of Indonesia and Malaysia.
2014 3rd Asia Pro Bono Conference, in Singapore, (2-4 October):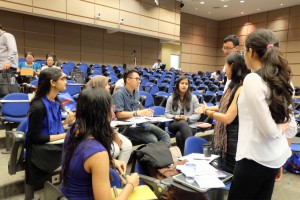 Before attending this conference, as a law student from a developing country, I noticed that Indonesia has many legal problems with women and children. One day, I intend to take what I learned here, and apply it to practicing law for the benefit of society. This event was a big opportunity to enrich such knowledge, because working with many people is a better way to discuss and solve problems. At the Conference students learned how to share priceless knowledge with others, and to turn "can'ts" into "cans." While participating in the Conference and follow up workshops, I learned many things, and took notes that were relevant to the research questions. I aimed to get a sense of the local culture, as well as working internationally with others.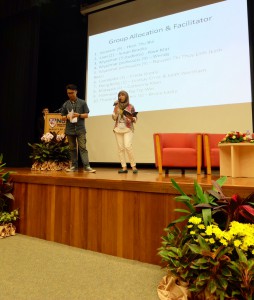 To be honest, I was very nervous at first, but soon felt comfortable because all the participants and organizers helped me so much. Although my confidence rose, I was still hesitant to ask questions of the speakers, and I rarely had time to take enough notes, because the challenge was to listen and understand each session topic accurately.
Notwithstanding those challenges, we were encouraged to create a great project of helping others, as an issue and problem solving team. No single person can do this. We were also taught to work hard for people who need our legal skills and knowledge. Good teamwork is the key to success in designing activities, especially when time and resources are limited. As everyone had their own point of view, many different ideas were produced, and we found that the energy of group participation made each of us want to contribute something. We learned that every design has its own weakness and strength and that team work can help discover what these are. We challenged each other's preconceptions about what would and would not to work, and realized that design change actually affects performance.