By Milkah Murugi, BABSEACLE Externship Participant and student at Indiana University, Robert H. McKinney School of Law
This was my last clinical attachment as a finalist for my Master's degree in Health Law Policy and Bioethics, courtesy of the program for international human rights law at the Robert H. McKinney School of Law, Indiana University. My previous two clinical attachments took place when I was undertaking my undergraduate law degree and post-graduate Diploma in Law. This year, my placement is with Bridges Across Borders South East Asia Community Legal Education Inc. (BABSEACLE) for twelve weeks. I had previously only heard about BABSEACLE's meaningful contributions to supporting CLE in universities and empowering marginalized groups to know their rights from previous students that had interned at BABSEACLE. This placement has thus far provided me with a very good learning experience.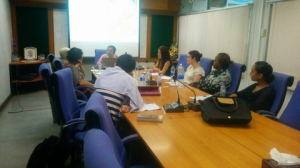 I went to Chiang Mai University (CMU) with my fellow interns on June 3rd, 2014. CMU is a public research university in Northern Thailand founded in 1964. We specifically went to the Faculty of Law, which has an intrinsic value as a legal institution that provides graduates with quality education that benefits the society. The vision of the Faculty of Law is stated as follows: 'Being an educational institution in legal studies where its strength lies on to the quality of academic, research and academic services, involving the needs of local society.' CMU is a source of legal knowledge governed by effective administration and management that is self-reliant and highly competent. The university offers legal advice to marginalized persons in their legal cases. CMU students can get involved in the clinic through a practical accredited course during their undergraduate degree in law. BABSEACLE has offered extensive support to assist in the strengthening of CLE at CMU. After this visit, I appreciated this great example of BABSEACLE's collaboration with universities, which empowers the faculty, staff, and students with legal skills required to reach out to the marginalized in the community.