By Thip Nouansyvong, Laos National CLE Coordinator
It was unbelievable that I had a chance to attend a study visit in the USA. As part of working hard, with Bridges Across Borders South East Asia Community Legal Education Initiative (BABSEACLE), I am helping to lead the organization, in implementing clinical legal education (CLE) throughout my country of Laos. As a result of this important responsibility I had a chance to meet with representatives from the US Embassy. We discussed the Laos CLE program and the many successful initiatives it helps to support including an anti-human trafficking project which was supported by the United Nations Office on Drugs and Crime and the US Embassy. The US Embassy representatives were very impressed with our success in Laos, and how the Faculty of Law and Political Science developed CLE projects to assist with expanding CLE nationwide.
During the initial meeting with the US embassy they discuss wanting to support the Laos program, by nominating me to attend the International Visitor Leadership Program (IVLP), so that I could gain more experience, knowledge and skills, in the US, and then apply these things to the Laos program. As volunteering and pro bono work are part of my culture, and enable me to be part of the community, I have been inspired to learn, to gain experience and to hone skills that can definitely be applied to both students and teachers in clinical legal education programs, in my home country and throughout the region.
Luckily, I was chosen to participate in the U.S. State Department sponsored study on the "ASEAN Volunteerism and Youth Program". It may have helped that I was the only Laos participant but I believe I was also chosen due to my skills, commitment and values. This study placement took place in Washington DC, Pensacola (Florida) Iowa City (Iowa) and Seattle (Washington). The entire placement program went from January 16th– February 7, 2015.
The main objectives of the program were:
To explore traditional and creative efforts and programs that are designed to foster civic participation and engagement in communities, at the local, state, and federal level;
To study community activism and diversity, in the U.S., and efforts towards social inclusion and equity for marginalized and underserved communities, such as women and youth;
To expose participants to Non-Government Organization (NGO) management, including organization, fundraising, managing volunteers, and public outreach;
To explore advocacy and leadership strategies that facilitate social empowerment and justice;
To illustrate volunteer projects and community service initiatives, across the United States, and how organizations develop new leaders and recruit and retain volunteers; and
To examine efforts that counter violent extremism, through community activism, volunteerism, and the promotion of civic awareness.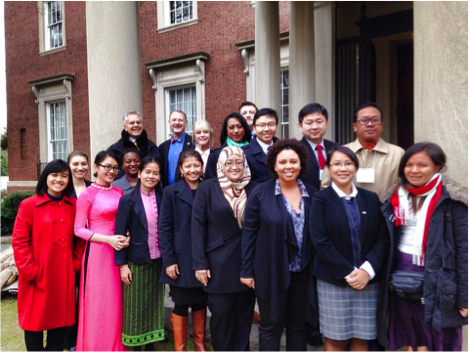 It is an understatement to say that the program included lots of activities. They were varied, exhilarating and at times exhausting as I was exposed to an incredible amount of exposure and experiences about non-governmental organizations, universities and communities spanning the USA.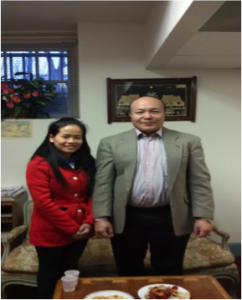 Additionally, I had a chance to visit the Lao Embassy, in Washington DC, and had an informal meeting with Mr. Khen Sombandith, Counselor and Deputy Chief of Mission. I was very happy to visit the embassy and they greeted me with a warm welcome. Whilst there, I spoke to Mr. Khen, about what BABSEACLE does in Laos, and told him that we are currently processing our formal registration in Laos. He agreed that BABSEACLE should register and that having completed the first stage of the registration process was a great success.
Finally, I would like to thank both the U.S Embassy, in Vientiane, which supported me and gave me the opportunity to visit the USA, and BABSEACLE, which gave me a true learning experience that was very valuable and unforgettable. I will carry it forever and pass it forward to many others.