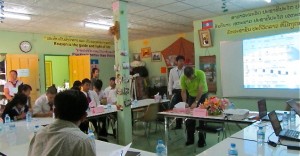 The Faculty of Law and Political Science (FLP) at the National University of Laos hosted BABSEACLE for a two-day workshop on strengthening the FLP-CLE program, with support from the Lux Dev (Luxembourg Agency for Cooperation and Development) program on Strengthening the Rule of Law through Legal University Education. BABSEACLE directors Bruce Lasky and Wendy Morrish focussed the workshop on "Strategic Planning: How to build an effective strategic plan to develop FLP's CLE program over the next three years."
Learners developed a Mission Statement and then considered their Strengths and Weaknesses in fulfilling this mission. Then they discussed ways to make their strengths stronger and to find advantages in the weaknesses they had identified. For example, they listed their lack of experience as a weakness but also recognized that this enables them to be open to new ideas.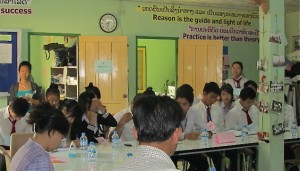 As challenging as this sounds, CLE law students and lecturers enthusiastically tackled the second day's work of making detailed plans. They worked in groups to fill in the template of a strategic plan and outlined various activities that would help them meet specific objectives for five major goals: bringing the CLE program forward to an accredited course in the law faculty; opening an in-house legal assistance clinic; further developing their community teaching; fund-raising to meet financial goals and finally, internal capacity building to enable law students and law lecturers to meet all these objectives. The FLP CLE group is now well on its way to a detailed three-year plan written by volunteer law students and law faculty working side by side.