Don Peters
Professor of Law and Director Emeritus, Institute for Dispute Resolution, Levin College of Law at the University of Florida
BABSEACLE-UNDP consultant, UEL Faculty of Law, March 4-April 4, 2013
A fortuitous confluence of many factors coming together quickly brought me to Ho Chi Minh City's Tan Son Nhat airport early in morning of March 4, 2013. Assigned to work with six lecturers and two senior students at National University of Vietnam's University of Economics and Law [UEL], we had four weeks to make progress developing skills and co-creating materials for UEL's first credit-earning clinical course. Our initial meeting generated an ambitious commitment to: (1) learn clinical teaching skills by experiencing classes while simultaneously identifying and discussing approaches and methods as they unfolded; and (2) create written learning and clinic management materials.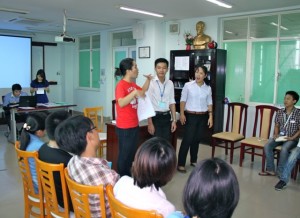 We committed to writing role plays that progressed from initial interviews to counseling conferences to negotiations that allowed resolution or impasse. We reasoned that this gave UEL clinic students simulated experience with how actual practice evolves. It permitted learning how decisions at each step of representation influence later phases, and expanded understandings of how to assess effective and ineffective choices in each stage. It also reflected general directions that BABSEACLE has followed developing clinical legal education at UEL and elsewhere in Vietnam.
We confronted two major challenges pursuing and ultimately accomplishing our objectives. Because four team members neither spoke nor understood English, my inability to speak or understand Vietnamese generated difficult and continuing challenges. Aptly called a "language fence" by one team member, we walked this fence by asking our four bi-lingual team members to interpret my comments into Vietnamese and everything non-English speaking team members said into English. This gave interpreting students valuable opportunities to learn by promptly paraphrasing their understandings.
Team members gained insights by reversing roles and becoming learners while attending sessions on clinical legal teaching approaches and methods. They quickly learned western concepts regarding core values and skills needed to interview, counsel, and negotiate with and for low income clients pursuing social justice aims. Meeting six hours a week, our sessions integrated mini-lectures with explanatory power point slides, short video demonstrations, and brief exercises done in pairs, triads, and quartets. This coverage introduced these topics to the three team members who had not previously encountered them, and reviewed earlier learning for the five who had participated in previous BABSEACLE interviewing and counseling workshops. Regrettably, the less than one week interval between my offer to come to UEL and my arrival prevented translating my slides, short hyperlinked video demonstrations, and brief exercises into Vietnamese.
Using peer-provided interpretation extensively, we plunged forward. Team members enthusiastically engaged with and participated in short exercises and longer role plays. They quickly relabeled our short, in class exercises as "games," and enjoyed them thoroughly. Final reflection papers shared that these games made it "easy to receive learning;" "help me remember the content of the lessons better," and "are not only . . . . fun but also contain . . . . meaningful knowledge."
Our team chose to use three of these games in a workshop they presented to second and third year UEL law students. This event capped our interviewing and counseling classes. Planned with but presented without my participation, this event let team members demonstrate their understandings of effective interviewing and counseling actions and theories. It also let them display their abilities to effectively use clinical methods including demonstration role plays, mini-lectures, short exercises, and longer role plays done in three sets in triads with participants alternating roles as interviewer, client, and observer-feedback leader.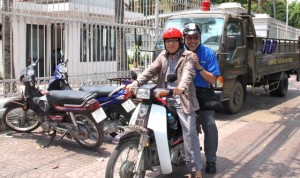 Team members performed all these tasks effectively. They collaborated with and worked off each other skillfully, manifesting the strengths of teaming that we discussed often. They prepared well and some created new power-point slides to use during their mini-lectures. They knew this material fully and presented it skillfully. They spoke confidently, made eye contact with their audience, and seldom used notes. They adapted our short exercises to accommodate cultural differences and these games generated animated, engaged participation and debriefing discussions.
Team members individually observed the roleplays done in triads and shared feedback with the student providing feedback to performing students. I observed four team members critique a critiquer. I saw impressive performances sharing specific behavioral data linked to reasons for their assessments. I also saw skillful balancing of positive and constructively critical comments.
The second set of challenges we surmounted together dealt with finding and using Vietnamese law effectively in our role plays. Including counseling in our created role plays required learning applicable legal options and their probable legal consequences. This demanded legal knowledge applications that traditional Vietnamese law lectures and American class discussions seldom cover. Vietnamese regulations prohibit law lecturers from practicing law. The resulting total lack of Vietnamese law practice exposure or experience by any of us challenged our development of realistic legal contexts for role plays and legal consequences for counseling segments.
We used two person teams to draft role plays and clinic management documents. Each team had an English speaker to help us walk our language fence. After several false starts, we pressed onward and completed the first and most important role play drafting step. This step is identifying factual contexts that present viable arguments for and against client perspectives, and that also require something more than obvious decisions about how to proceed. Persisting collaboratively, our initial confusion gave way to understandings that effective role plays require using accurate law applications only as sources of options and legal consequences, and not as ultimate decision drivers.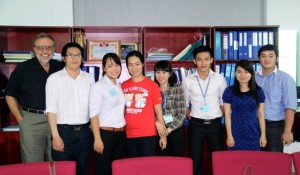 Integrating role play drafting discussions into classroom explorations of counseling skills and theories helped team members grasp the importance of non-legal consequences. It helped them add information about social and psychological interests to client interviewing and information documents. It also illustrated connections between non-legal counseling concerns and interest-based negotiating.
Six solid role plays resulted from collaborative planning discussions during several sixty-minute meetings with each team and multiple revised drafts thereafter. One team, for example, created an excellent, simple business problem involving informal partners running a sidewalk food business. I suggested a fictitious municipal food shop location allocation scheme to permit one partner to buy our client's interest after learning but not disclosing that their business had received a lucrative new site that would quadruple profits. Unfortunately, Vietnam law imposes no fiduciary duties on business partners. One team member creatively solved this problem by suggesting oral contracts to treat each other honestly because Vietnam law enforces such oral contracts.
We met and surmounted our language and legal knowledge challenges. Our role plays created ten class sessions for use in the fall course. Everyone experienced a useful, step by step process for developing additional teaching materials. One team member's final reflection paper expressed gratitude for this chance "to learn how to make a good role play for my students to learn well." We also completed seven case or clinic management documents or policy statements for use once the clinic starts serving clients.
Team members' final reflections mentioned additional insights beyond our material development experiences that they gained from our co-creating work, including: (1) "learning about teaching technique [was valuable]; not only the need to prepare a lesson plan including good content but also having carefully chosen exercises which are used for carrying [it] out;" (2) "feedback is really important . . . . [and I have] new knowledge about types of feedback and the method[s] to give useful feedback;" and (3) "simple materials can make a great class. . . . I didn't imagine that we . . . . can create very attractive lessons with few materials."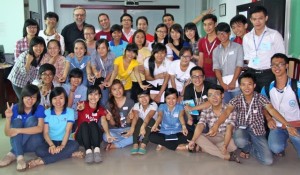 Our lead lecturer who had received additional BABSEACLE training in Thailand astutely noted at the end of co-creating work: "[W]e have much work to do to become a stronger CLE project . . . and satisfy the dream to put it into the curriculum." I left Tan Son Nhat early in the morning of April 4, 2013, convinced that this talented, hard-working team I was privileged to collaborate with will continue to work together effectively and accomplish this dream.